Welcome to Telli Marin! Sign in | Create a login

Rotary Club of Tiburon-Belvedere
Fellowship and Service
Address:
Sam's Anchor Cafe
Tiburon/Belvedere, CA 94920
Phone:
415-789-0161
ROTARY
Club of Tiburon-Belvedere

Monday, September 14, 2020

NEWS
Rotary & COVID-19
All in-person Rotary meetings and events have been cancelled or postponed as a result of the COVID-19 pandemic. We will be meeting on Zoom at 4 p.m. on Wednesday until further notice. If you'd like to visit, please send an email to rotary@telli.com requesting a link.

Outreach
The Rotary Club of Tiburon has donated funds to the following local organizations that are serving Marin's most vulnerable residents during this challenging time:
• Ambassadors of Hope & Opportunity www.ahoproject.org
• Canal Alliance https://canalalliance.org/
• SF Marin Food Bank https://www.sfmfoodbank.org/
• St. Vincent de Paul https://www.vinnies.org/
• Whistlestop https://whistlestop.org
In addition:

• To support local business, the club made a donation to the Tiburon Peninsula Chamber of Commerce's COVID-19 Tiburon Small Business Fund. https://www.tiburonchamber.org/
• To assist families need, we purchased 10 boxes of fresh produce from Servino Ristorante to donate to the food pantry at The Ranch. www.servino.com

• To help give kids whose parents are financially challenged a good summer, we donated funding for scholarships to The Ranch's summer camp program. www.theranchtoday.org
Food insecurity is an increasing problem. If you'd like to find out more about it and how you can help, go to https://www.mymove.com/moving/guides/food-donation/.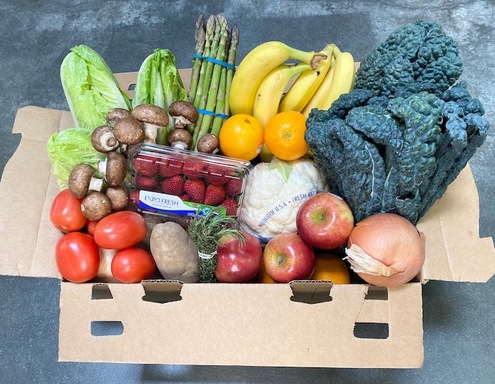 _______________
A BUSINESS WITH PURPOSE
Hawi Awash is one of the founders of Yema, a fashion start-up with a store in Tiburon. She and Yema Khalif started the business about four years ago, and it was online for the first three and a half. Hawi was a refugee from Ethiopia, and Yema was raised in the Kibera slum in Nairobi, Kenya. They met while attending university in California. "Our main mission is to help educate kids in Kenya and Ethiopia," she said. "We do fashions there every year to show the beauty and the culture," she said, stressing the importance of giving  young kids an education. They also do work at St. Hilary's to show students what's going on in other places.
"Our products are unique," she said, and they appeal to all ages. The store sells items for children, and their oldest customer is 104 years old. Their clothing is comfortable action fashionwear, so you can lounge at home or be very fashionable. "We have people like Carlos Santana rocking our designs," she said, and Klay Thompson has also been a customer. It's like wearing an art piece that reflects equality, diversity and love. "The clothing comes together to fuse those aspects," said Hawi.
They opened a shop in Tiburon, because they live here. "Tiburon is this beautiful place where networks of people exist," she said, and people appreciate the beauty and vision that she and Yema have.
"We have been working in conjunction with Bel Aire School to help kids in Liberia," said George Landau, explaining that the ongoing relationship includes a club and school in Monrovia and a club and school here. We helped the Tiburon students raise funds for a village-size solar cooker first, and then provided support when they raised money to dig a well at the Liberian school, buy playground equipment, purchase a school bus and hire a driver. In addition, they sent 2,400 books for the library and classrooms. In addition, both Bel Aire and our club funded scholarships so children could continue attending school during the Ebola epidemic.
Angelo Capozzi said that when he and Brian Walker were in Liberia, the big solar oven wasn't being used. "One thought, if you're going to reach out to help people, give them what they need. Don't give them what you think they need."
George Landau added that we helped send a lot of little solar ovens as well, but it turned out the people didn't like the taste of the food, because they were used to smoke.
Lata Setty recalled that when local students started the projects, they had video calls and were surprised at what kids in Liberia didn't have.
To find out more about Yema, go to www.yemacalif.com.
_______________

George Landau introduced Zara Babitzke, whom we first met when she spoke to the club at the San Francisco Yacht Club several years ago.  "More and more people need her services," he said, adding that her nonprofit, Ambassadors of Hope and Opportunity, is a prize-winning organization that reflects all the Rotary principles. She's in the Marin Women's Hall of Fame.
"This is an exciting opportunity to reconnect with all of you," said Zara, recalling that she first spoke to us about 14 years ago, and the young man who inspired her to found AHO accompanied her. She founded the organization 16 years ago, and before that she worked at Sunny Hills, a Marin organization that worked with at-risk youth. They didn't have a program for young people to make the transition when they were leaving Sunny Hills, and so she started working with them. "These young people were beginning to trust me," she said, but then the program lost funding, which meant they would be put out onto the street and be abandoned. "I couldn't walk away," she said and so she used her own money to start AHO.
Jimmy Hayes (right, with Zara) is the young man who visited the club with her, and he had been abandoned by both his parents when he was very young and sent to an orphanage. He was abused in the orphanage, and then at age 10, he was adopted by a family with 17 other children. After about year and a half he was put into Sunny Hills. Zara started to respond to his needs, and he's now In his mid-30s and the manager of a home for youth who need help. His son does yardwork for AHO.


AHO works with young people 16 to 25, who are homeless, don't have support and have a variety of problems, sometimes including sex-trafficking. "We're a one-stop shop for these kinds of people," said Zara, explaining that AHO provides help with therapy, laptops and scholarships for college in some cases. "We're there for whatever a young person might need to feel a sense of value and that they matter. They arrive with a loss of hope," she said.
Zara has been homeless herself and knows what it's like to come from a home that makes one feel helpless. "It's not a quick fix. … We're there over time," she says, and so AHO become the family the youth she assists don't have. AHO doesn't get any government funding, but has a network of 165 community partners, businesses, individuals and organizations who support her work. Dentists and optometrists, for example, provide services.  AHO is also honored as a longtime, active supporter of Alliance for Youth.
A young person who needs help must take the initiative and contact AHO. Sometimes a neighbor will report a situation, but the youth involved must make the request for help directly. "They have to make a call or text for help," said Zara, and she acknowledges that it's difficult to make the call, but it's an essential first step. Once a youth has made a call, they meet with him or her within 48 hours.
AHO is unique in that it  provides leadership training. Opportunities come from the youth wanting to build community and design projects that will bring funding.
Projects this year include the following:
1. An AHO app shares what the organization does easily. It shares tips for success and required skills such as initiation and collaboration. The youth reached out and found individuals to help. Among were a project manager and a developer to help create the app. (To use the QR code, open the camera on your phone and hold it over the code. If you have an iPhone, a web address will appear at the top; click on it.  For other phones, you might have to download an app such as QR Scan.)
2. Face mask challenge. The young people wanted to stay together and keep their community, and about 200 people got involved. People sent in photos of themselves in masks, and George contributed one in which he's wearing a Rotary shirt.
3. Homeless COVID-19 rescue kit. The kids contain items for youth who don't have what they need. The project required communication, problem solving and critical thinking skills. The kits includes masks, gloves, sanitizers, toilet paper and Safeway and Target cards. They served 200 youths and are about to launch another project.
4. A webinar for the entire state is going out through the Coalition of Youth in Sacramento. It's about the five steps needed to remain relevant and sustainable in the COVID era.
Questions and Answers
George Landau asked about housing and work, and Zara explained that AHO hires some young people as part of their network. For housing, they will provide the first and last months' rent and have host families who take young people in and make them part of the family. They also provide hotel space when it's necessary. Over 16 years, AHO has helped more than 3,200 young people, who are now in stable housing and have launched careers. The cost is about $2,000 a year per youth, and the money goes to help with housing. They help about 200 young people a year.
Among the young people AHO helps are students at Dominican University, College of Marin, Sonoma State University and Santa Rosa Junior College. David Coons, president of the College of Marin and Marin County Superintendent of Schools Mary Jane Burke are nominating AHO for a 100Marin Award, as is our club. Awards typically go to an organization that is doing important things with limited funds.
"You were homeless. Was that before or after you got your master's degree?" asked George Landau, and Zara said it was after.
Steve Melen told Zara that she is an inspiration and is meeting a great need in Marin County. He was in rehab for sober living and met a young person who didn't have anywhere to go, so he paid for his rent for two months.
"Those people who rebound and come back also make better citizens," said Zara, explaining that they overcome obstacles and want to give back. She's been told she's a good listener, and when young people tell their stories to her, the change is immediate, and they begin healing. "I see how they start changing, how they start to see themselves," she said.
Terry Graham asked how the young people AHO helps are distributed geographically. Zara replied that they're primarily in Marin County, although AHO is starting to expand to Sonoma.
She added that the families of many of the young people she works with have disowned them as a result of their sexual orientation. However, "They know we're going to be there totally to support them," she said. AHO's quick response to calls for help shows by its action that it's an organization of people who care. The youth, in return, must show up, stay in communication and keep their word. AHO makes sure they will do those things and be responsible before they help them make connections. Those principles actually came from the youth themselves.
"You mentioned success stories," said Bill Lindqvist, and although he was hesitant, he asked what percentage does well and what doesn't.
Zara replied that after a youth makes a call, for help someone from AHO meets with the individual right away, finds out what he or she needs help with and becomes a partner in meeting his or her goals. They have to adhere to the three principles, so it's self-selection. If they can't meet the requirements, they drop out.
"Have you spoken to other clubs?" asked David Albert. Zara said she has, but we're number one, because we've stayed in touch and have continually helped. George Landau said he'd help her connect with Tiburon Sunset.
"Are you listed with Charity Navigator?" asked Angelo Capozzi.
"We have the highest rating with Guide Star," said Zara, adding that it's Platinum status.
Angelo also asked about youth who need medical care and if she knows about RotaCare, which has a clinic in San Rafael.
"Yes, absolutely," said Zara.
Terry Graham asked if she works with Homeward Bound, and Zara said that she knows executive director Mary Kay Sweeney very well. She sometimes works with mothers who have small children, and AHO also has a relationship with Gilead House, which specializes in working with single moms. Mill Street is part of Homeward Bound and could be the first step for some youth. "When you're struggling, nothing works out somehow," she said, so the support is important.
"How much is your annual budget?" asked Bob Benbow.
Zara responded that it's $250,000, and AHO has resources in the community who know what they're doing and help.
Zara got some of her experience, when she was working on her master's degree and was a volunteer at Matrix. They were having an ice cream social, and she obtained a list of their needs, went out and got everything donated. Marin General Hospital then hired her as its first resource developer, and she would get a call with what a family or individual needed and where they lived. Then she'd go to the community and create a resource for them. She did it for eight years, and nobody ever said no. "People want to help," she observed.
"We'll have you back when we have our in-person meetings again," said Acting President Kathleen Defever.
"Thank you to everyone at the Tiburon-Belvedere Rotary Club. You've been super stars for us," said Zara.
________________
MARK YOUR CALENDAR
GREAT GUEST SPEAKERS
Meetings will be on Zoom until further notice. If you'd like to attend a meeting or be a guest speaker, please send an email to rotary@telli.com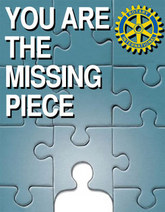 Meetings
We meet at Sam's Anchor Cafe at 5:30 p.m. for an early evening meeting on the first and third Wednesday of the month and for lunch at 12:15 p.m. on the second and fourth Wednesday of the month. Most weeks, either a guest speaker makes a presentation or we have a program. Attendance is $10. Food and drinks are no-host  We welcome guests. If you'd like to hear a speaker, offer to be one or find out more about Rotary, pay us a visit. We'd be happy to make your acquaintance.

Board of Directors Meetings
Meetings of the Board of Directors are open to all members and take place monthly at a time to be announced. For information, please send an email to judith@telli.com.

Contact us at rotary@telli.com.
If you'd like to be a guest speaker, please contact Marianne Strotz at properties@pacbell.net.

Send mail to Rotary Club of Tiburon-Belvedere, P.O. Box 220, Tiburon, CA 94920.


Follow us on Facebook: https://www.facebook.com/tbrotary. Hope you "like" us!
_________________________
Scroll down to see our photo gallery of Rotarians at work and play!
____________________

 ROTARY AT WORK

The Rotary Club of Tiburon-Belvedere supports a wide range of programs, with a focus on youth, literacy and community. We believe that reaching out to others makes a better world and encourage others to join us. Here's what we're supporting in 2019-2020

Youth—Investing in the Future
• Ambassadors of Hope and Opportunity: Support to provide a safety net of stable housing, guidance and community connections for young people 16 to 25, who are homeless or in danger of becoming homeless in Marin County.

• Bel Aire School's Liberia Project: Advice and support for the fifth-grade students' ongoing projects to help their sister school in Liberia, thus encouraging altruism at home and helping children in a disadvantaged country across the world.
• Dave Hutton Rotary Award for Service Above Self: An annual award to a graduating eighth-grader with a record of outstanding community service at Del Mar Middle School.
• Educator of the Year Awards: Annual awards to outstanding educators in local schools, whose unique projects give children a worldview that encourages them to become good citizens
• Global Book Exchange: Sup.port for the Global Book Exchange in San Rafael, which collects lightly-used books and redistributes them to teachers at schools with limited budgets, disadvantaged families and nonprofits that serve children, as well as schools throughout the world.
• Marielos Fund: A scholarship to send a young woman in El Salvador to medical school.
• Marin Youth Sympathy: Support for sending young musicians on a tour to perform in Europe.
• Musica Marin: Underwriting for scholarships for local students to attend events featuring classical music, fine food and a philanthropic purpose
• Rotaplast International: Support for volunteer medical teams to provide life-changing surgery for children with cleft-lip and palate in needy communities around the world.
• Rotary Youth Leadership Awards: Scholarships so high school sophomores and juniors can attend a special camp that guides them to develop their leadership skills.
• Young Performers International: Scholarships for kids to take music lessons and develop their performing skills. Music makes kids smarter!

Meaningful Projects—Service Above Self
• Marin Villages: Support for programs that help seniors age in their own homes. Members pay a small fee and can enjoy social get-togethers and access to volunteers for help with tasks such as getting to appointments, changing light bulbs or assisting with pets.

• Service to the Community Awards: Recognition for people who serve the community in meaningful ways, but don't often get acknowledgement.

• St. Vincent de Paul: Support for helping Marin's neediest residents obtain nutritious food, affordable housing, meaningful employment and a voice in the community.

• Whistlestop: Underwriting for Whistlestop's Thanksgiving Feast for Seniors.

District Designated Funds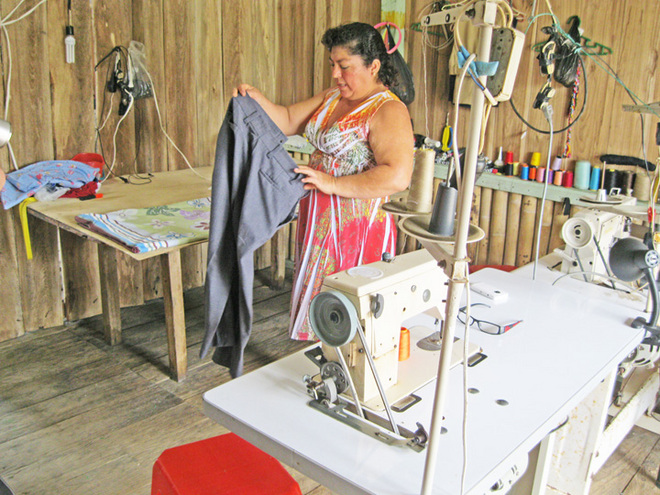 Rotary's District Designated Funds helped establish this sewing shop in Esmeraldas, Ecuador. Photo: Courtesy of Keith and Holly Axtell

Funds from the Rotary International Foundation's annual campaign earn District Designated Funds for our club. This year, we're contributing our international funds to the Rotary Club of Marin Evening's San Jacinto water project in Ecuador. For the past three years, we have contributed our funds to multi-club microcredit projects in Ecuador, Guatemala and Peru to train people in job and entrepreneurial skills and extend microloans to help them start small businesses and become self-sufficient.
District Designated Funds also support local projects, and this year our funds will go to underwrite the cost of school field trips to the Global Book Exchange and Audubon Canyon Ranch. In addition, we're donating portable bluetooth speakers to Canal Alliance so ESL teachers can fully implement the listening exercises that are part of the curriculum for English-language learners.

____________________
Julie Aubrey visited from Rotary International's headquarters in Evanston, Illinois.
(l. to r.) Irene Russell, Kathleen Defever, Helen Lindqvist and Bill Lindqvist at the Tiburon Peninsula Chamber of Commerce mixer at the downtown Tiburon firehouse.
HELPING KIDS GO TO CAMP

President Annette Gibbs presented Jessica Hochkiss with a check for $1,000  for The Ranch from the club's foundation, which will help low-income children attend day camp. "We currently have two large summer camps going on," said Jessica, and she explained that they take kids to Angel Island every day. "The camp has gone on for 40 years," she said, and some of today's campers have parents who attended when they were young.
The Ranch is a nonprofit, and "Every little bit helps," she said, expressing her gratitude.
_______________

Past-president Linda Emberson and incoming President Annette Gibbs at the Installation Celebration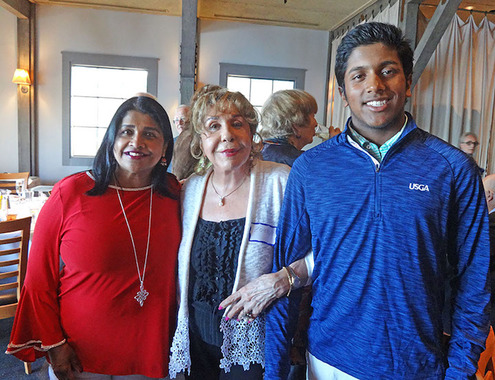 Lata Setty, Zohre Grothe and Lata's son, Deven Ramachandran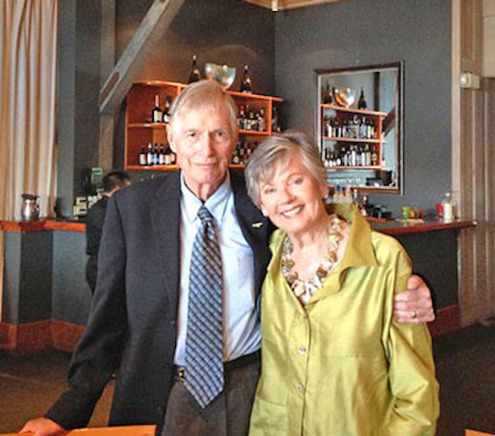 Warren and Irene Russell
_______________

Having fun at the Tiburon Classic Car Show!
Rotary in the community: Cindy Siciliano and Linda Emberson made it look easy, as they spent the day flipping burgers, hot dogs and corn on the cob for scores of happy customers.
____________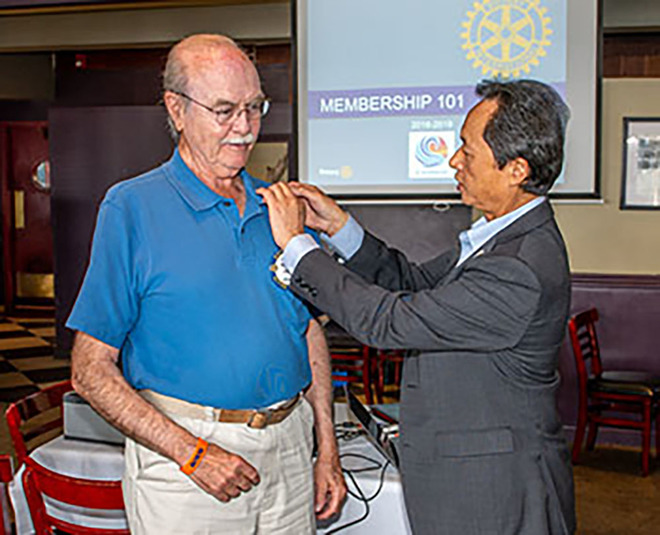 Past District Governor Ron Gin, now district membership chair, presents Mike Keran with a pin in honor of his being chosen Rotarian of the Month for District 5150.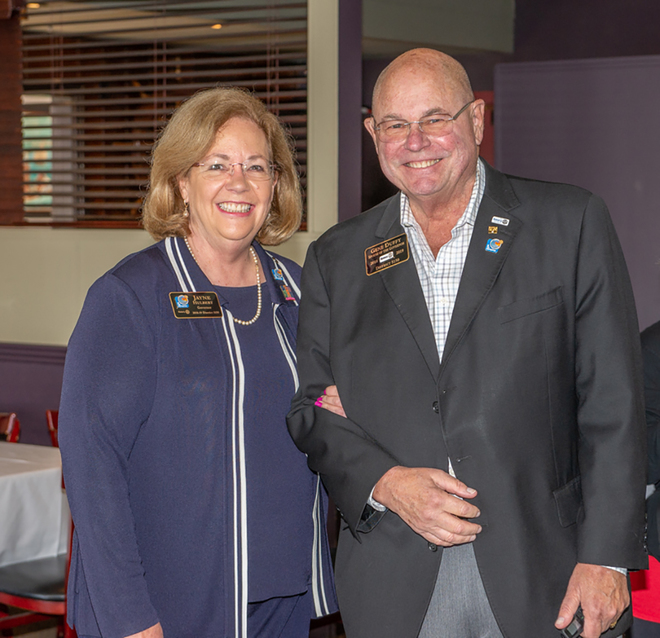 District Governor Jayne Hulbert and First Husband Gene Duffy paid the club a visit.
Cindy Siliciano of the Tiburon Sunset Rotary Club (left) and President Linda Emberson of the Tiburon-Belvedere club get ready to toss goodies to kids at the Labor Day weekend hometown parade. (Photo: Marshall Gross)
_______________

Welcome New Members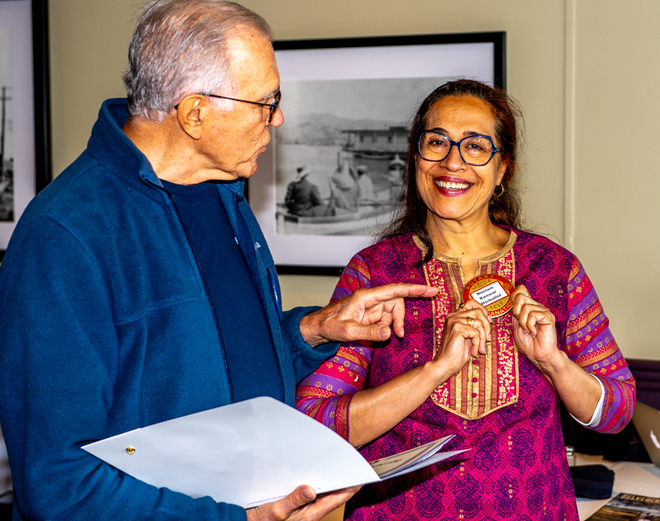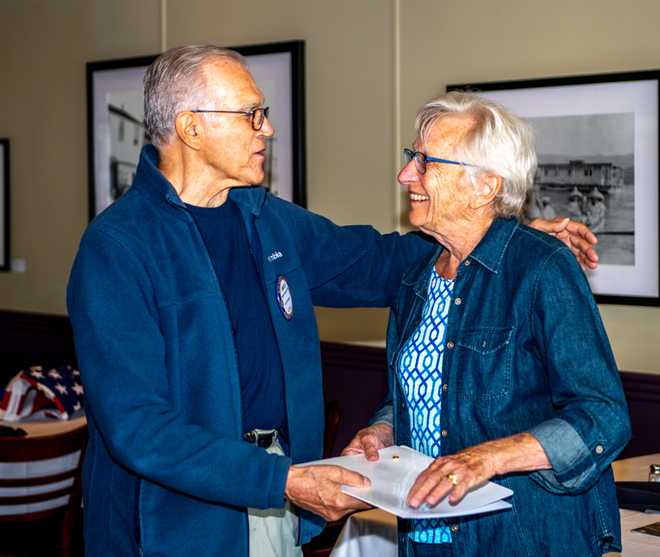 Membership chair Angelo Capozzi welcomed new members Neelam Kanwar (upper photo) and Lynn Spitler (lower photo).
_______________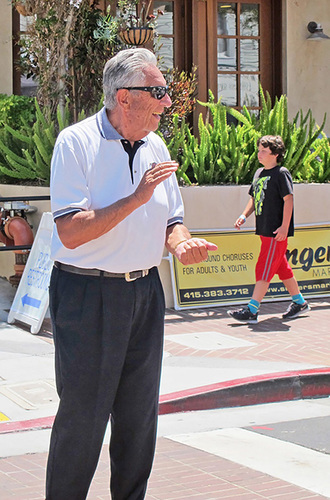 It is with profound sadness that President Linda Emberson announces the passing of beloved member Jim Deitz on Friday, July 13. Jim exemplified Rotary's motto, Service Above Self, and his altruistic spirit was a model for everyone. He was devoted to his family, loved dogs and was one of the best. We'll miss him terribly.
_______________

Good Work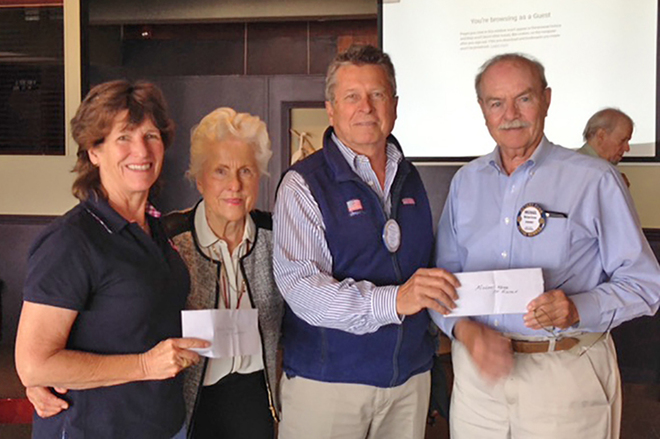 (l. to r.) Lisa Brinkmann of Marin Villages accepts a check from Marianne Strotz, and Michael Heckmann presents a check to Michael Keran for St. Vincent de Paul. Photo: Lynn Fox

_______________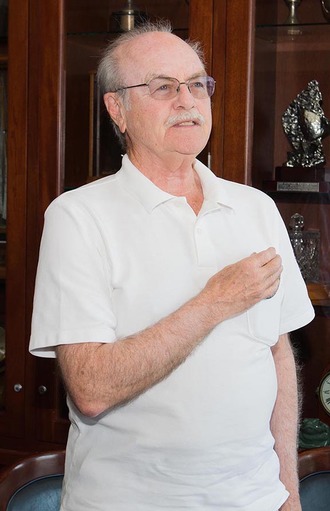 District 5150 named Michael Keran Rotarian of the Month for May. Mike's much-deserved honor is in recognition of his ongoing commitment to St. Vincent de Paul and helping the homeless in Marin County. In addition, he recruits a crew of Rotarians to serve lunch at the St. Vincent de Paul Free Dining Room in San Rafael every month. May marked the beginning of the 12th year of this service project.
_______________

Annette Gibbs (left) and Shelby Gross joined the Rotary contingent and got into the spirit
of this year's first Friday Night on Main
_______________

Celebrating Earth Day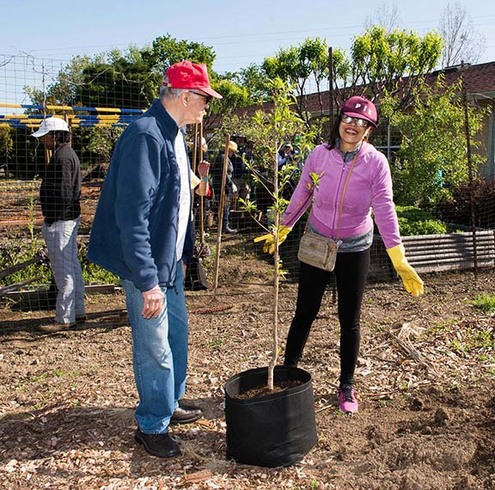 Having Fun at Friday Night on Main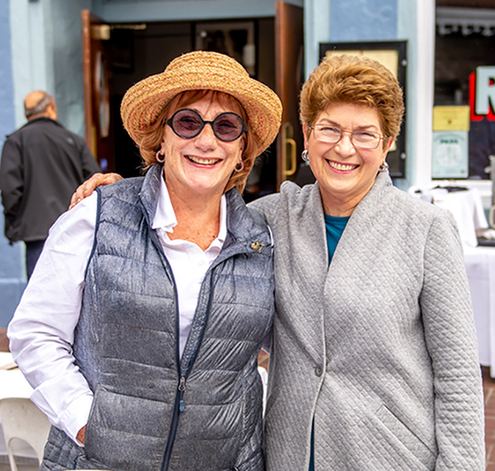 Angelo Capozzi (left) and Neelam Kanwar planted trees at Homeward Bound as part of Rotary International's initiative to plant one tree for every Rotarian. Photo: Marshall Gross
_______________
Lending a Hand at St. Vincent de Paul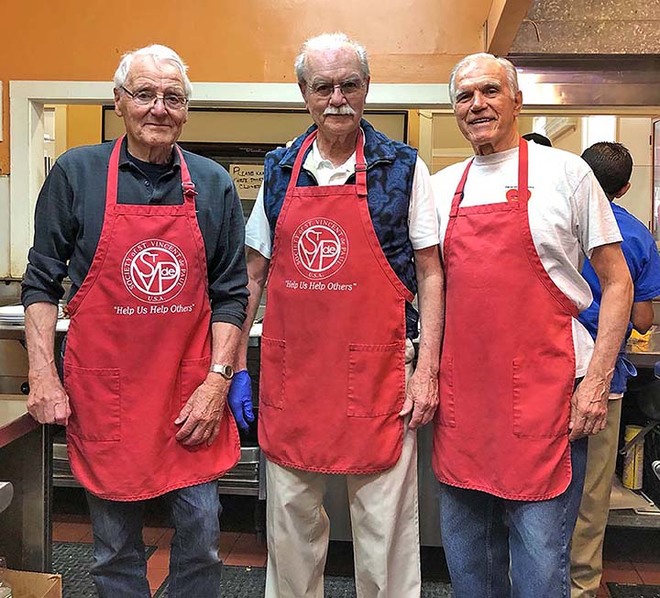 Stalwart volunteers (l. to r.) Klaus Meinberg, Michael Keran and Angelo Capozzi in the kitchen of the St. Vincent de Paul Free Dining Room in San Rafael. The Rotary Club of Tiburon-Belvedere serves lunch on the fourth Thursday of every month and will begin its twelfth year of volunteering, under Mike Keran's leadership, in May. Angelo is team leader for the club's participation in the REST program, and he and Klaus also served dinner to a group of homeless men at St. Hilary's Church the same day. Service Above Self at its best!
_______________

First meeting at Sam's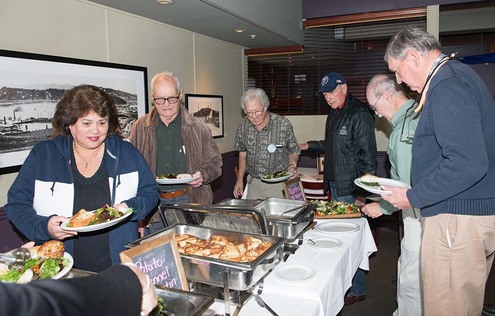 _______________

Rotary does REST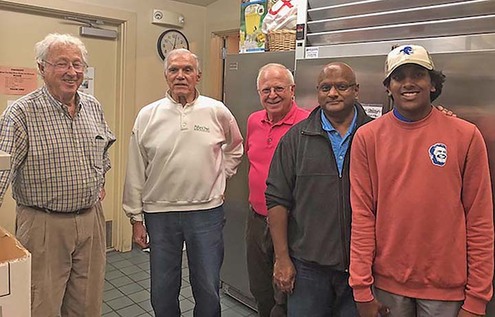 The Rotary Club of Tiburon-Belvedre hosted dinner for a group of 25 homeless men who were spending the night at St. Hilary's Church on Thursday, February 15, as part of the REST (Rotating Emergency Shelter Team) program.
Members of the Rotary crew (above, l. to r.), John Kaufmann, Angelo Capozzi, Brian Walker, Raja Ramachandran and Deven Ramachandran, took a break before serving dinner to guests in Tarantino Hall. Lata Setty, Annette Gibbs, Bill Goldberg, Zohre Grothe, Karl Hoppe and Lata Setty were also on hand to help. The evening featured good conversation, great appetites and uplifting camaraderie, as well as good food.which included homemade lasagna that Deven, Lata's son, helped prepare as a family Valentine's Day project, and Mary Kaufmann'a delicious oatmeal cookies and cupcakes decorated with hearts.
_______________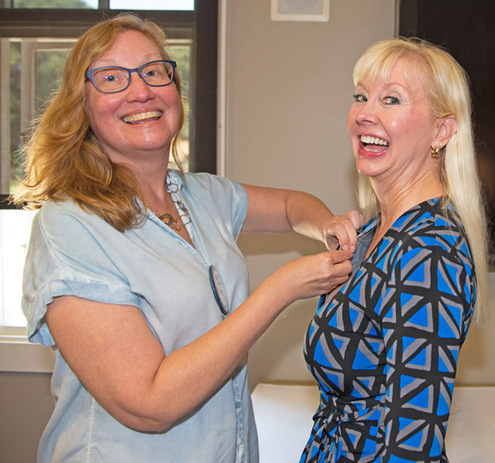 Karen Glader welcomes new member Valerie Marsh to the club and gives her a Rotary pin.
_______________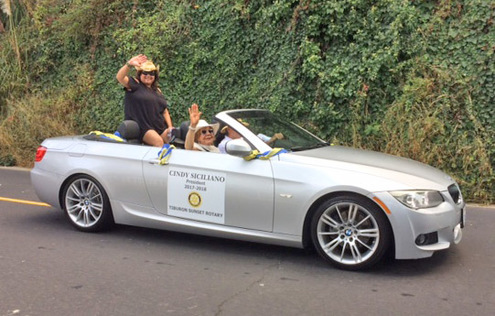 Rotarians have fun in the Day Before-Labor Day parade.
_______________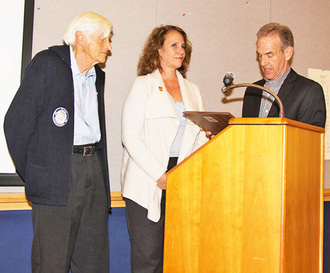 Proclamation
The Town of Tiburon issued a proclamation in honor of the Rotary Club of Tiburon-Belvedere's 40th anniversary, which we will celebrate in June, and the 100th anniversary of the Rotary International Foundation. Pictured, left to right, are George Landau, President Linda Emberson and Tiburon Mayor Jim Fraser. Photo: Marsall Gross.
______________
Visitor from Afar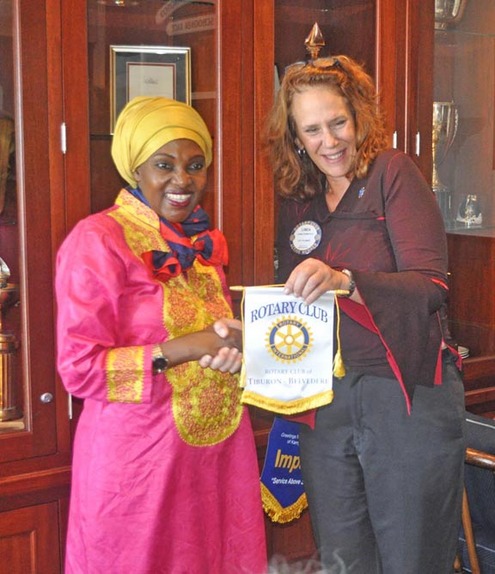 Rehmah Kasule (above left), with President Linda Emberson) is the Immediate Past President of the Rotary Club of Kampala/Impala in Uganda. She took the opportunity to visit us when she was at a conference in San Francisco in October. In 2010, she received recognition at the White House for her work in empowering women and met President Obama. She then wrote a book, From Gomba to the White House. She shared an African proverb: "When you walk fast, you walk alone. When you walk with others, you go far."
_______________

MAKING KIDS SMILE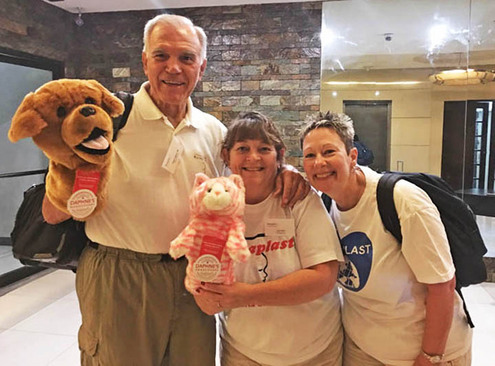 Marshall Gross donated two beautiful puppets that he won in a gift basket to Rotaplast's mission in Cebu City, Philippines. Dr. Angelo Capozzi (with the big dog) reports that the puppets are making kids smile every day before undergoing surgery, and the mission is going well.
______________

Tiburon Challenger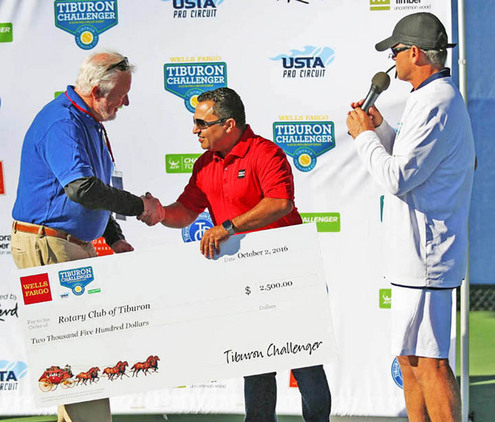 Charlie Oewel, representing the Rotary Club of Tiburon-Belvedere, accepted a generous check from Ashoo Vaid (middle) of Wells Fargo and tournament director Brendan Curry (right) at the conclusion of the Tiburon Challenger. The funds will go to the club's education projects. (Photo: Getty Images for Revd)
_______________

Rotary welcomes Kimberly Brooks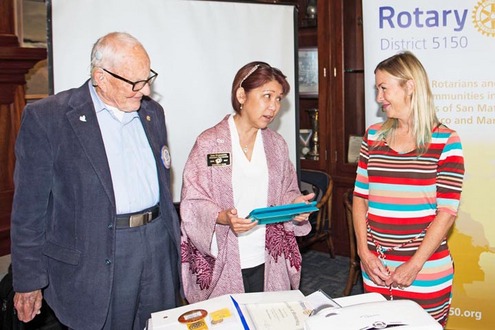 District Governor Jeri Fujimoto (center) inducted new member Kimberley Brooks (right) as Kimi's sponsor, Joe Lavigne, looked on. Photo: Marshall Gross
_____________________
DAY BEFORE LABOR DAY PARADE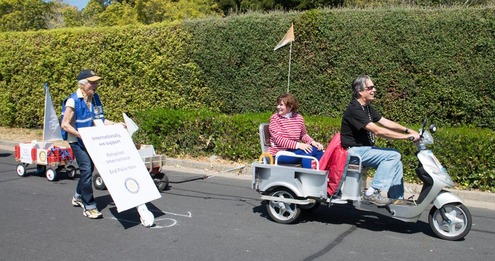 Tari Nix and friend pull wagons with books for kids from the Global Book Exchange, as Marianne Strotz walks alongside, wheeling a Rotary sign. (Photo: Marshall Gross)
To see more photos of the parade, go to www.tiburonrotary.org and click on "Photo Gallery."
____________________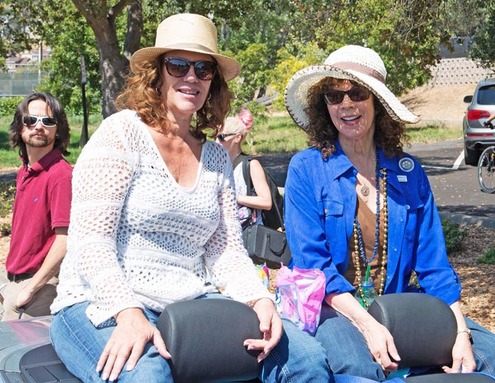 President Linda Emberson (left) of Tiburon-Belvedere and President Marilyn Nemzer of Tiburon Sunset hitch a ride with Michael Heckmann in the Day Before Labor Day Parade. (Photo: Marshall Gross)
Dana and Chester (left), making friends.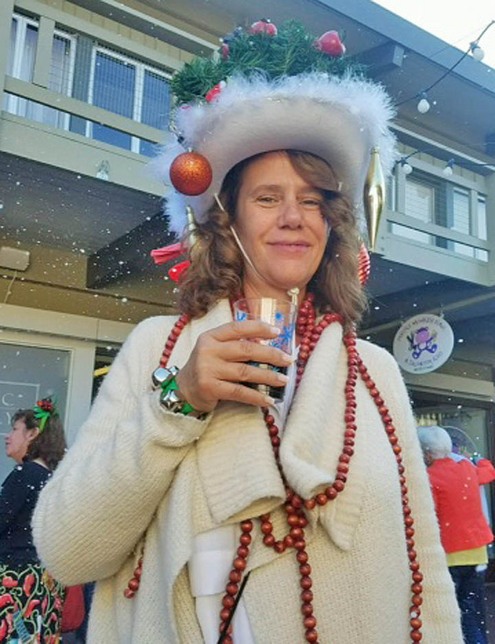 Winter in August was the theme of the Tiburon Peninsula Chamber of Commerce's mixer at the Boardwalk. President Linda Emberson took the prize for the most creative hat.

_______________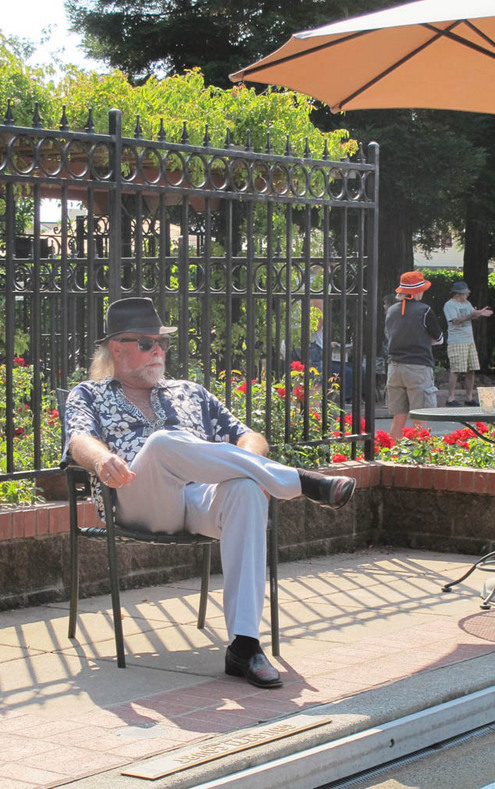 Jon Rankin views the on-court action at the annual Bocce Ball Tournament, a fundraiser for Rotaplast International. (Photo: J. Wilson)

_______________

Changing of the Guard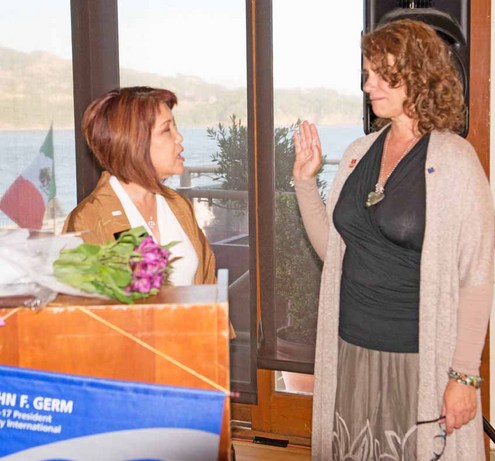 Thanks to President Marianne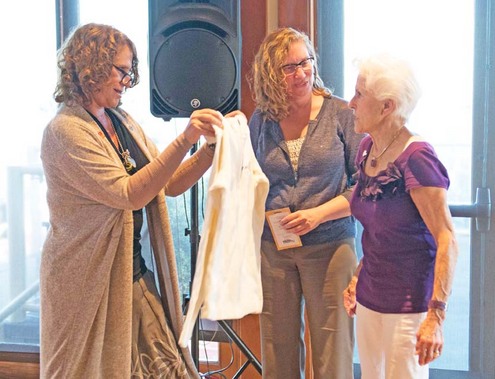 President Linda Emberson (left) thanks outgoing President Marianne Strotz (right) for her two outstanding years of leadership with a special Rotary jacket, as Karen Glader, the club's new secretary, looks on. (Photo: Marshall Gross)
____________________

Honors for Angelo
Dr. Angelo Capozzi (left) and Dr. John Kaufmann with a child who underwent surgery during a Rotaplast mission to Peru in May 2016. (Photo: Courtesy of Rotaplast International)
____________________
Service Above Self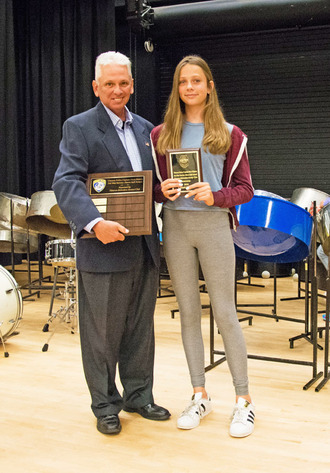 Dave Hutton presents the Capt. Dave Hutton Rotary Service Above Self Award to Kendall Hermann, graduating senior at Del Mar Middle School, for her outstanding performance in community service. The presentation took place at a special awards assembly in June. Photo: Marshall Gross
____________________
Teachers of the Year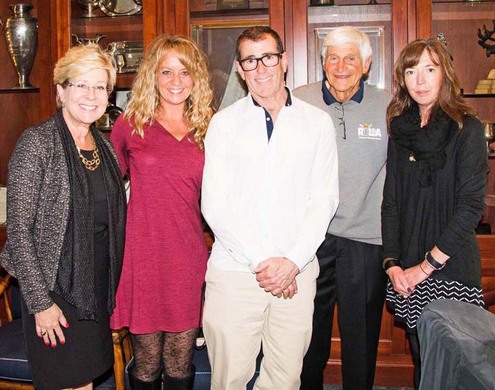 (Left to right) RUSD Superintendent Nancy Lynch, Bel Aire School's Kelly Morphy, Reed School's Ross Modlin, Rotarian George Landau and Erin Turner of St. Hilary School (photo: Marshall Gross)
____________________
Carnaval!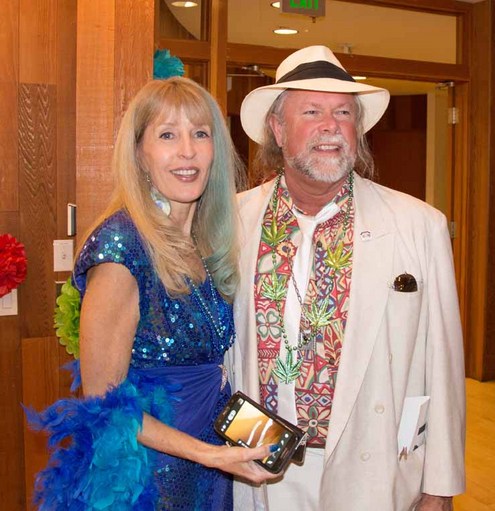 Mary Kaufmann and Jon Rankin got into the spirit of Carnaval, a fundraiser for the Rotary Club of Tiburon-Belvedere. For more, see the photo gallery at www.tiburonrotary.org. (Photo: Marshall Gross)
_______________