Welcome to Telli Marin! Sign in | Create a login

Rotary Club of Tiburon-Belvedere
Fellowship and Service
Address:
1600 Mar West Street
Tiburon/Belvedere, CA 94920
Phone:
415-789-0161
Rotary Club
of Tiburon-Belvedere

Saturday, June 22, 2019

NEWS

Having fun at the Tiburon Classic Car Show!
Rotary in the community: Cindy Siciliano and Linda Emberson made it look easy, as they spent the day flipping burgers, hot dogs and corn on the cob for scores of happy customers.
Installation Celebration
Wednesday, June 26, we cap off another Rotary year and get ready for a new one at a festive celebration at Servino Ristorante, beginning at 6:30 p.m. Incoming District Governor Sue Rokaw will induct Annette Gibbs as our president for 2019-2020 along with her board of directors, and we'll thank outgoing president Jon Rankin for his service. If you'd like to join us for dinner and a champagne toast, please contact judith@telli.com to make a reservation.

____________
Looking down Main St. from the corner of Tiburon Blvd., Sam's is the building on the left with the Coke sign on the wall.
Dave Gotz is the archivist and historian at the Belvedere-Tiburon Landmarks Society. He showed us the website, www.landmarkssociety.com and explained that the Landmarks Society was founded in 1959 to acquire and preserve historic sites, and it also preserves local culture. The archives contain an extensive collection of documents, photographs, art and other ephemera. It's across from Rustic Bakery at the Boardwalk, and he is there from 9 a.m. to 1 p.m., so you can drop by to ask questions. It's based on the donation of things and is short of material in some time periods, like the 50s and 60s and would welcome donations of photographs and ephemera.
Landmarks has four additional sites:
• The Art & Garden Center on Tiburon Boulevard;
• China Cabin on Beach Road;
• Old St. Hilary's Landmark & Wildflower Preserve, on Esperanza Street, overlooking downtown;
• The Railroad & Ferry Depot Museum on Paradise Drive in Shoreline Park.
The museum has a scale model of downtown Tiburon and the old railroad yard. "Our most recent acquisition is a bust with Peter Donahue," said Dave. "The Art & Garden Center, we're short on docents so we can't open it," he said, but the other two are open for the season.
The  McNeill Building, where Waypoint Pizza is now, was built in 1907 and is the oldest building on Main  St.  Mantegani'sCorner Market was on Main Street until the 1960s, when it moved into a new building at 1690 Tiburon Blvd. and became Mantegani's Corner Market, the town's first supermarket.
Dave created a series of short films documenting the creation of the sails sculpture at Fountain Plaza, at the corner of Tiburon Boulevard and Main Street. "All of these are on our website," he said. The series is called A Public Art Project in Eight Short Films. (landmarkssociety.com/history/videos/)
The artists were Jeff Reed and Jennifer Madden, a husband and wife team, and he filmed them creating the fountain, called Coming About, in the spring and summer of 2006. He also has bits and pieces of related material and had to figure out to put them together, and he decided to use historic photographs of the corner and show how it changed over time. It includes railroad days, Marin County's plan to build a major highway along the peninsula and the resulting incorporation of the town in 1964. "You can watch it in the privacy of your own home," said Dave.
Recently-completed Tiburon Blvd. in the late 1940s with marshy areas on both sides. The white building on the far right is the Kauwatani Laundry, now Vogue cleaners. The big lagoon on the left was eventually filled and Chase Bank, Bank of America, the  Lodge at Tiburon and the Tiburon Fire Protection District are located there now. Beach Rd. hadn't gone through yet, but the gas station is already on the corner of Tiburon Blvd. and Beach Rd. in the middle of the photo.
"We're celebrating our 90th anniversary this year," he said, and he encouraged us to join the Landmarks Society and find out about the big party they're planning. It costs a minimum of $60 to join for a year. Patty Flax is the executive director, and Susan Cluff has just joined the staff and works at the Archives.
President Jon Rankin reported that our club sponsored a piece for the model.
Presentation
Blythe Rainey-Cuyler won the grand prize in the raffle at the last Tiburon Peninsula Chamber of Commerce mixer, and it included 12 wine glasses from different years of the Tiburon Wine Festival. She presented six of the wine glasses, which have different monograms and styles each year.
Dave thanked her, observing that they provide a wonderful history of the wine festival.
Thanks to Dave Gotz and the Belvedere-Tiburon Landmarks Archives for the use of historic photos.
_______________

DeAnn Biss, executive director of the Tiburon Peninsula Chamber of Commerce, shared the ways she is working to bring people to downtown Tiburon and some of her suggestions for the future.
She began by explaining that a sense of community is the result of collaboration by elected officials, residents, business owners, community organizations, town employees and property owners. The Chamber's role is to promote business and build community, and it goals for 2019 are the following:
• To work with property owners to better message downtown development;
• To create a visual narrative of good things to come;
• To open a visitor center;
• To foster community through events that promote our community organizations and local businesses;
• To introduce education workshops to Chamber members in partnership with the Marin Small Business Center;
• To demonstrate value to members.
Community Partnerships
Events are partnerships with local business and organizations. Friday Night on Main begins on May 31, and it will continue to be kid-friendly with outdoor seating at local restaurants, and it will have some changes this year.
Summer on Main is new and began in May. The next one is Friday, June 14, and runs from 5 to 8 p.m. It's an adult-oriented community party, giving friends an opportunity to get together and relax. Parents on a date night can take advantage of Kids Night Out, a childcare package that requires reservations. It will have an outdoor bar but no outside table service.
Tiburon Best in Show, 11:30 a.m. to 1:30 p.m., June 1, is a dog show with a pet parade and best costume and best trick contests. It is in partnership with Vineyard Vines and the Milo Foundation, which will have pets for adoption.
Local businesses host monthly mixers, and the next one will be at Ruth Livingston Studio, 74 Main Street, on Ark Row, from 5:30 to 7 p.m.
The holiday festival will also continue to take place in December.
DeAnn has several strategies for success:
• Improve communications to improve communication to visitors, residents and businesses by directing people to the new website, www.tiburonchamber.org;
• Improve the Chamber's social media presence to highly local merchants as well as events;
• Streamline operations;
• Promote local businesses as partners.
Among her ideas is using the old French Laundry space, which is adjacent to Fountain Plaza, as a Town of Tiburon information center, which is an idea some members of our club had several years ago. It's a very exciting concept, and to keep costs down she would like volunteers to staff it. It would be a perfect opportunity for Rotary to take an active part in supporting the business community.
She also said the mix of businesses on Main Street has to be right if it is to attract people. Too many dress shops, for instance, will not bring people downtown. She used the example of a yoga studio downtown with a juice bar nearby to illustrate how businesses can complement each other. Her idea for the Bank of America building, which the bank will vacate next year when it leaves Tiburon, was awesome. She said it's the perfect opportunity to do small retail below and perhaps housing above. Breaking up the space would give people more reasons to go downtown and shop. She also reported that Chase will move into the space that Union Bank used to occupy, leaving another large building vacant. Vacancies in both office and retail space are increasing, and so it will require creative thinking to revitalize the downtown area.
Thanks to Linda Emberson, Annette Gibbs and Marianne Strotz for contributing to this issue of The Rotide.
_______________


MARK YOUR CALENDAR
GREAT GUEST SPEAKERS
July 3, 2019, We're taking a break , as we get ready to celebrate the 143rd anniversary of our nation's founding. Happy Fourth of July!

July 10, 12:15 p.m., Elizabeth Mulbah, Rotary Club of Sinkor, Liberia, will be a special guest.

July 17, 5:30 p.m., Magdalena Yesil, How Smart Women Win in the New Economy

_______________

  NOTEWORTHY EVENTS
Installation Celebration, 6:30 p.m., Wednesday, June 26, Servino's, 9 Main St., Tiburon. RSVP required. vegetarian dinners available on request with RSVP.

 ___________________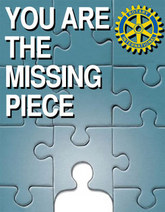 Meetings
We meet at Sam's Anchor Cafe at 5:30 p.m. for an early evening meeting on the first and third Wednesday of the month and for lunch at 12:15 p.m. on the second and fourth Wednesday of the month. Most weeks, either a guest speaker makes a presentation or we have a program. Attendance is $10. Food and drinks are no-host  We welcome guests. If you'd like to hear a speaker, offer to be one or find out more about Rotary, pay us a visit. We'd be happy to make your acquaintance.

Board of Directors Meetings
Meetings of the Board of Directors are open to all members and take place monthly at a time to be announced. For information, please send an email to judith@telli.com.

Contact us at rotary@telli.com.
If you'd like to be a guest speaker, please contact Marianne Strotz at properties@pacbell.net.

Send mail to Rotary Club of Tiburon-Belvedere, P.O. Box 220, Tiburon, CA 94920.


Follow us on Facebook: https://www.facebook.com/tbrotary. Hope you "like" us!
_________________________
Scroll down to see our photo gallery of Rotarians at work and play!
____________________

 ROTARY AT WORK

The Rotary Club of Tiburon-Belvedere supports a wide range of programs, with a focus on youth, literacy and community. We believe that reaching out to others makes a better world and encourage others to join us. Here's what we're supporting in 2019-2020.

Youth—Investing in the Future
• Ambassadors of Hope and Opportunity: Support to provide a safety net of stable housing, guidance and community connections for young people 16 to 25, who are homeless or in danger of becoming homeless in Marin County.

• Bel Aire School's Liberia Project: Advice and support for the fifth-grade students' ongoing projects to help their sister school in Liberia, thus encouraging altruism at home and helping children in a disadvantaged country across the world.
• Dave Hutton Rotary Award for Service Above Self: An annual award to a graduating eighth-grader with a record of outstanding community service at Del Mar Middle School.

• Global Book Exchange: Support for the Global Book Exchange in San Rafael, which collects lightly-used books and redistributes them to teachers at schools with limited budgets, disadvantaged families and nonprofits that serve children, as well as schools throughout the world.
• Marielos Fund: A scholarship to send a young woman in El Salvador to medical school.
• Marin Youth Sympathy: Support for sending young musicians on a tour to perform in Europe.
• Rotaplast International: Support for volunteer medical teams to provide life-changing surgery for children with cleft-lip and palate in needy communities around the world.
• Rotary Youth Leadership Awards: Scholarships so high school sophomores and juniors can attend a special camp that guides them to develop their leadership skills.

• Educator of the Year Awards: Annual awards to outstanding educators in local schools, whose unique projects give children a worldview that encourages them to become good citizens.
Meaningful Projects—Service Above Self
• Marin Villages: Support for programs that help seniors age in their own homes. Members pay a small fee and can enjoy social get-togethers and access to volunteers for help with tasks such as getting to appointments, changing light bulbs or assisting with pets.

• Service to the Community Awards: Recognition for people who serve the community in meaningful ways, but don't often get acknowledgement.

• St. Vincent de Paul: Support for helping Marin's neediest residents obtain nutritious food, affordable housing, meaningful employment and a voice in the community.

• Whistlestop: Underwriting for Whistlestop's Thanksgiving Feast for Seniors.

District Designated Funds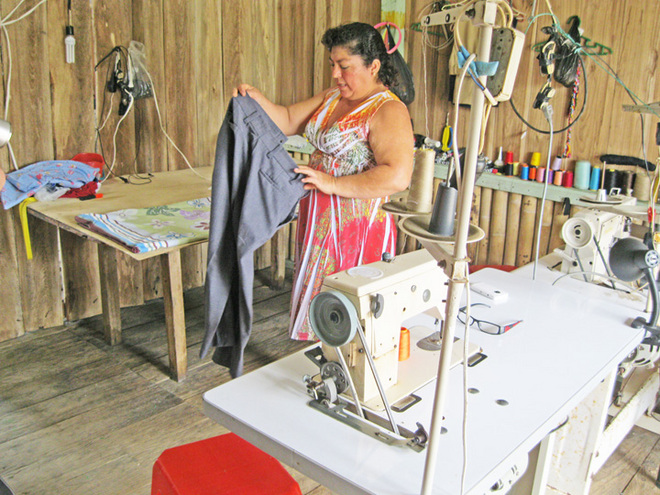 Rotary's District Designated Funds helped establish this sewing shop in Esmeraldas, Ecuador. Photo: Courtesy of Keith and Holly Axtell

Funds from the Rotary International Foundation's annual campaign earn District Designated Funds for our club. This year, we're contributing to the Rotary Club of Marin Evening's San Jacinto water project in Ecuador. For the past three years, we have contributed our funds to multi-club microcredit projects in Ecuador, Guatemala and Peru to train people in job and entrepreneurial skills and extend microloans to help them start small businesses and become self-sufficient.
____________________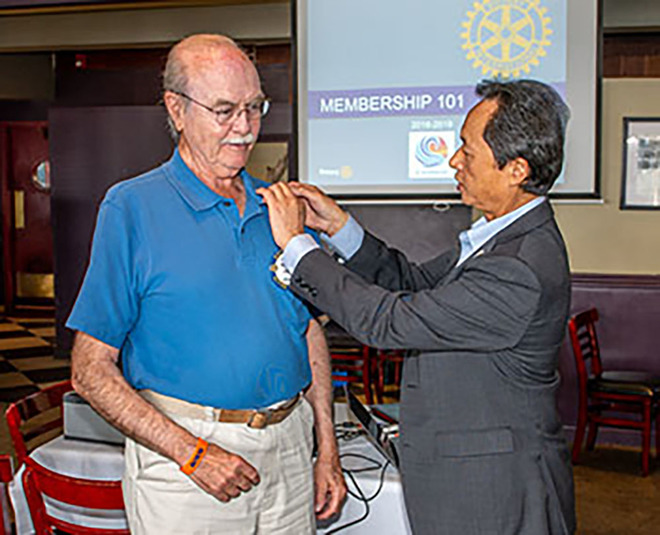 Past District Governor Ron Gin, now district membership chair, presents Mike Keran with a pin in honor of his being chosen Rotarian of the Month for District 5150.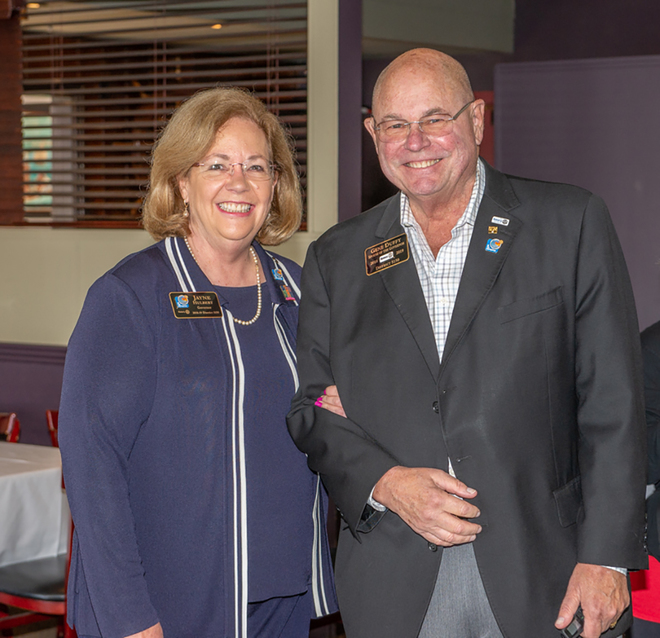 District Governor Jayne Hulbert and First Husband Gene Duffy paid the club a visit.
Cindy Siliciano of the Tiburon Sunset Rotary Club (left) and President Linda Emberson of the Tiburon-Belvedere club get ready to toss goodies to kids at the Labor Day weekend hometown parade. (Photo: Marshall Gross)
_______________

Welcome New Members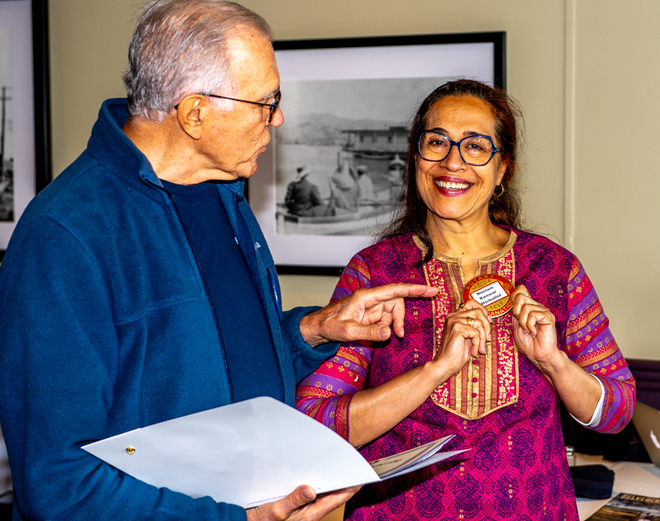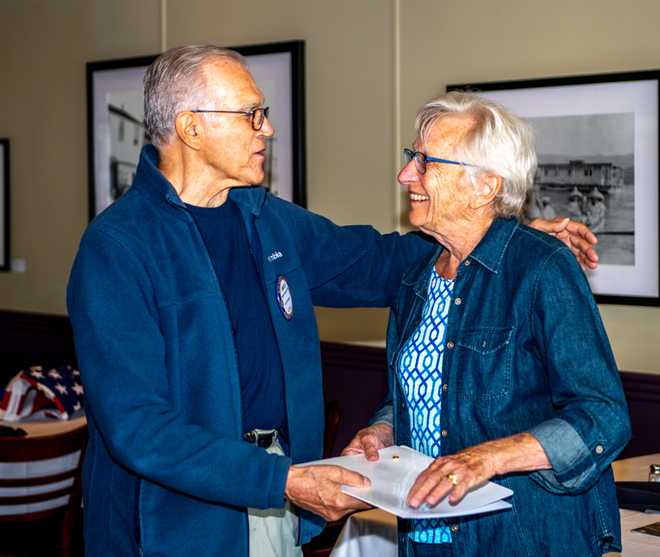 Membership chair Angelo Capozzi welcomed new members Neelam Kanwar (upper photo) and Lynn Spitler (lower photo).
_______________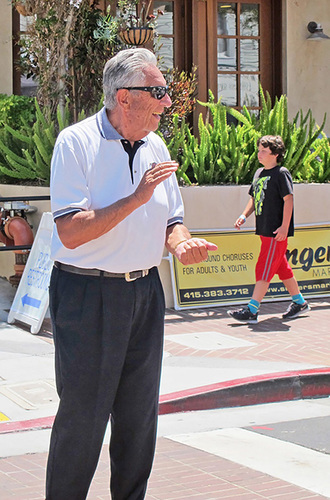 It is with profound sadness that President Linda Emberson announces the passing of beloved member Jim Deitz on Friday, July 13. Jim exemplified Rotary's motto, Service Above Self, and his altruistic spirit was a model for everyone. He was devoted to his family, loved dogs and was one of the best. We'll miss him terribly.
_______________

Good Work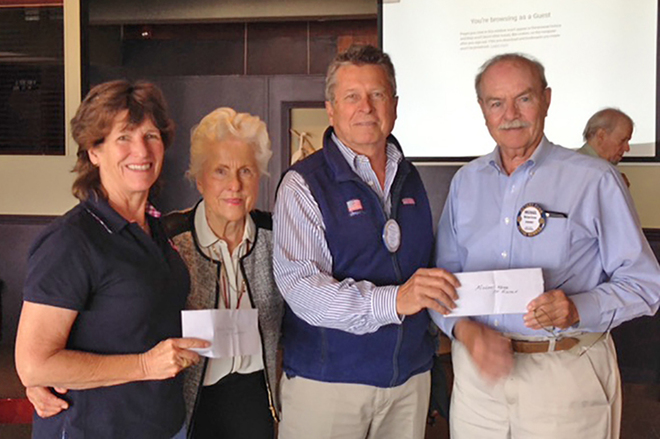 (l. to r.) Lisa Brinkmann of Marin Villages accepts a check from Marianne Strotz, and Michael Heckmann presents a check to Michael Keran for St. Vincent de Paul. Photo: Lynn Fox

_______________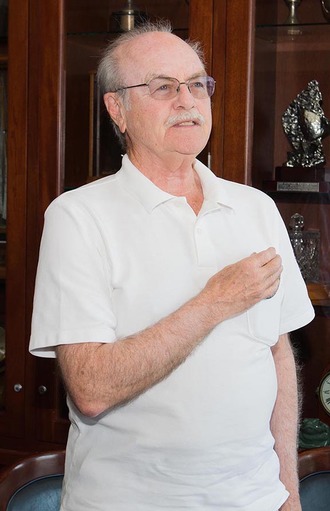 District 5150 named Michael Keran Rotarian of the Month for May. Mike's much-deserved honor is in recognition of his ongoing commitment to St. Vincent de Paul and helping the homeless in Marin County. In addition, he recruits a crew of Rotarians to serve lunch at the St. Vincent de Paul Free Dining Room in San Rafael every month. May marked the beginning of the 12th year of this service project.
_______________

Annette Gibbs (left) and Shelby Gross joined the Rotary contingent and got into the spirit
of this year's first Friday Night on Main
_______________

Celebrating Earth Day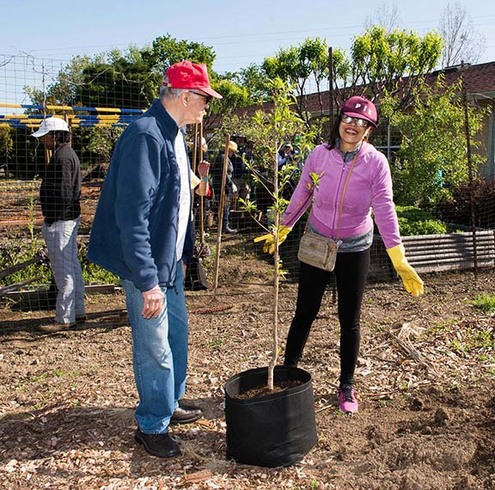 Having Fun at Friday Night on Main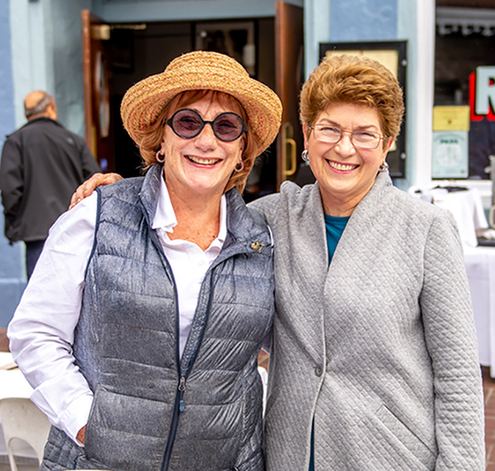 Angelo Capozzi (left) and Neelam Kanwar planted trees at Homeward Bound as part of Rotary International's initiative to plant one tree for every Rotarian. Photo: Marshall Gross
_______________
Lending a Hand at St. Vincent de Paul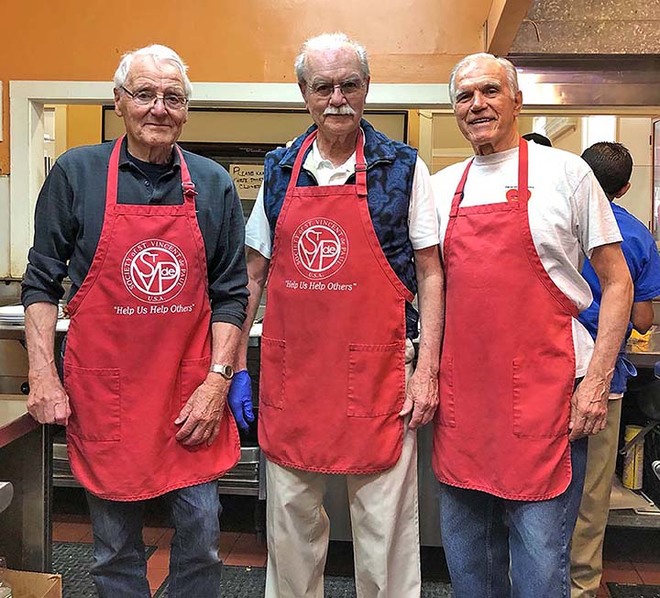 Stalwart volunteers (l. to r.) Klaus Meinberg, Michael Keran and Angelo Capozzi in the kitchen of the St. Vincent de Paul Free Dining Room in San Rafael. The Rotary Club of Tiburon-Belvedere serves lunch on the fourth Thursday of every month and will begin its twelfth year of volunteering, under Mike Keran's leadership, in May. Angelo is team leader for the club's participation in the REST program, and he and Klaus also served dinner to a group of homeless men at St. Hilary's Church the same day. Service Above Self at its best!
_______________

First meeting at Sam's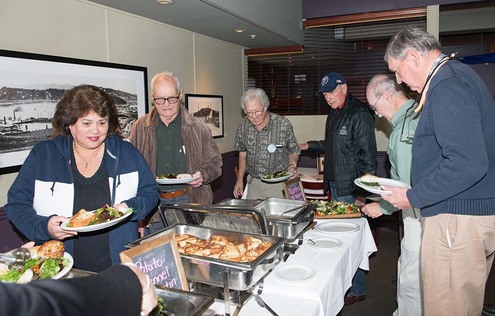 _______________

Rotary does REST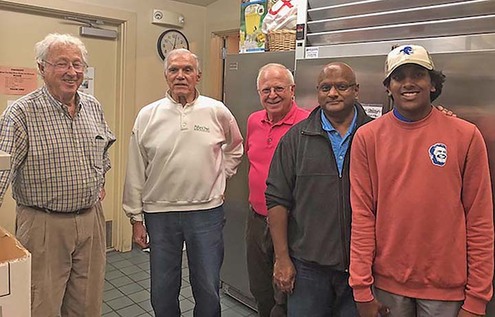 The Rotary Club of Tiburon-Belvedre hosted dinner for a group of 25 homeless men who were spending the night at St. Hilary's Church on Thursday, February 15, as part of the REST (Rotating Emergency Shelter Team) program.
Members of the Rotary crew (above, l. to r.), John Kaufmann, Angelo Capozzi, Brian Walker, Raja Ramachandran and Deven Ramachandran, took a break before serving dinner to guests in Tarantino Hall. Lata Setty, Annette Gibbs, Bill Goldberg, Zohre Grothe, Karl Hoppe and Lata Setty were also on hand to help. The evening featured good conversation, great appetites and uplifting camaraderie, as well as good food.which included homemade lasagna that Deven, Lata's son, helped prepare as a family Valentine's Day project, and Mary Kaufmann'a delicious oatmeal cookies and cupcakes decorated with hearts.
_______________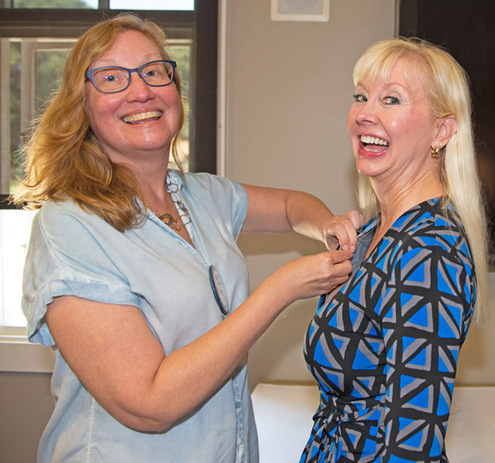 Karen Glader welcomes new member Valerie Marsh to the club and gives her a Rotary pin.
_______________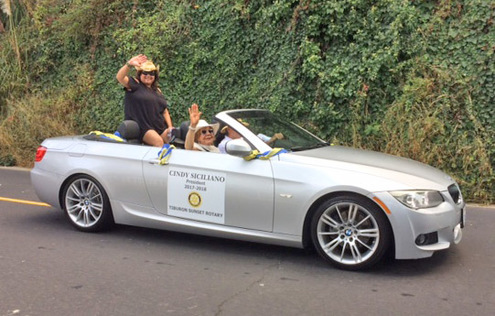 Rotarians have fun in the Day Before-Labor Day parade.
_______________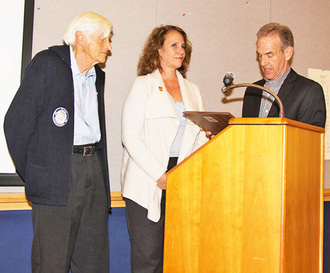 Proclamation
The Town of Tiburon issued a proclamation in honor of the Rotary Club of Tiburon-Belvedere's 40th anniversary, which we will celebrate in June, and the 100th anniversary of the Rotary International Foundation. Pictured, left to right, are George Landau, President Linda Emberson and Tiburon Mayor Jim Fraser. Photo: Marsall Gross.
______________
Visitor from Afar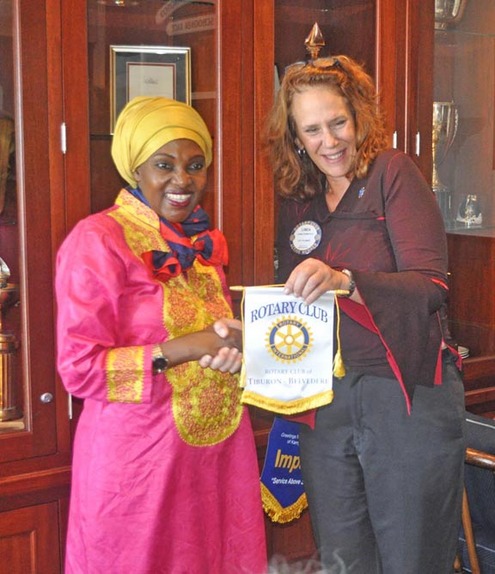 Rehmah Kasule (above left), with President Linda Emberson) is the Immediate Past President of the Rotary Club of Kampala/Impala in Uganda. She took the opportunity to visit us when she was at a conference in San Francisco in October. In 2010, she received recognition at the White House for her work in empowering women and met President Obama. She then wrote a book, From Gomba to the White House. She shared an African proverb: "When you walk fast, you walk alone. When you walk with others, you go far."
_______________

MAKING KIDS SMILE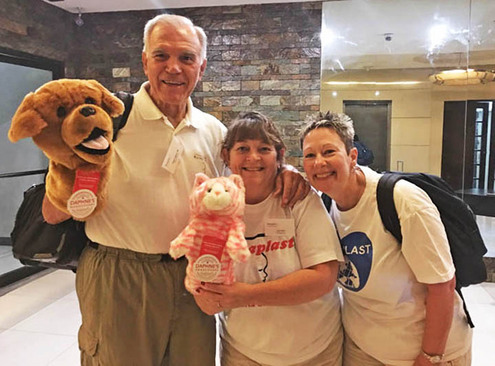 Marshall Gross donated two beautiful puppets that he won in a gift basket to Rotaplast's mission in Cebu City, Philippines. Dr. Angelo Capozzi (with the big dog) reports that the puppets are making kids smile every day before undergoing surgery, and the mission is going well.
______________

Tiburon Challenger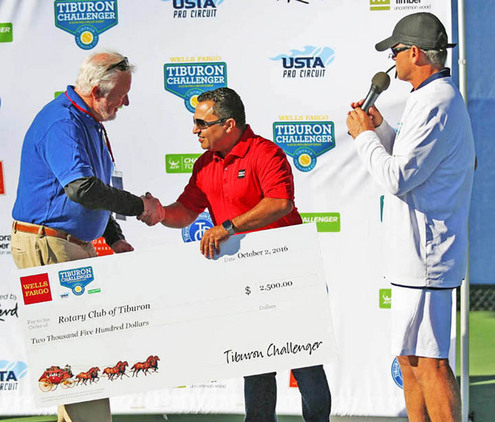 Charlie Oewel, representing the Rotary Club of Tiburon-Belvedere, accepted a generous check from Ashoo Vaid (middle) of Wells Fargo and tournament director Brendan Curry (right) at the conclusion of the Tiburon Challenger. The funds will go to the club's education projects. (Photo: Getty Images for Revd)
_______________

Rotary welcomes Kimberly Brooks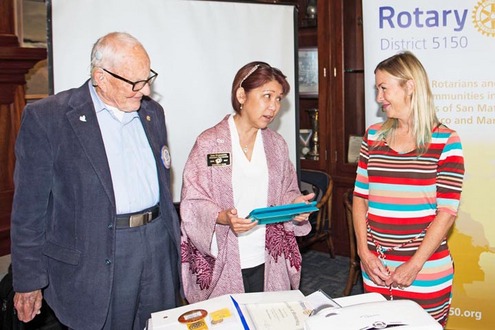 District Governor Jeri Fujimoto (center) inducted new member Kimberley Brooks (right) as Kimi's sponsor, Joe Lavigne, looked on. Photo: Marshall Gross
_____________________
DAY BEFORE LABOR DAY PARADE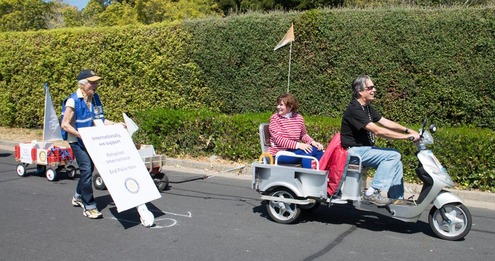 Tari Nix and friend pull wagons with books for kids from the Global Book Exchange, as Marianne Strotz walks alongside, wheeling a Rotary sign. (Photo: Marshall Gross)
To see more photos of the parade, go to www.tiburonrotary.org and click on "Photo Gallery."
____________________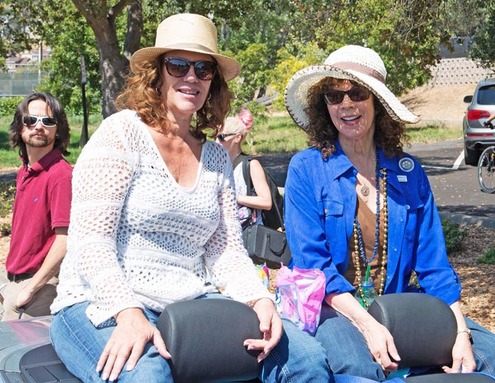 President Linda Emberson (left) of Tiburon-Belvedere and President Marilyn Nemzer of Tiburon Sunset hitch a ride with Michael Heckmann in the Day Before Labor Day Parade. (Photo: Marshall Gross)
Dana and Chester (left), making friends.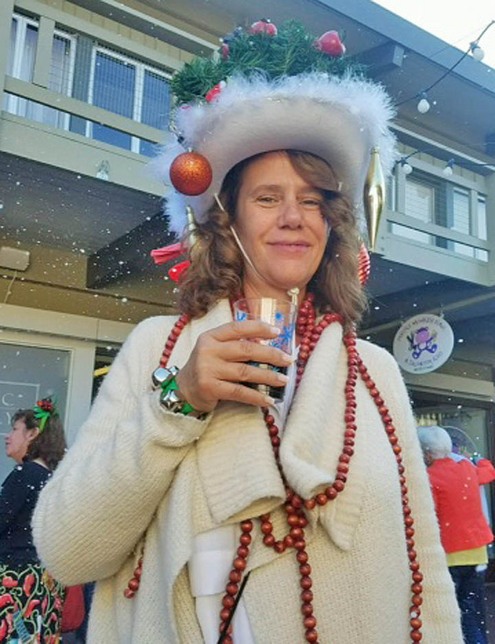 Winter in August was the theme of the Tiburon Peninsula Chamber of Commerce's mixer at the Boardwalk. President Linda Emberson took the prize for the most creative hat.

_______________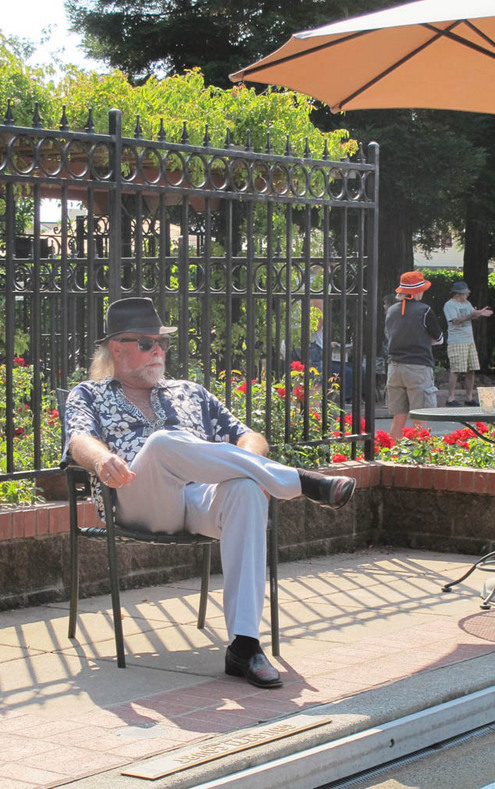 Jon Rankin views the on-court action at the annual Bocce Ball Tournament, a fundraiser for Rotaplast International. (Photo: J. Wilson)

_______________

Changing of the Guard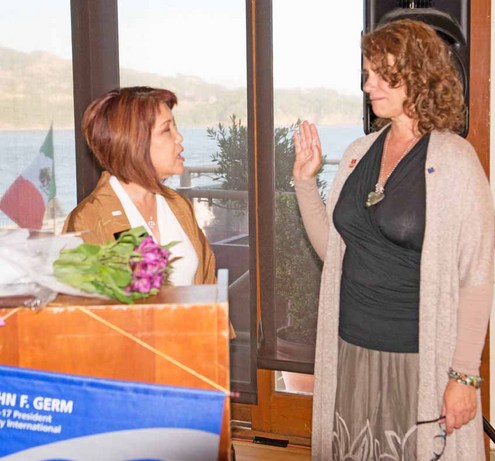 Thanks to President Marianne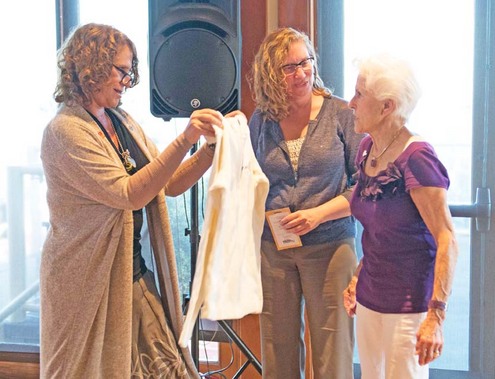 President Linda Emberson (left) thanks outgoing President Marianne Strotz (right) for her two outstanding years of leadership with a special Rotary jacket, as Karen Glader, the club's new secretary, looks on. (Photo: Marshall Gross)
____________________

Honors for Angelo
Dr. Angelo Capozzi (left) and Dr. John Kaufmann with a child who underwent surgery during a Rotaplast mission to Peru in May 2016. (Photo: Courtesy of Rotaplast International)
____________________
Service Above Self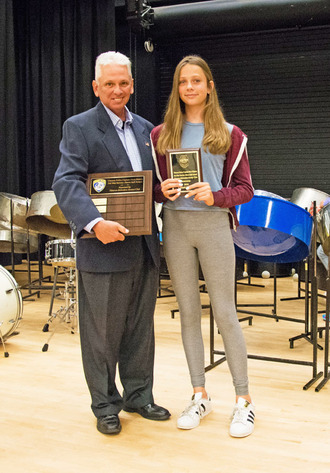 Dave Hutton presents the Capt. Dave Hutton Rotary Service Above Self Award to Kendall Hermann, graduating senior at Del Mar Middle School, for her outstanding performance in community service. The presentation took place at a special awards assembly in June. Photo: Marshall Gross
____________________
Teachers of the Year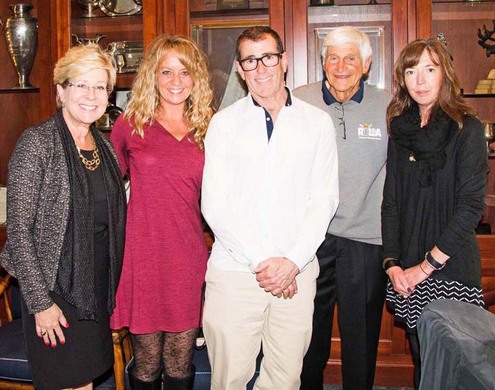 (Left to right) RUSD Superintendent Nancy Lynch, Bel Aire School's Kelly Morphy, Reed School's Ross Modlin, Rotarian George Landau and Erin Turner of St. Hilary School (photo: Marshall Gross)
____________________
Carnaval!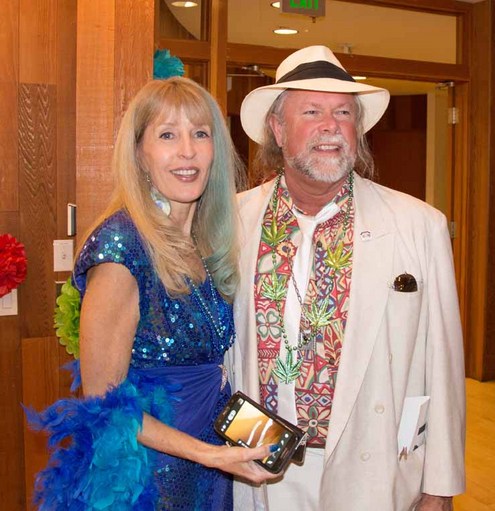 Mary Kaufmann and Jon Rankin got into the spirit of Carnaval, a fundraiser for the Rotary Club of Tiburon-Belvedere. For more, see the photo gallery at www.tiburonrotary.org. (Photo: Marshall Gross)
_______________

A Public Art Project in Eight Short Films