Welcome to Telli Marin! Sign in | Create a login

Rotary Club of Tiburon-Belvedere
Fellowship and Service
Address:
1600 Mar West Street
Tiburon/Belvedere, CA 94920
Phone:
415-789-0161
Rotary Club
of Tiburon-Belvedere

Monday, February 17, 2020

NEWS
Irish Music
This week's speaker is Tom O'Neill, founder of Tiburon's Irish Music Festival. He will speak about the man who saved Irish music. We meet at 5:30 p.m. at Sam's Anchor Cafe.
Party Time!

Kathleen Defever in the Spotlight
Kathleen Defever, our newest member, loves reading and is interested in the Global Book Exchange. She's from a small town in Michigan, and if you look at her website for her campaign for Tiburon Town Council, you can see a photo of her there. "There's still a Post Office but it's only open for two hours two days a week," she said. The town is named Pompeii, but it's pronounced "pomp-ee-eye."
She was in 4H, and "Chicken were my favorite thing to raise and show," she said. Her father is a farmer, and his family immigrated from Belgium. Half of them are farmers, and half of them are local officials. Family members on her mother's side are artists and miners.
She attended Michigan State University in Lansing, and "A lot of my classmates didn't go to college," she said. She was there for three years and then transferred to DePaul University in Chicago. She worked as a runway model, got a liberal arts degree and then decided to go to law school. "You can apply your law degree to almost anything," she said. She didn't like law school, but it shaped her character and made her what she is today.
She worked as a federal criminal defender in Chicago and mostly represented bank robbery defendants, because bank robbery is a federal crime. "Bank robbery is the stupidest crime," she said, explaining that banks have cameras and marked bills, so it's easy to get caught.
"Did you ever get a bank robber off?" asked Marshall Gross, and she said no, and that's largely because the cases prosecutors take court are the ones they believe they can win.
"I win one now and then," said Jon Rankin.
"We defend the constitutional right for that defendant to have a voice," said Kathleen, and she explained that banker robbers tend to be damaged in some way, and she got into their psyches to figure out why they committed crimes and explained their rationale to the judge. Thus, she made sure her clients got appropriate sentences.
She decided to move to California after visiting a friend who lived in southern Novato. She loves Marin, because it's a place with peace and nature as well as lots of opportunities. It's close to San Francisco and fun things. "We have all of it and live in this gorgeous place. … It's the best of all the worlds," she said.
The economy was crashing while she was moving, but she was unaware of it. She was unable to find a job, but then she started to meet people and became acquainted with a man who had his own insurance law firm. He offered her a job, and she eventually took it.
"It's fascinating," she said. She writes comparative research between American and European insurance law, and "I want insurance to be better for consumers," she said.
She loves opera and co-founded Opera Night at Servino's. Angelo Servino pulls a baby grand piano out of a closet, and the maestro explains the piece before it begins, so you understand the story, which makes it interesting. "You're not committing to a long opera for three or four hours," Kathleen explained.
She currently serves on the planning Commission and really enjoys it. A dispute over lighting the tennis courts at the Tiburon Peninsula Club was the toughest question she's had to deal with. The question was whether it should have lights or not. There's no really correct answer, so the goal was to come up with a solution that suited everyone somewhat.
Kathleen is running for Tiburon Town Council in the election on March 3, and her priorities are open space, downtown development and emergency preparedness. "I go beyond open space," she said and explained that she is interested in environmental protection.

Questions and Answers
"What would you have liked to have done if you weren't doing what you are now?" asked David Albert.
"Opera singer," she said,  although she has no training whatsoever.
David also asked how the personnel of the current administration can ignore subpoenas without incurring penalties, and Kathleen explained that an attorney needs to go to court to get an order to enforce a subpoena. It might be different at that level, however, and it's a situation that hasn't come up before. The challenge is figuring out what happens when the administration doesn't enforce the law.
Bill Lindqvist mentioned Kiri Te Kanawa, a well-known opera singer from New Zealand, who is Maori. She is now retired, and Kathleen was not familiar with her.
Bill also asked if Kathleen had ever paid by ill-gotten gains, given that her clientele was comprised of bank robbers, and she said no.
Bill Goldberg recommended The Town by Ben Affleck, a film that has an unbelievable bank hold-up. "It's a great movie," he said.
Lynn Spitler asked Kathleen if she was the first in her family to go to college.
"Yes, on my mother's side," she said. Some on her father's side had attended college, but she didn't live close to them and didn't have an opportunity to discuss it with them.
"Any reason that so many opera singers are big people?" asked David Albert.
Some younger ones don't look like that, and Angelo Capozzi said that at the last Opera Night at Servino's, a male singer had a wonderful voice. "It's a God-given gift," he said, adding that he doesn't think weight has anything to do with it.
Asked about the most serious infraction by insurance companies, said that it's schemes to deny claims. It involves insidious behavior in creating a structure to cheat claimants out of as much money as they can. They use the complexity of your insurance policy against you and deliberately make it confusing. You have to be an insurance lawyer to understand what the policy actually covers, and insurance overseers tend to be lax in protecting consumers.
Mike Keran said that he worked for at Prudential for a time as an economist, and the company had about 1,000 lawyers through the 50 states.
Kathleen explained that the states are not equipped to know what's going on nationally, and insurance really needs to be federally regulated.
Angelo Capozzi asked if Kathleen knows of many cases where the insured defrauds the insurance company. She explained that when such cases occur, the insurance companies make their cases to the prosecutor and convince them, so the cases are almost pre-decided.
Bill Goldberg told a story about a case involving a woman who cleans for him. She was involved in an accident, and the insurance company said he might be responsible for the accident, because he employs her. He added that the courts don't like insurance companies, and so they have to allow some claims, so they won't look bad.
Bill Lindqvist took earthquake insurance on his house at first, but his insurance agent advised him not to get it.
President Annette Gibbs thanked Kathleen for her talk and presented her with a Starbuck's card to show our appreciation.
______________


MARK YOUR CALENDAR
GREAT GUEST SPEAKERS
February 19, 5:30 p.m., Tom O'Neill, founder of Tiburon's Irish Music Festival

February 26, 12:15 p.m., Library Director Debbie Mazzolini and project manager Glenn Isaacson: Progress report on library expansion

March 4, 5:30 p.m., Special evening activity

March 11, 12:15 p.m., Barbara Cupper: Cakes for Kids

March 18, No meeting

March 25, 12:15 p.m., Alice Fredericks, Earth Day

April 1, 5:30 p.m., Special evening activity

April 8, 12:15 p.m., Alice Fredericks, Tiburon's Earth Day plans
____________________
  NOTEWORTHY EVENTS
St. Patrick's Day Party, 5:30 p.m., Tuesday, March 17, Belvedere Community Center
Rotary District 5150 Assembly, Saturday, March 21, Redwood High School, Larkspur, Registration begins at 7:30 a.m.

 ___________________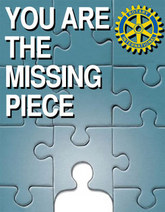 Meetings
We meet at Sam's Anchor Cafe at 5:30 p.m. for an early evening meeting on the first and third Wednesday of the month and for lunch at 12:15 p.m. on the second and fourth Wednesday of the month. Most weeks, either a guest speaker makes a presentation or we have a program. Attendance is $10. Food and drinks are no-host  We welcome guests. If you'd like to hear a speaker, offer to be one or find out more about Rotary, pay us a visit. We'd be happy to make your acquaintance.

Board of Directors Meetings
Meetings of the Board of Directors are open to all members and take place monthly at a time to be announced. For information, please send an email to judith@telli.com.

Contact us at rotary@telli.com.
If you'd like to be a guest speaker, please contact Marianne Strotz at properties@pacbell.net.

Send mail to Rotary Club of Tiburon-Belvedere, P.O. Box 220, Tiburon, CA 94920.


Follow us on Facebook: https://www.facebook.com/tbrotary. Hope you "like" us!
_________________________
Scroll down to see our photo gallery of Rotarians at work and play!
____________________

 ROTARY AT WORK

The Rotary Club of Tiburon-Belvedere supports a wide range of programs, with a focus on youth, literacy and community. We believe that reaching out to others makes a better world and encourage others to join us. Here's what we're supporting in 2019-2020

Youth—Investing in the Future
• Ambassadors of Hope and Opportunity: Support to provide a safety net of stable housing, guidance and community connections for young people 16 to 25, who are homeless or in danger of becoming homeless in Marin County.

• Bel Aire School's Liberia Project: Advice and support for the fifth-grade students' ongoing projects to help their sister school in Liberia, thus encouraging altruism at home and helping children in a disadvantaged country across the world.
• Dave Hutton Rotary Award for Service Above Self: An annual award to a graduating eighth-grader with a record of outstanding community service at Del Mar Middle School.
• Educator of the Year Awards: Annual awards to outstanding educators in local schools, whose unique projects give children a worldview that encourages them to become good citizens
• Global Book Exchange: Sup.port for the Global Book Exchange in San Rafael, which collects lightly-used books and redistributes them to teachers at schools with limited budgets, disadvantaged families and nonprofits that serve children, as well as schools throughout the world.
• Marielos Fund: A scholarship to send a young woman in El Salvador to medical school.
• Marin Youth Sympathy: Support for sending young musicians on a tour to perform in Europe.
• Musica Marin: Underwriting for scholarships for local students to attend events featuring classical music, fine food and a philanthropic purpose
• Rotaplast International: Support for volunteer medical teams to provide life-changing surgery for children with cleft-lip and palate in needy communities around the world.
• Rotary Youth Leadership Awards: Scholarships so high school sophomores and juniors can attend a special camp that guides them to develop their leadership skills.
• Young Performers International: Scholarships for kids to take music lessons and develop their performing skills. Music makes kids smarter!

Meaningful Projects—Service Above Self
• Marin Villages: Support for programs that help seniors age in their own homes. Members pay a small fee and can enjoy social get-togethers and access to volunteers for help with tasks such as getting to appointments, changing light bulbs or assisting with pets.

• Service to the Community Awards: Recognition for people who serve the community in meaningful ways, but don't often get acknowledgement.

• St. Vincent de Paul: Support for helping Marin's neediest residents obtain nutritious food, affordable housing, meaningful employment and a voice in the community.

• Whistlestop: Underwriting for Whistlestop's Thanksgiving Feast for Seniors.

District Designated Funds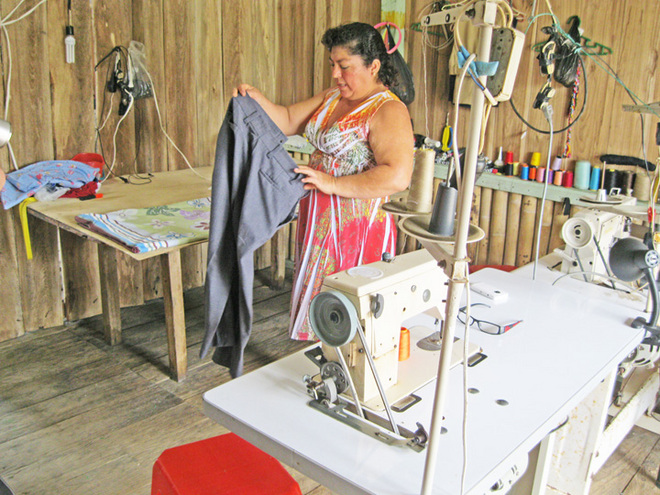 Rotary's District Designated Funds helped establish this sewing shop in Esmeraldas, Ecuador. Photo: Courtesy of Keith and Holly Axtell

Funds from the Rotary International Foundation's annual campaign earn District Designated Funds for our club. This year, we're contributing our international funds to the Rotary Club of Marin Evening's San Jacinto water project in Ecuador. For the past three years, we have contributed our funds to multi-club microcredit projects in Ecuador, Guatemala and Peru to train people in job and entrepreneurial skills and extend microloans to help them start small businesses and become self-sufficient.
District Designated Funds also support local projects, and this year our funds will go to underwrite the cost of school field trips to the Global Book Exchange and Audubon Canyon Ranch. In addition, we're donating portable bluetooth speakers to Canal Alliance so ESL teachers can fully implement the listening exercises that are part of the curriculum for English-language learners.

____________________
(l. to r.) Irene Russell, Kathleen Defever, Helen Lindqvist and Bill Lindqvist at the Tiburon Peninsula Chamber of Commerce mixer at the downtown Tiburon firehouse.
HELPING KIDS GO TO CAMP

President Annette Gibbs presented Jessica Hochkiss with a check for $1,000  for The Ranch from the club's foundation, which will help low-income children attend day camp. "We currently have two large summer camps going on," said Jessica, and she explained that they take kids to Angel Island every day. "The camp has gone on for 40 years," she said, and some of today's campers have parents who attended when they were young.
The Ranch is a nonprofit, and "Every little bit helps," she said, expressing her gratitude.
_______________

Past-president Linda Emberson and incoming President Annette Gibbs at the Installation Celebration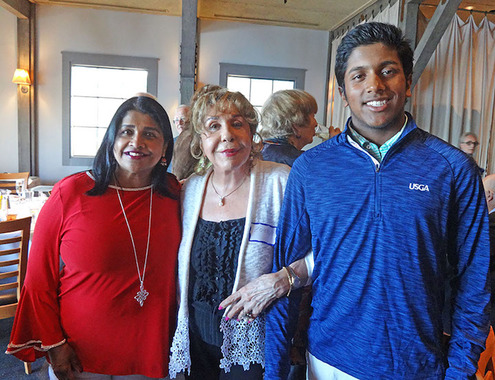 Lata Setty, Zohre Grothe and Lata's son, Deven Ramachandran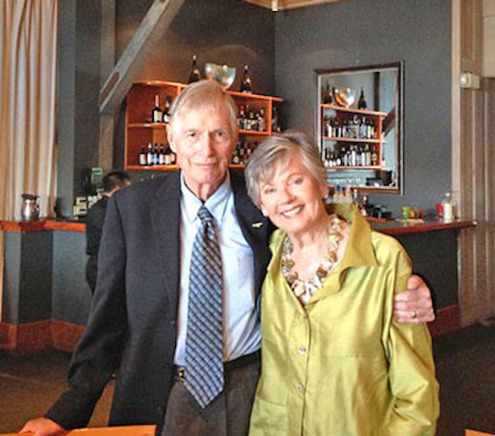 Warren and Irene Russell
_______________

Having fun at the Tiburon Classic Car Show!
Rotary in the community: Cindy Siciliano and Linda Emberson made it look easy, as they spent the day flipping burgers, hot dogs and corn on the cob for scores of happy customers.
____________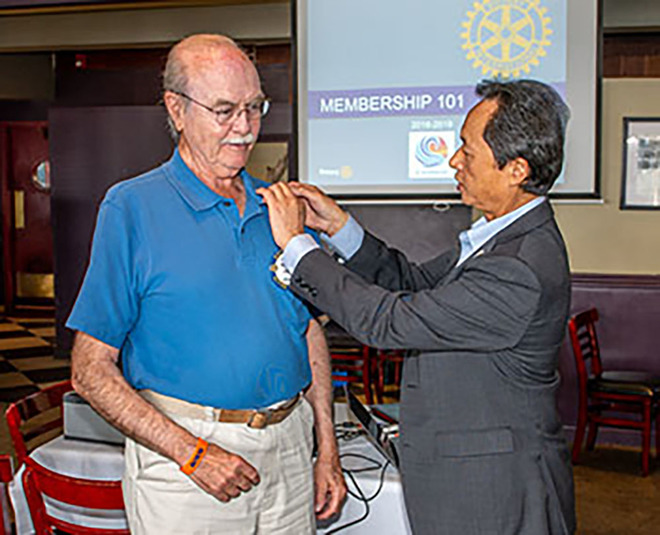 Past District Governor Ron Gin, now district membership chair, presents Mike Keran with a pin in honor of his being chosen Rotarian of the Month for District 5150.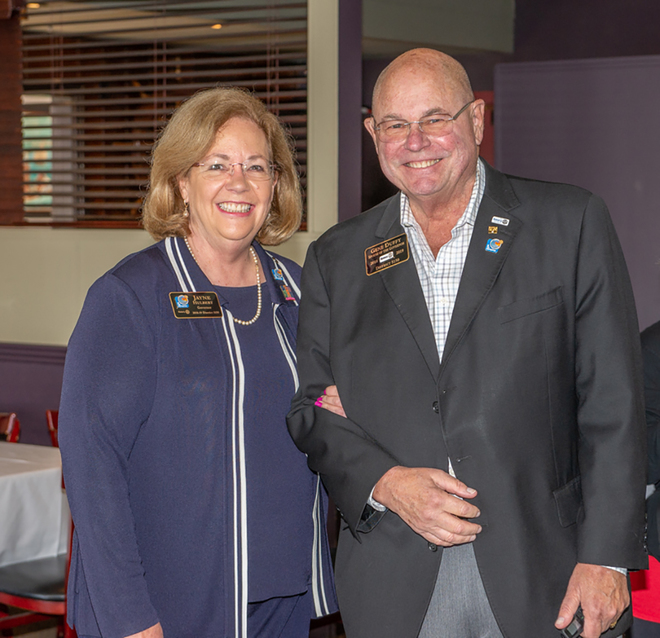 District Governor Jayne Hulbert and First Husband Gene Duffy paid the club a visit.
Cindy Siliciano of the Tiburon Sunset Rotary Club (left) and President Linda Emberson of the Tiburon-Belvedere club get ready to toss goodies to kids at the Labor Day weekend hometown parade. (Photo: Marshall Gross)
_______________

Welcome New Members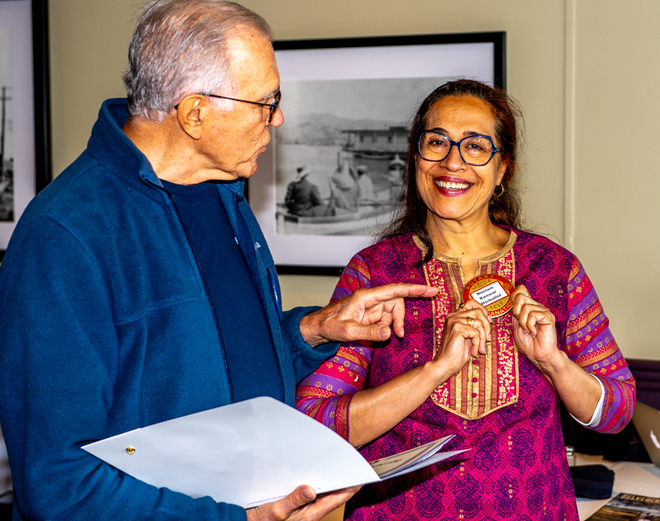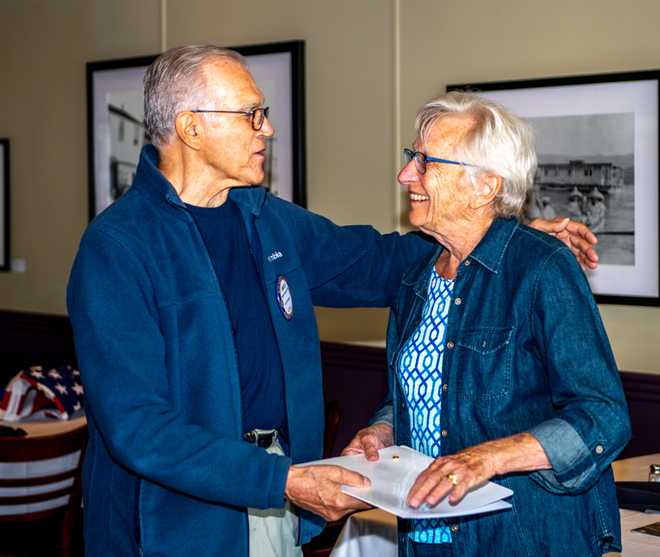 Membership chair Angelo Capozzi welcomed new members Neelam Kanwar (upper photo) and Lynn Spitler (lower photo).
_______________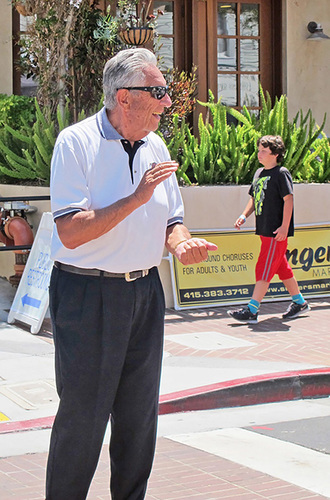 It is with profound sadness that President Linda Emberson announces the passing of beloved member Jim Deitz on Friday, July 13. Jim exemplified Rotary's motto, Service Above Self, and his altruistic spirit was a model for everyone. He was devoted to his family, loved dogs and was one of the best. We'll miss him terribly.
_______________

Good Work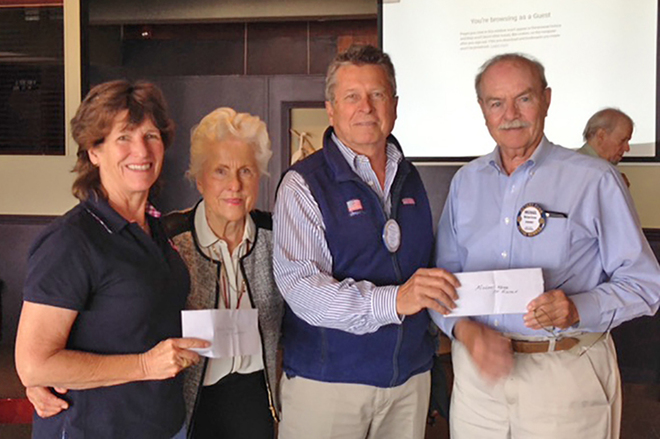 (l. to r.) Lisa Brinkmann of Marin Villages accepts a check from Marianne Strotz, and Michael Heckmann presents a check to Michael Keran for St. Vincent de Paul. Photo: Lynn Fox

_______________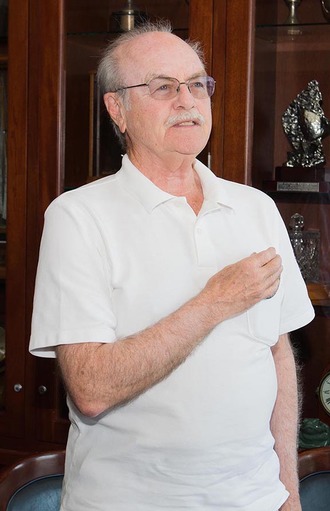 District 5150 named Michael Keran Rotarian of the Month for May. Mike's much-deserved honor is in recognition of his ongoing commitment to St. Vincent de Paul and helping the homeless in Marin County. In addition, he recruits a crew of Rotarians to serve lunch at the St. Vincent de Paul Free Dining Room in San Rafael every month. May marked the beginning of the 12th year of this service project.
_______________

Annette Gibbs (left) and Shelby Gross joined the Rotary contingent and got into the spirit
of this year's first Friday Night on Main
_______________

Celebrating Earth Day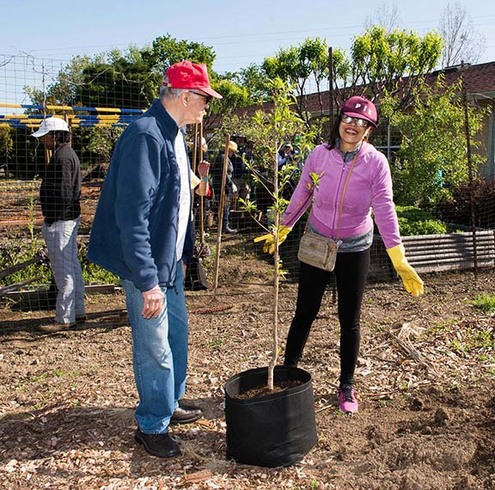 Having Fun at Friday Night on Main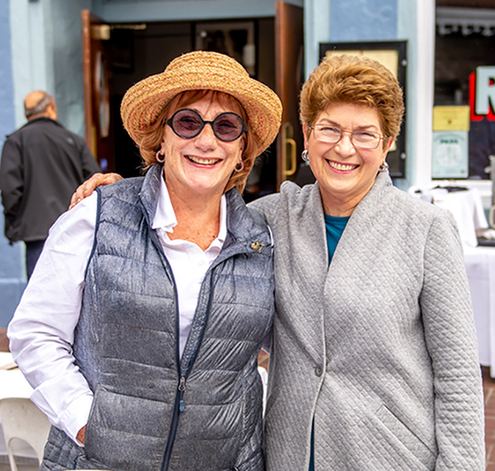 Angelo Capozzi (left) and Neelam Kanwar planted trees at Homeward Bound as part of Rotary International's initiative to plant one tree for every Rotarian. Photo: Marshall Gross
_______________
Lending a Hand at St. Vincent de Paul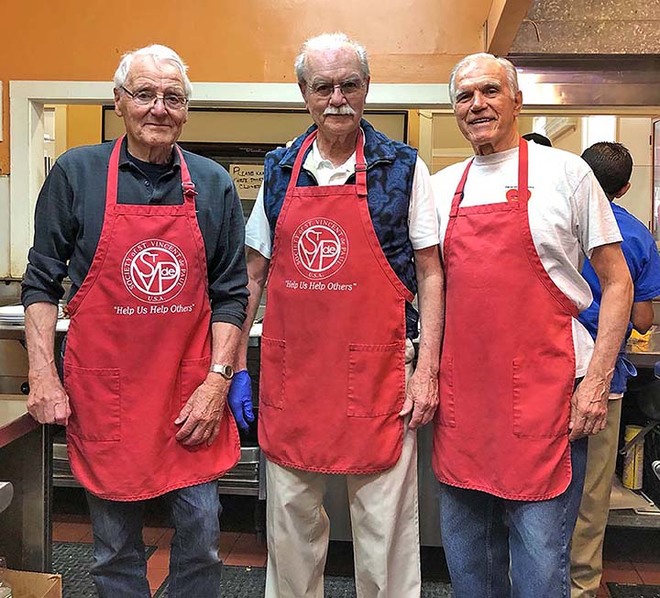 Stalwart volunteers (l. to r.) Klaus Meinberg, Michael Keran and Angelo Capozzi in the kitchen of the St. Vincent de Paul Free Dining Room in San Rafael. The Rotary Club of Tiburon-Belvedere serves lunch on the fourth Thursday of every month and will begin its twelfth year of volunteering, under Mike Keran's leadership, in May. Angelo is team leader for the club's participation in the REST program, and he and Klaus also served dinner to a group of homeless men at St. Hilary's Church the same day. Service Above Self at its best!
_______________

First meeting at Sam's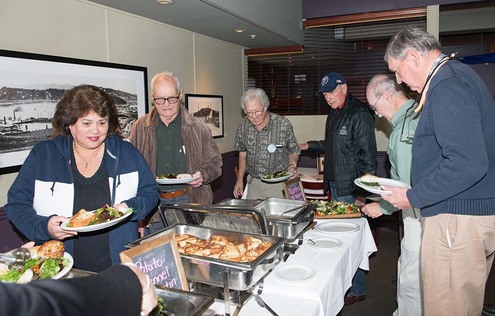 _______________

Rotary does REST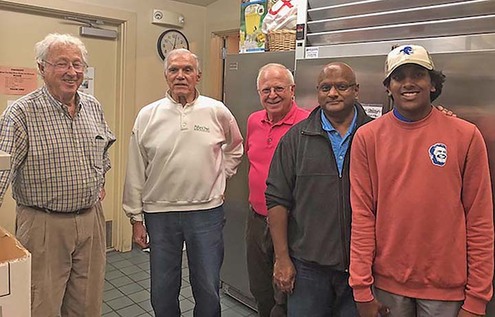 The Rotary Club of Tiburon-Belvedre hosted dinner for a group of 25 homeless men who were spending the night at St. Hilary's Church on Thursday, February 15, as part of the REST (Rotating Emergency Shelter Team) program.
Members of the Rotary crew (above, l. to r.), John Kaufmann, Angelo Capozzi, Brian Walker, Raja Ramachandran and Deven Ramachandran, took a break before serving dinner to guests in Tarantino Hall. Lata Setty, Annette Gibbs, Bill Goldberg, Zohre Grothe, Karl Hoppe and Lata Setty were also on hand to help. The evening featured good conversation, great appetites and uplifting camaraderie, as well as good food.which included homemade lasagna that Deven, Lata's son, helped prepare as a family Valentine's Day project, and Mary Kaufmann'a delicious oatmeal cookies and cupcakes decorated with hearts.
_______________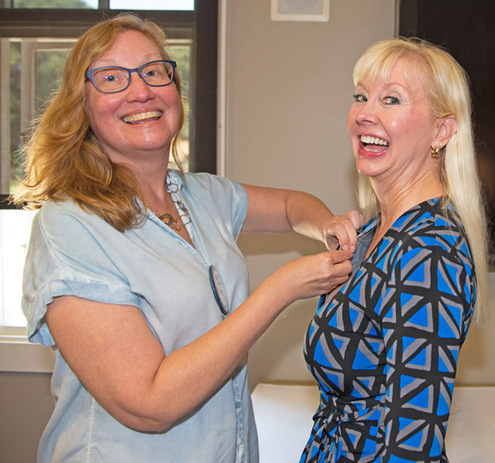 Karen Glader welcomes new member Valerie Marsh to the club and gives her a Rotary pin.
_______________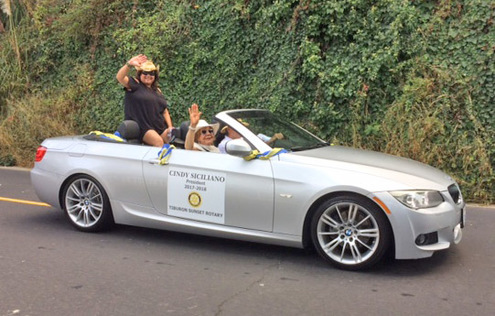 Rotarians have fun in the Day Before-Labor Day parade.
_______________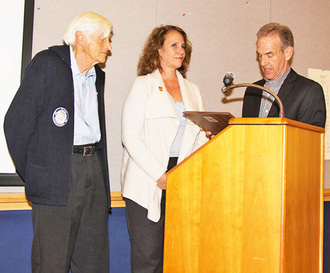 Proclamation
The Town of Tiburon issued a proclamation in honor of the Rotary Club of Tiburon-Belvedere's 40th anniversary, which we will celebrate in June, and the 100th anniversary of the Rotary International Foundation. Pictured, left to right, are George Landau, President Linda Emberson and Tiburon Mayor Jim Fraser. Photo: Marsall Gross.
______________
Visitor from Afar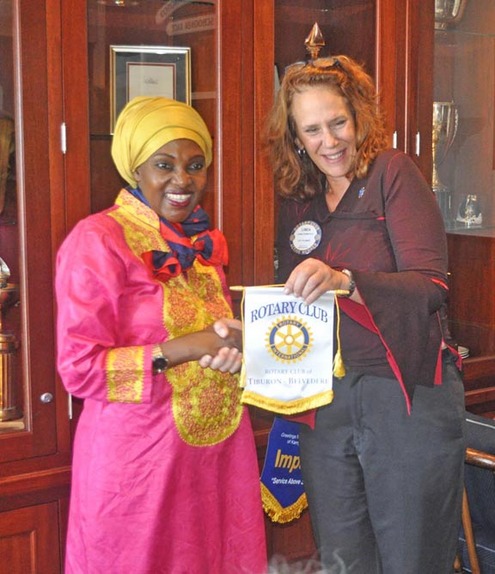 Rehmah Kasule (above left), with President Linda Emberson) is the Immediate Past President of the Rotary Club of Kampala/Impala in Uganda. She took the opportunity to visit us when she was at a conference in San Francisco in October. In 2010, she received recognition at the White House for her work in empowering women and met President Obama. She then wrote a book, From Gomba to the White House. She shared an African proverb: "When you walk fast, you walk alone. When you walk with others, you go far."
_______________

MAKING KIDS SMILE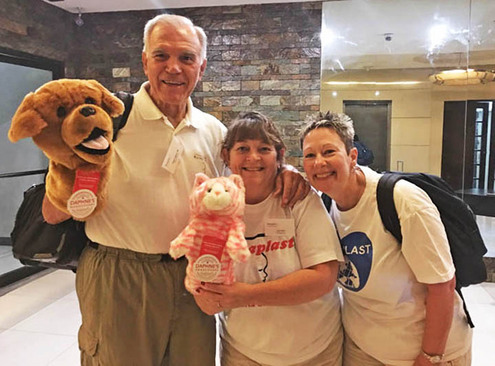 Marshall Gross donated two beautiful puppets that he won in a gift basket to Rotaplast's mission in Cebu City, Philippines. Dr. Angelo Capozzi (with the big dog) reports that the puppets are making kids smile every day before undergoing surgery, and the mission is going well.
______________

Tiburon Challenger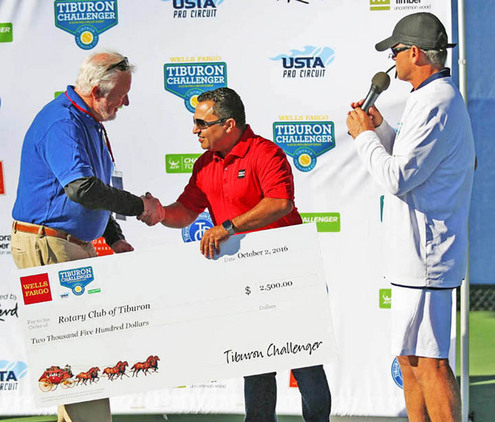 Charlie Oewel, representing the Rotary Club of Tiburon-Belvedere, accepted a generous check from Ashoo Vaid (middle) of Wells Fargo and tournament director Brendan Curry (right) at the conclusion of the Tiburon Challenger. The funds will go to the club's education projects. (Photo: Getty Images for Revd)
_______________

Rotary welcomes Kimberly Brooks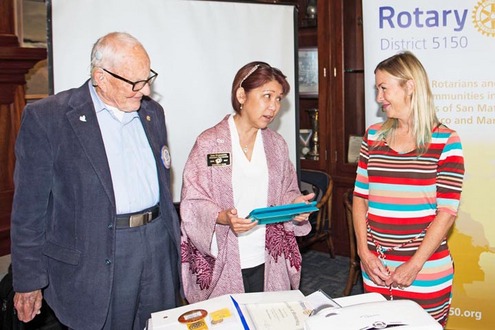 District Governor Jeri Fujimoto (center) inducted new member Kimberley Brooks (right) as Kimi's sponsor, Joe Lavigne, looked on. Photo: Marshall Gross
_____________________
DAY BEFORE LABOR DAY PARADE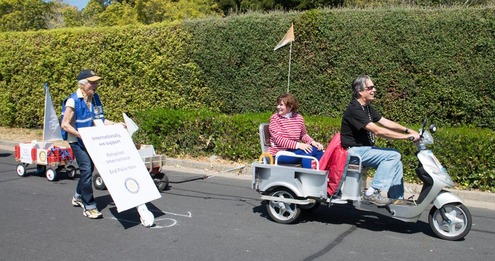 Tari Nix and friend pull wagons with books for kids from the Global Book Exchange, as Marianne Strotz walks alongside, wheeling a Rotary sign. (Photo: Marshall Gross)
To see more photos of the parade, go to www.tiburonrotary.org and click on "Photo Gallery."
____________________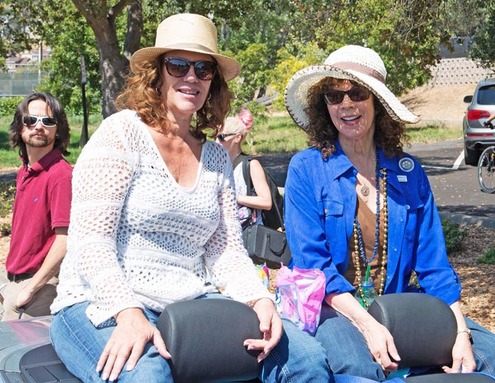 President Linda Emberson (left) of Tiburon-Belvedere and President Marilyn Nemzer of Tiburon Sunset hitch a ride with Michael Heckmann in the Day Before Labor Day Parade. (Photo: Marshall Gross)
Dana and Chester (left), making friends.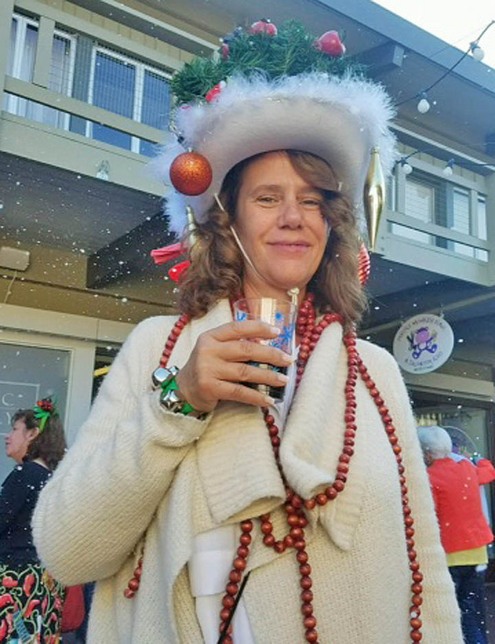 Winter in August was the theme of the Tiburon Peninsula Chamber of Commerce's mixer at the Boardwalk. President Linda Emberson took the prize for the most creative hat.

_______________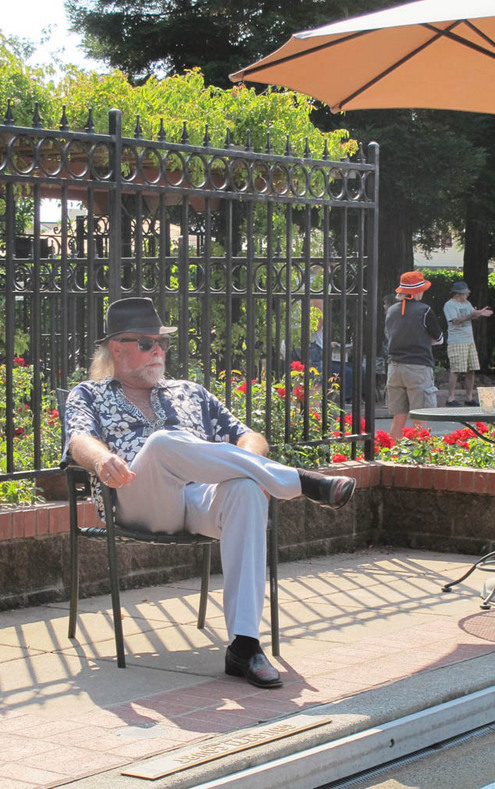 Jon Rankin views the on-court action at the annual Bocce Ball Tournament, a fundraiser for Rotaplast International. (Photo: J. Wilson)

_______________

Changing of the Guard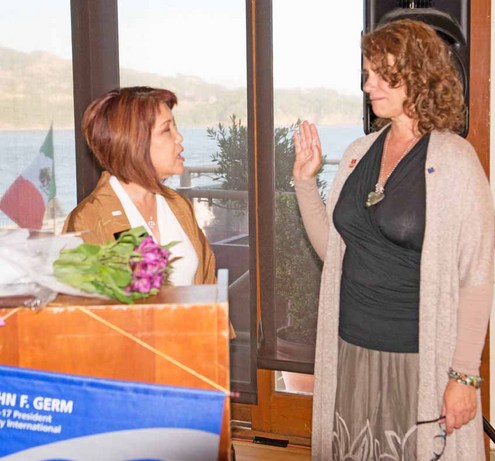 Thanks to President Marianne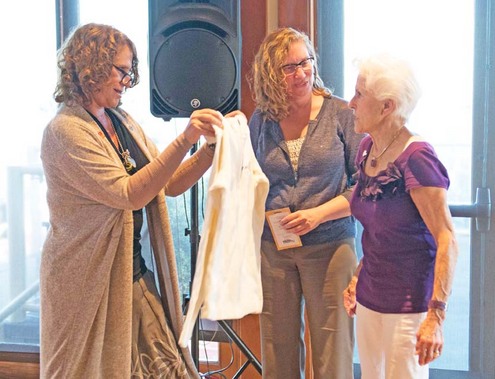 President Linda Emberson (left) thanks outgoing President Marianne Strotz (right) for her two outstanding years of leadership with a special Rotary jacket, as Karen Glader, the club's new secretary, looks on. (Photo: Marshall Gross)
____________________

Honors for Angelo
Dr. Angelo Capozzi (left) and Dr. John Kaufmann with a child who underwent surgery during a Rotaplast mission to Peru in May 2016. (Photo: Courtesy of Rotaplast International)
____________________
Service Above Self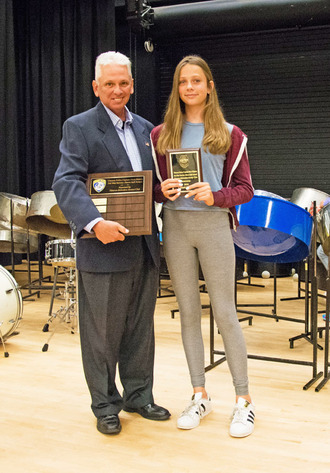 Dave Hutton presents the Capt. Dave Hutton Rotary Service Above Self Award to Kendall Hermann, graduating senior at Del Mar Middle School, for her outstanding performance in community service. The presentation took place at a special awards assembly in June. Photo: Marshall Gross
____________________
Teachers of the Year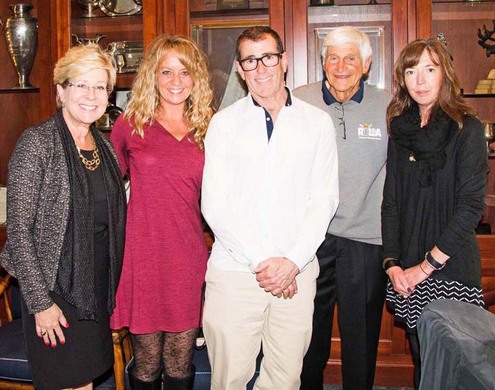 (Left to right) RUSD Superintendent Nancy Lynch, Bel Aire School's Kelly Morphy, Reed School's Ross Modlin, Rotarian George Landau and Erin Turner of St. Hilary School (photo: Marshall Gross)
____________________
Carnaval!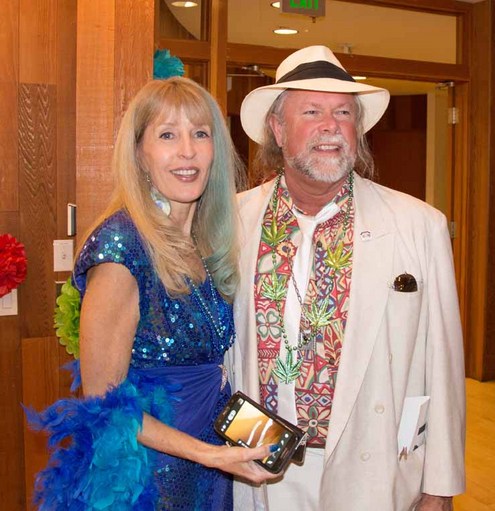 Mary Kaufmann and Jon Rankin got into the spirit of Carnaval, a fundraiser for the Rotary Club of Tiburon-Belvedere. For more, see the photo gallery at www.tiburonrotary.org. (Photo: Marshall Gross)
_______________