Welcome to Telli Marin! Sign in | Create a login

Rotary Club of Tiburon-Belvedere
Fellowship and Service
Address:
1600 Mar West Street
Tiburon/Belvedere, CA 94920
Phone:
415-789-0161
Monday, August 14, 2017


Romberg Tiburon Center
Students at San Francisco State University's Romberg Tiburon Center have San Francisco Bay at their doorstep, giving them a living lab for their research.
Marine Ecologist Karina Neilsen is a professor of biology, who has been director of the Romberg Tiburon Center for Environmental Studies for three years. "We are starting to chart a bit of a new course," she said, explaining that the goal is to prepare students for careers that connect science, society and the sea.
They train students in oceanographic and marine services, using technology and genetic tools, and they teach them to think with logic and collect evidence so they will be able to communicate and use evidence-based skills. It is part of an interdisciplinary masters program at RTC, which is a Master of Science in Marine Science and is called RIPTIDES—Research Intensive Pedagogical Training of InterDisciplinary Estuarine Scientists. It focuses o the intersection of global change, organized coastal areas and related social issues and is part of RTC's rebranding with a new vision and mission that is more focused.
Challenges
Karina noted that 71 percent of the Earth is covered with ocean, and 52 percent of the population of the United States lives in a coastal watershed county. San Francisco Bay is part of the largest estuary watershed in the western United States and drains 40 percent of California.
The anthropocene (which denotes the Earth's geological age and relates to the impact of human activity on the environment) has transformed estuaries and coasts. Urbanization, environmental degradation and the loss of ecosystem health and resilience have created environmental inequities and transformed the way we interact with the coast. Low-lying areas subject to inundation don't necessary have resilient populations, creating challenges, because vulnerable people tend to live in high-risk areas.
Populations are large in California's coastal watershed counties, and Marin County is planning around sea level rise. Karina said that lots of science goes into studies, and she pointed out that San Francisco International Airport, for example is vulnerable and at risk of flooding.
California is a leader in addressing climate change, as well as marine and coastal issues, and it is using science to inform policy. The state will release its fourth climate assessment in about a year.
Students' projects feed into the state's work. Several agencies working on the coast (e.g. water boards, California State Coastal Commission, San Francisco Bay Conservation and Development Commission, California Department of Fish and Wildlife) all have different regulatory layers, and the goal is to pull them all together so they can work better together.
"We passed Measure AA, and it will fund nature restoration and adaptation programs," said Karina, referring to the parcel tax that will help restore wetlands and protect wildlife habitat in the counties adjacent to San Francisco Bay.
After the floods in the east that resulted from Hurricane Sandy, a big design competition, Resilient by Design, got people to think about rebuilding the infrastructure and finding good ways to do it, and the New York Times ran the ideas.
The Resilient by Design/Bay Area Challenge—www.resilientbayarea.org—is the same kind of thing and encourages engineers, architects, designers and other experts, as well as community members, to look at ways to maintain healthy ecosystems and sustain the infrastructure we need.
In addition, a California Senate bill addresses ocean acidification and aquatic vegetation. Karina explained that eelgrass is vegetation that we see in the bay. It is a rooted plant with flowers and seeds, and it creates a habitat that supports baby crabs and herring. "All kinds of other critters live in there," she said. "It creates sustenance and habitats."
San Francisco State University's Kathy Boyer is the leading scientist and authority on restoring eelgrass, and she started her studies right after the Cosco Busan oil spill in 2007. People are replanting eelgrass and creating living shorelines as a way to prevent erosion. The idea is to use nature-based infrastructure to help us respond to natural change. Eelgrass also absorbs ferry wake and helps protect the shore. "All these experiments and studies are great for students," said Karina.
She showed a graph with projections for sea-level rise up to 2100. "Folks are looking at that pretty seriously," she said, adding that it's important for planning.
SFSU's Romberg Tiburon Center is important, because it's the only marine science laboratory on San Francisco Bay, and it provides great opportunities for students and public education. Its partners are departments and programs in science, technology and more, including San Francisco Bay National Estuarine Research Reserve and the Smithsonian Institution.  Researchers look at things like ships that release ballast water containing non-native species that impact the bay negatively. RTC is also connected to the Audubon Society in a local collaboration and to all the other networks in the country.
At the Romberg Tiburon Center
Karina showed us a photo of RTC's site in the 1890s, when it was a cod-packing plant. Another plant was on the Belvedere shoreline, and the cod came from Alaska. The plants were the start of the fish-packing industry.
RTC was later a navy ship coaling station, and during World War II, it was a Navy NET depot that had personnel lay a seven-mile long, 6,000-ton net across the entrance to San Francisco Bay. It was active until 1958. SFSU submitted a proposal to establish the Romberg Tiburon Center as a field station and marine laboratory to study San Francisco Bay in 1977.
Each year, RTC hosts Discovery Day, an event for the public, and "I hope you come by and check it out," said Karina. RTC also brings in eminent scientists from throughout the nation to speak, and graduate students ask questions. "It's kind of like the Commonwealth Club," said Karina, who added that an endowment makes the program possible.
In addition, "We just got this amazing grant," she said, explaining that it is a graduate-student training award that totals $3 million over five years. Over half is direct student support, such as stipends and tuition for one year. "We're the first master's program in the U.S. They've invested in it," she said.
Questions and Comments
Charlie Oewel asked how many students are in the program and where they live.
Karina replied that 12 or 13 are coming in, and some will live at the Ohrenschall Guest House. Others have rooms in private homes, and a few are still looking for accommodation.
Angelo Capozzi asked about the large dead zone in the Gulf of Mexico, and Karina explained that it's the result of a lack of oxygen. She added that inflow from rivers contributes organic materials to larger bodies of water, and because San Francisco Bay is shallower, it is unlikely to experience the same problem.
Bill Lindqvist disputed Karina's use of the term anthropocene and added that ocean acidification as it is frequently used is a misuse of the term. He disagreed with the projections for sea-level rise that she showed, and said, "There's a huge amount misinformation floating around."
"One of the great things about scientists, we get to prove ourselves wrong," she responded.
Dave Hutton thanked Karina, and said, "We appreciate everything the Romberg Center does."
To find out more about the Romberg Tiburon Center, go to www.rtc.sfsu.edu.
_______________


MARK YOUR CALENDAR
GREAT GUEST SPEAKERS
August 16: District Governor Ron Gin

August 23: Bob Roberts, Mill Valley Rotary Club, Greenhouses in the Andes
August 30: Zara Babitzke, Ambassadors of Hope & Opportunity
September 6: Fellowship, no speaker

September 20: Greg Chanis, Tiburon Town Manager
September 27: Rob Devlin, Automobile Historian, The Golden Gate Races of 1952-1954

_______________

  NOTEWORTHY EVENTS
Happy Hour. 5:30 p.m., Servino Ristorante, 9 Main Street, Tiburon
Pablo Castro's Art Show. Through September 28 at Tiburon Town Hall

Jon Rankin's Book Launching. 7 p.m., Wednesday, August 23, Book Passage. To pre-order a book, go to http://www.bookpassage.com/event/jon-rankin-running-sunrise-corte-madera.
See more about Jon's debut as a novelist at http://www.marinij.com/article/NO/20170704/NEWS/170709925
Celebrate Women. Doing Good in the World. 11 a.m. to 1:30 p.m., Sunday, August 27, Julia Morgan Ballroom, San Francisco. www.doinggoodintheworld.myevent.com.
Day Before Labor Day Parade. 2 p.m., Sunday, September 3, Lagoon Road and Tiburon Blvd., through downtown to the San Francisco Yacht Club.

___________________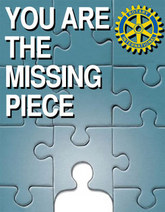 WHERE TO FIND US
Lunch Meetings
We welcome guests. If you'd like to hear a guest speaker or find out more about Rotary, please pay us a visit. We meet at the Tiburon Peninsula Club, 1600 Mar West Street, Tiburon, at 12:15 p.m., most Wednesdays, for a guest speaker's interesting presentation and lunch (optional). Lunch & Attendance: $23, attendance only: $10

First Wednesday Evening Meeting
On the first Wednesday of the month, we meet at the Tiburon Peninsula Club, 1600 Mar West Street, Tiburon, at 5:30 p.m. We welcome guests, visiting Rotarians and friends for fellowship, camaraderie, a little Rotary business, hors d'oeuvres and a no-host bar. $15

Happy Hour
We enjoy a social gathering on the third Thursday of every month at 5:30 p.m. at Servino Ristorante, 9 Main Street, Tiburon. This is a no-host event—place and pay for your own order.
Board of Directors Meetings
Meetings of the Board of Directors are open to all members and take place on the second Wednesday of the month at 10:30 a.m. at the TPC.
Contact us at rotary@telli.com.
See our website at www.tiburonrotary.org
Send mail to Rotary Club of Tiburon-Belvedere, P.O. Box 220, Tiburon, CA 94920


Follow us on Facebook: https://www.facebook.com/tbrotary. Hope you "like" us!
_________________________
Scroll down to see our photo gallery of Rotarians at work and play!
____________________

 ROTARY AT WORK

The Rotary Club of Tiburon-Belvedere supports a wide range of programs, with a focus on youth, literacy and community. We believe that reaching out to others makes a better world and encourage others to join us. Here's what we're supporting in 2016-2017.

Youth—Investing in the Future
• 10,000 Degrees: Funding for support and mentoring to help low-income students gain access college and succeed.

• Ambassadors of Hope and Opportunity: Support to provide a safety net of stable housing, guidance and community connections for young people 16 to 25, who are homeless or in danger of becoming homeless in Marin County.

• Audubon Canyon Ranch: Support for children from low-income urban neighborhoods to go on field trips and experience nature.
• Bel Aire School's Liberia Project: Advice and support for the fifth-grade students' ongoing projects to help their sister school in Liberia, thus encouraging altruism at home and helping children in a disadvantaged country across the world.
• Dave Hutton Rotary Award for Service Above Self: An annual award to a graduating eighth-grader with a record of outstanding community service at Del Mar Middle School.

• Dictionaries: Full-color, illustrated children's dictionaries for every third grader in local schools every year.
• Eagle Scouts: Financial support for Eagle Scout projects, thus allowing Boy Scouts to develop leadership skills and prepare to become tomorrow's leaders.
• Global Book Exchange: Support for the Global Book Exchange in San Rafael, which collects lightly-used books and redistributes them to teachers at schools with limited budgets, disadvantaged families and nonprofits that serve children, as well as schools throughout the world.
• Rotaplast International: Support for volunteer medical teams to provide life-changing surgery for children with cleft-lip and palate in needy communities around the world.
• Rotary Youth Leadership Awards: Scholarships so high school sophomores and juniors can attend a special camp that guides them to develop their leadership skills.

• Educator of the Year Awards: Annual awards to outstanding educators in local schools, whose unique projects give children a worldview that encourages them to become good citizens.
• Trade School in Uganda: Funding to help a new trade school in Uganda purchase sewing machines and other equipment, so students can learn a trade and become employable.
Meaningful Projects—Service Above Self
• Canal Alliance: Support for a program that teaches immigrants to speak English.

• Marin Villages: Support for programs that help seniors age in their own homes. Members pay a small fee and can enjoy social get-togethers and access to volunteers for help with tasks such as getting to appointments, changing light bulbs or assisting with pets.

• Pathway Home: Support for a program in Napa County that provides residential treatment for veterans suffering from Post Traumatic Stress Disorder.
• Service to the Community Awards: Recognition for people who serve the community in meaningful ways, but don't often get acknowledgement.

• St. Vincent de Paul: Support for helping Marin's neediest residents obtain nutritious food, affordable housing, meaningful employment and a voice in the community.

• Tiburon's Green Team: Support for the volunteers who plant, weed, prune and trim landscaping in public places to keep our community beautiful.
District Designated Funds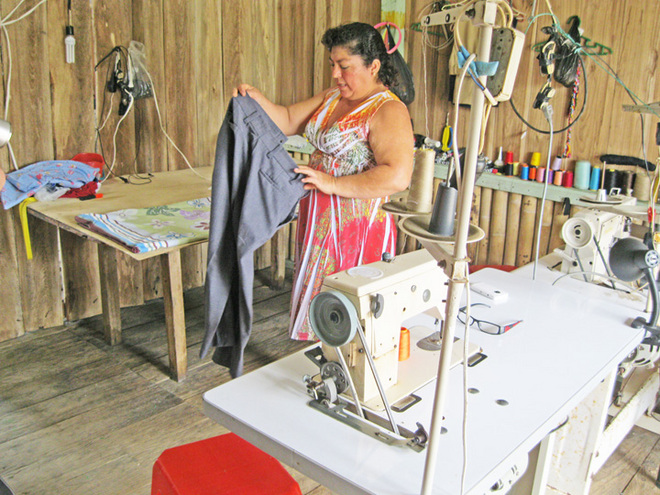 Rotary's District Designated Funds helped establish this sewing shop in Esmeraldas, Ecuador. Photo: Courtesy of Keith and Holly Axtell

• Microcredit in Ecuador: Funds from the sale of raffle tickets associated with District 5150's fall event earn District Designated Funds for our club. For the past two years, we have contributed our funds to a multi-district, multi-club microcredit project in Esmeraldas, Ecuador, which is training people in job and entrepreneurial skills and extending microloans to help them start small businesses and become self-sufficient.
____________________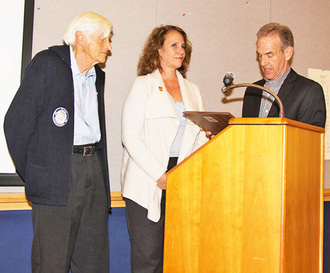 Proclamation
The Town of Tiburon issued a proclamation in honor of the Rotary Club of Tiburon-Belvedere's 40th anniversary, which we will celebrate in June, and the 100th anniversary of the Rotary International Foundation. Pictured, left to right, are George Landau, President Linda Emberson and Tiburon Mayor Jim Fraser. Photo: Marsall Gross.
______________
Visitor from Afar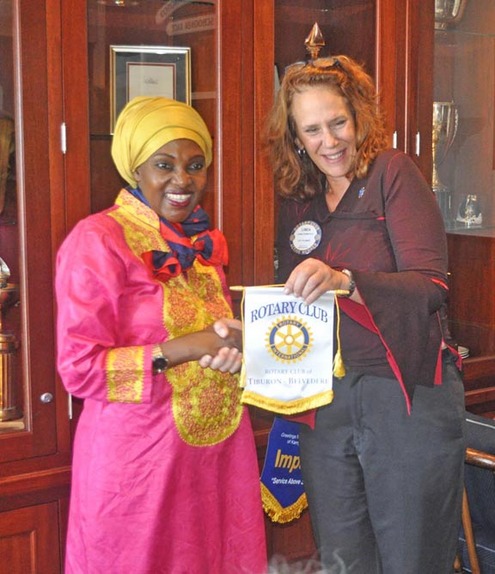 Rehmah Kasule (above left), with President Linda Emberson) is the Immediate Past President of the Rotary Club of Kampala/Impala in Uganda. She took the opportunity to visit us when she was at a conference in San Francisco in October. In 2010, she received recognition at the White House for her work in empowering women and met President Obama. She then wrote a book, From Gomba to the White House. She shared an African proverb: "When you walk fast, you walk alone. When you walk with others, you go far."
_______________

MAKING KIDS SMILE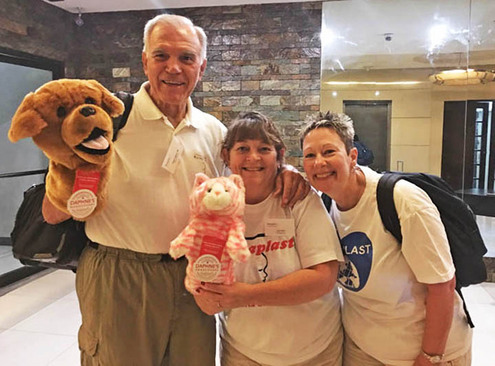 Marshall Gross donated two beautiful puppets that he won in a gift basket to Rotaplast's mission in Cebu City, Philippines. Dr. Angelo Capozzi (with the big dog) reports that the puppets are making kids smile every day before undergoing surgery, and the mission is going well.
______________

Tiburon Challenger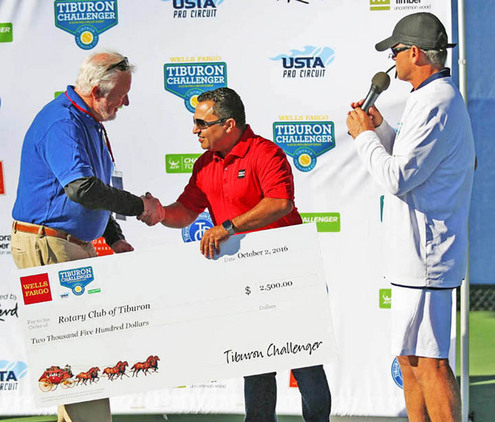 Charlie Oewel, representing the Rotary Club of Tiburon-Belvedere, accepted a generous check from Ashoo Vaid (middle) of Wells Fargo and tournament director Brendan Curry (right) at the conclusion of the Tiburon Challenger. The funds will go to the club's education projects. (Photo: Getty Images for Revd)
_______________

Rotary welcomes Kimberly Brooks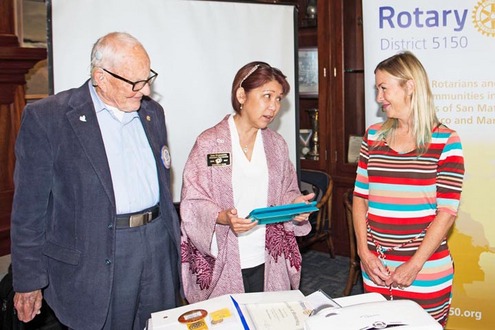 District Governor Jeri Fujimoto (center) inducted new member Kimberley Brooks (right) as Kimi's sponsor, Joe Lavigne, looked on. Photo: Marshall Gross
_____________________
DAY BEFORE LABOR DAY PARADE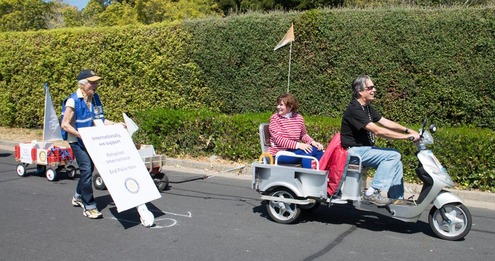 Tari Nix and friend pull wagons with books for kids from the Global Book Exchange, as Marianne Strotz walks alongside, wheeling a Rotary sign. (Photo: Marshall Gross)
To see more photos of the parade, go to www.tiburonrotary.org and click on "Photo Gallery."
____________________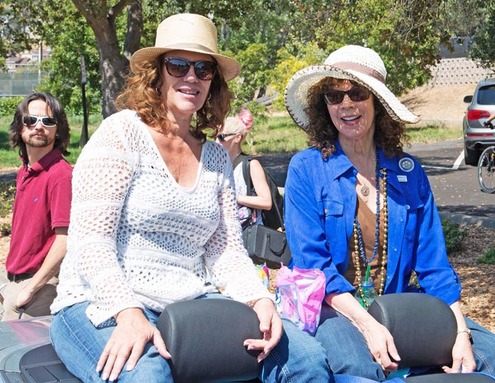 President Linda Emberson (left) of Tiburon-Belvedere and President Marilyn Nemzer of Tiburon Sunset hitch a ride with Michael Heckmann in the Day Before Labor Day Parade. (Photo: Marshall Gross)
Dana and Chester (left), making friends.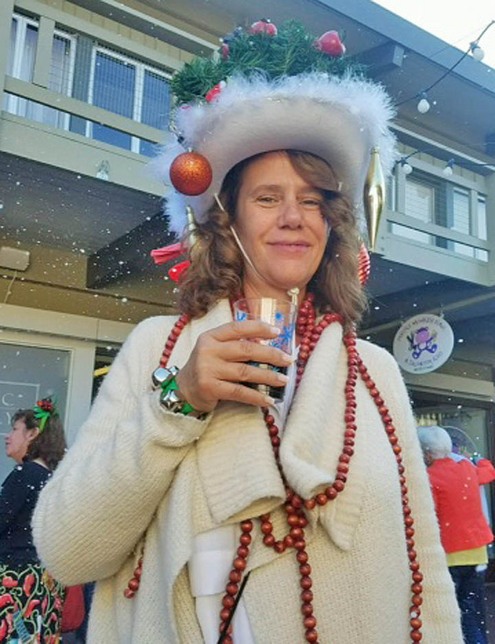 Winter in August was the theme of the Tiburon Peninsula Chamber of Commerce's mixer at the Boardwalk. President Linda Emberson took the prize for the most creative hat.

_______________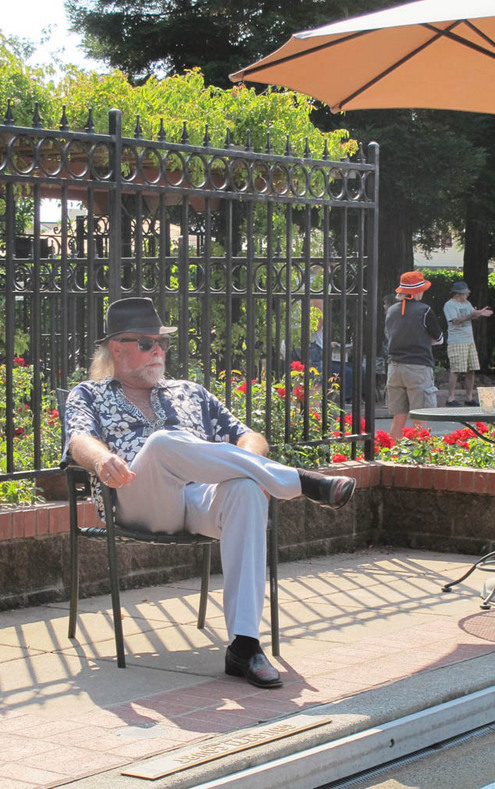 Jon Rankin views the on-court action at the annual Bocce Ball Tournament, a fundraiser for Rotaplast International. (Photo: J. Wilson)

_______________

Changing of the Guard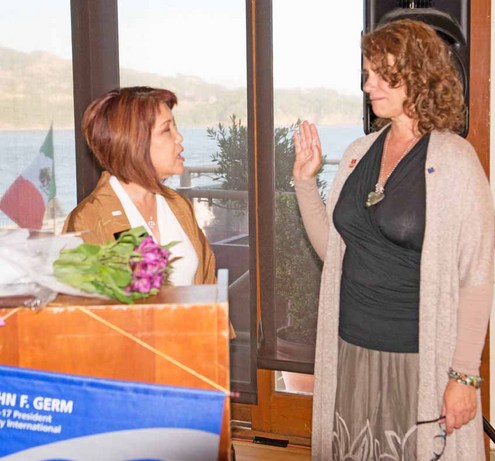 Thanks to President Marianne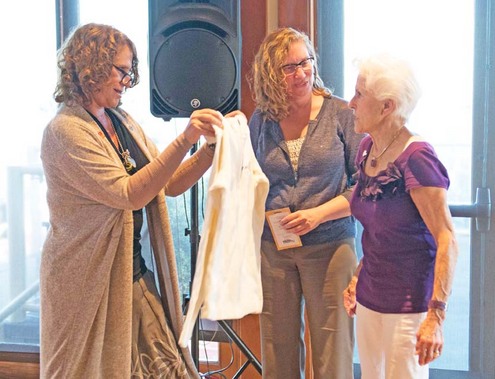 President Linda Emberson (left) thanks outgoing President Marianne Strotz (right) for her two outstanding years of leadership with a special Rotary jacket, as Karen Glader, the club's new secretary, looks on. (Photo: Marshall Gross)
____________________

Honors for Angelo
Dr. Angelo Capozzi (left) and Dr. John Kaufmann with a child who underwent surgery during a Rotaplast mission to Peru in May 2016. (Photo: Courtesy of Rotaplast International)
____________________
Service Above Self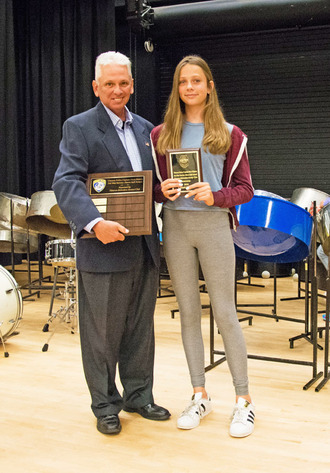 Dave Hutton presents the Capt. Dave Hutton Rotary Service Above Self Award to Kendall Hermann, graduating senior at Del Mar Middle School, for her outstanding performance in community service. The presentation took place at a special awards assembly in June. Photo: Marshall Gross
____________________
Teachers of the Year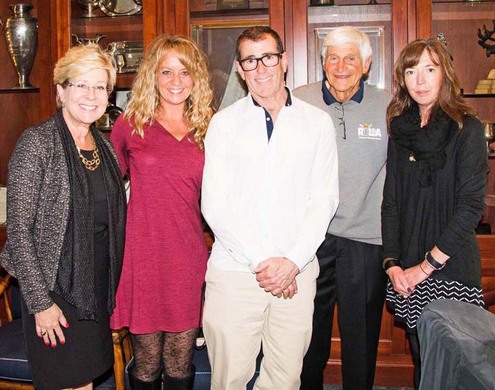 (Left to right) RUSD Superintendent Nancy Lynch, Bel Aire School's Kelly Morphy, Reed School's Ross Modlin, Rotarian George Landau and Erin Turner of St. Hilary School (photo: Marshall Gross)
____________________
Carnaval!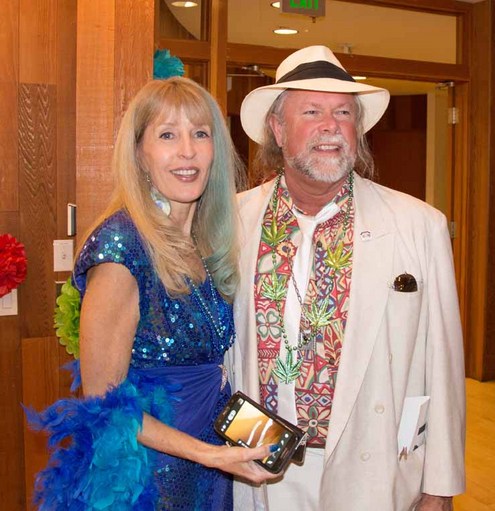 Mary Kaufmann and Jon Rankin got into the spirit of Carnaval, a fundraiser for the Rotary Club of Tiburon-Belvedere. For more, see the photo gallery at www.tiburonrotary.org. (Photo: Marshall Gross)
_______________