Welcome to Telli Marin! Sign in | Create a login

Rotary Club of Tiburon-Belvedere
Fellowship and Service
Address:
1600 Mar West Street
Tiburon/Belvedere, CA 94920
Phone:
415-789-0161
Saturday, October 14, 2017

PROTECT YOUR PROPERTY FROM FIRE
ROTARY RIDE FOR FIRE RELIEF
The Rotary Club of Tiburon-Belvedere is having a Pedego electric bike ride around Angel Island on Saturday, October 28, and invites other Rotarians to join the fun. Participants will gather at the shop at 10 Main St., Tiburon, at 9:30 a.m. for outfitting and instruction on how to the handle the bikes and then catch the 11 a.m. Angel Island Ferry to Ayala Cove. Lunch will follow at Angel Island. Cost is $100 per person and $50 for those who want to take part in the social activities but skip the ride. The number of riders is limited to the number of electric-powered bikes available, so reservations are required. Please call Rotarian Kevin Wood, manager of Pedego, at 415-900-5090 or send an email to info@pedegotiburon.com to reserve a spot. He will contact you to get measurements so he can fit you with the correct bike.

Proceeds will go to Rotary District 5130 to aid victims of the Wine Country fires. Rotary does not take any administrative fees, so 100 percent of proceeds go directly to the cause intended. If you would like to make a donation to Rotary's fire relief fund, please send a check to the Rotary Club of Tiburon-Belvedere Foundation, P.O. Box 220, Tiburon, CA 94920.
_______________

Emberson Fund
On September 5, President Linda Emberson's daughter was diagnosed with leukemia. She was immediately transferred to Stanford Hospital, where she is undergoing treatment. The financial impact of such a disease is devastating, adding to the emotional stress a patient and family must endure. In response to the many people who want to help, the Rotary Club of Tiburon-Belvedere has set up a fund to assist the Emberson family. The foundation is a registered 501(c)3 non-profit organization, so all donations are tax-deductible. Please send checks payable to the Rotary Club of Tiburon-Bevedere Foundation, designated for the Emberson Fund, and send them to P.O. Box 220, Tiburon, CA 94920.
_______________

CITIZEN OF THE YEAR
The Tiburon Peninsula Chamber of Commer and the Rotary Club of Tiburon-Belvedere cordially invite members of the community to salute Steve Sears of Sam's Anchor Cafe as 2017 Citizen of the Year. The festivities and roast take place on Wednesday, November 1, beginning at 11:30 a.m., at the Tiburon Lodge. Cost is $37.50, and includes a buffet lunch and no-host bar. Reservations are required. www.tiburonchamber.org

_______________

News Disruption in the Age of the Internet
Robert Rosenthal's career in the newspaper business began in 1969, when he started work as a copy boy at the New York Times. "The first time I walked into the newsroom, I was hooked," he said, and he describe a room filled with reporters—mostly men, who were typing. Everyone smoked in those days, and the linoleum floor was pockmarked with burns. Every day had a deadline, and "I loved it," he said.
When he was 22, he was part of the editorial team that broke the story on the Pentagon Papers. The Nixon administration tried to keep the New York Times from publishing the papers, and the case went to the U.S. Supreme Court, which allowed the newspaper to continue publishing them, even though they were top secret. Everyone who was working on the story had to move out of the newspaper's office and work at another location, because they were afraid of being arrested, as they had classified papers in their possession. It was an experience that taught him about standing up to risk.
After working at the Times, he spent time at the Boston Globe and the Philadelphia Enquirer. Then he came to California to the San Francisco Chronicle. He observed that as a journalist, "You have absolutely no training in the business side," and explained that you know the creative side, and yet a newspaper also needs to make money. The Internet disrupted everything, bringing a drop in revenue, and the response of most newspapers was to reduce costs by cutting journalists. Historically, however, the role of the press has been to serve as a watchdog and hold power accountable. "There was a public service element to journalism, and that's a loss," said Robert. When he arrived at the Chronicle, it was losing $1 million a week. The Hearst Corporation was successful, though, and so it supported the paper despite the drop in revenue.
At beginning of 2008, he went to the Center for Investigate Reporting, which is a non-partisan organization based in Emeryville. Six people were on staff, and now it has more than 70 people. "We've been extraordinarily successful at raising money," he said.

Twisting the Truth
Information disruption is widespread, but attempts to mislead people aren't new. Governments have always wanted to distort information, and abuse of power in the hands of the wrong governments is destructive. Robert gave Hitler's rise to power and the Nazis as an example. "They controlled power and did it brutally. They began to take over all the information flow," he said. Radio was a major source of information, and "When Hitler gave a speech, everyone had to stop and listen. He was a great communicator," said Robert, adding that Hitler produced fake news.
New tools have created new dynamics, and if we were to look at this time 50 to 100 years ago, we'd have a perspective that would allow us to understand it better. Now, however, "We don't have a clue what it all means," he said.
People have the ability to publish stories to appeal to certain people and mindsets, because they know where their political beliefs lie. "President Trump is the largest and most influential publisher in the world through Twitter," he said, observing that he can disrupt the world at 4 a.m. with 100 characters. "It's also an audience problem," he said, pointing out that a division exists, because people don't want to hear information that doesn't align with their beliefs. "Whatever you don't agree with is wrong," he said.
He gave several sources as examples. Fox News ran a story about a Trump tweet that attacked the media at the top of its homepage. Robert explained that what Trump is really saying is that anything critical of him or doesn't support what he wants to do is untrue. He is essentially laying the groundwork to make sure that whatever he disagrees with, people won't believe. Notably, Fox ran nothing about the disaster in Puerto Rico or the Affordable Care Act, even though they were important stories.  Breitbart also ignored those stories and instead talked about how they'd won the election. The New York Times had a variety of articles, and CNN was all about the aftermath of the hurricane in Puerto Rico.
Robert suggested that we look across the media landscape and include things we don't agree with to get a broad perspective. He pointed out that the media and journalism are different. "They're not all journalism," he said. "The world I come from is highly susceptible to making mistakes," he added, explaining how he had once spoiled a name incorrectly in an obituary, which was distressing to the family.
Fact checking and diligence mean that journalists strive to make sure their reports are accurate and true. "I couldn't even write a fake news story to be honest," he said, explaining that everything is a layer of fact checking.
We're in a media world that's chaotic, making it difficult to determine what's true and what isn't. Stories on social media are often not real, but if people like them or the content reflects their beliefs, they share them, and they spread quickly. "People write crazy stuff to make money because it's on a website and people read it. It's an insidious process," he said. Some people might think the New York Times is fake news, and others believe everything on Fox is false, because they consider anything they don't agree with untrue. "Don't trust the sources," he said. Fake news, constant information and a president who tweets all the time mean we're dividing. "We're in an information civil war," he said. It's not just a personal issue; it's a national issue, and we need to bring people together around common values.

Questions and Answers
"Is there anything on the Internet that you think has integrity?" asked Dave Albert.
"The Wall Street Journal. I think they do a great job," Robert responded. He added that the commentary and editorials are consistently one way or another in the New York Times, so they lose credibility. However, he added, "There are still standards," and it's possible to find lots of good work that's not fake. He also pointed out that Journalists are accountable when make mistakes and can be sued if they get an investigate story wrong. He also pointed out the combining of business models in which opinion frequently blurs with in-depth news reporting.
Go to sources you trust, he advised, and he recommended commentary and editorials in the New York Times, as well as the Wall Street Journal and the Economist. Look at reputable longstanding news organizations. "A lot of the new ones, you don't know where they come from," he said, adding that the vulnerability the Internet has created was unintended. "These things have to be figured out," he said, pointing out that online sources are open to hacking and manipulation.
He addressed the issue of using, or not using, specific words such as terrorist or lie. What to use is a publication's decision, and the best newsrooms are aware of the power of words and how people react to them.
Joe Lavigne asked about integrity of the U.S. media compared to other countries, and Robert replied that journalists around the world are killed every day for doing their jobs. Here, they have the protection of the First Amendment, and the threat is legal.
Lata Setty said her son believes the news is fake, and Robert responded, "If you don't believe anything, it can create chaos," as well as division in society. News literacy is important, because it allows people to determine what's valid and valuable. "If you believe people who distort information it's dangerous," he said.
Annette Gibbs asked how to fact check, and Robert recommended www.factcheck.org and www.politifact.com. He also pointed out that what sources don't report is also important. Omissions are editorial decisions, and they are excluded, because they don't play into a particular narrative.
See more about the Center for Investigate Reporting at www.revealnews.org.
_______________


MARK YOUR CALENDAR
GREAT GUEST SPEAKERS
October 18: Patricia Gill: Schurig Center for Brain Injury Recovery

October 25: Leni Felton, the Way of Health

November 1: Citizen of the Year lunch to honor Steve Sears, 11:30 a.m., Tiburon Lodge

November 8: Rob Devlin, Automobile Historian, The Golden Gate Races of 1952-1954
November 18: Cecilia Chen, Chinese Wisdom
November 22: No meeting, Thanksgiving holiday
November 29: TBA
December 6: 6 p.m., Holiday Party
December 13: TBA
December 20: TBA
December 29: No meeting, Holiday Season

_______________

  NOTEWORTHY EVENTS
District 5150 Foundation Event: 5:30 to 9:30 p.m., Saturday, October 21, Madame Tussaud's Wax Museum, Fisherman's Wharf, San Francisco
Citizen of the Year Lunch: 11:30 a.m., Tiburon Lodge, $37.50, no host bar and buffet lunch. Reservations required.
Felix Kellaway, Classical Guitarist: 2 p.m., Sunday, November 19, Old St. Hilary's Landmark

___________________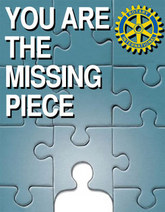 Lunch Meetings
We welcome guests. If you'd like to hear a guest speaker or find out more about Rotary, please pay us a visit. We meet at the Tiburon Peninsula Club, 1600 Mar West Street, Tiburon, at 12:15 p.m., most Wednesdays, for a guest speaker's interesting presentation and lunch (optional). Lunch & Attendance: $23, attendance only: $10

First Wednesday Evening Meeting
On the first Wednesday of the month, we meet at the Tiburon Peninsula Club, 1600 Mar West Street, Tiburon, at 5:30 p.m. We welcome guests, visiting Rotarians and friends for fellowship, camaraderie, a little Rotary business, hors d'oeuvres and a no-host bar. $15

Happy Hour
We enjoy a social gathering on the third Thursday of every month at 5:30 p.m. at Servino Ristorante, 9 Main Street, Tiburon. This is a no-host event—place and pay for your own order.
Board of Directors Meetings
Meetings of the Board of Directors are open to all members and take place on the second Wednesday of the month at 10:30 a.m. at the TPC.
Contact us at rotary@telli.com.
See our website at www.tiburonrotary.org
Send mail to Rotary Club of Tiburon-Belvedere, P.O. Box 220, Tiburon, CA 94920


Follow us on Facebook: https://www.facebook.com/tbrotary. Hope you "like" us!
_________________________
Scroll down to see our photo gallery of Rotarians at work and play!
____________________

 ROTARY AT WORK

The Rotary Club of Tiburon-Belvedere supports a wide range of programs, with a focus on youth, literacy and community. We believe that reaching out to others makes a better world and encourage others to join us. Here's what we're supporting in 2016-2017.

Youth—Investing in the Future
• 10,000 Degrees: Funding for support and mentoring to help low-income students gain access college and succeed.

• Ambassadors of Hope and Opportunity: Support to provide a safety net of stable housing, guidance and community connections for young people 16 to 25, who are homeless or in danger of becoming homeless in Marin County.

• Audubon Canyon Ranch: Support for children from low-income urban neighborhoods to go on field trips and experience nature.
• Bel Aire School's Liberia Project: Advice and support for the fifth-grade students' ongoing projects to help their sister school in Liberia, thus encouraging altruism at home and helping children in a disadvantaged country across the world.
• Dave Hutton Rotary Award for Service Above Self: An annual award to a graduating eighth-grader with a record of outstanding community service at Del Mar Middle School.

• Dictionaries: Full-color, illustrated children's dictionaries for every third grader in local schools every year.
• Eagle Scouts: Financial support for Eagle Scout projects, thus allowing Boy Scouts to develop leadership skills and prepare to become tomorrow's leaders.
• Global Book Exchange: Support for the Global Book Exchange in San Rafael, which collects lightly-used books and redistributes them to teachers at schools with limited budgets, disadvantaged families and nonprofits that serve children, as well as schools throughout the world.
• Rotaplast International: Support for volunteer medical teams to provide life-changing surgery for children with cleft-lip and palate in needy communities around the world.
• Rotary Youth Leadership Awards: Scholarships so high school sophomores and juniors can attend a special camp that guides them to develop their leadership skills.

• Educator of the Year Awards: Annual awards to outstanding educators in local schools, whose unique projects give children a worldview that encourages them to become good citizens.
Meaningful Projects—Service Above Self
• Canal Alliance: Support for a program that teaches immigrants to speak English.

• Marin Villages: Support for programs that help seniors age in their own homes. Members pay a small fee and can enjoy social get-togethers and access to volunteers for help with tasks such as getting to appointments, changing light bulbs or assisting with pets.

• Pathway Home: Support for a program in Napa County that provides residential treatment for veterans suffering from Post Traumatic Stress Disorder.
• Service to the Community Awards: Recognition for people who serve the community in meaningful ways, but don't often get acknowledgement.

• St. Vincent de Paul: Support for helping Marin's neediest residents obtain nutritious food, affordable housing, meaningful employment and a voice in the community.

• Tiburon's Green Team: Support for the volunteers who plant, weed, prune and trim landscaping in public places to keep our community beautiful.
District Designated Funds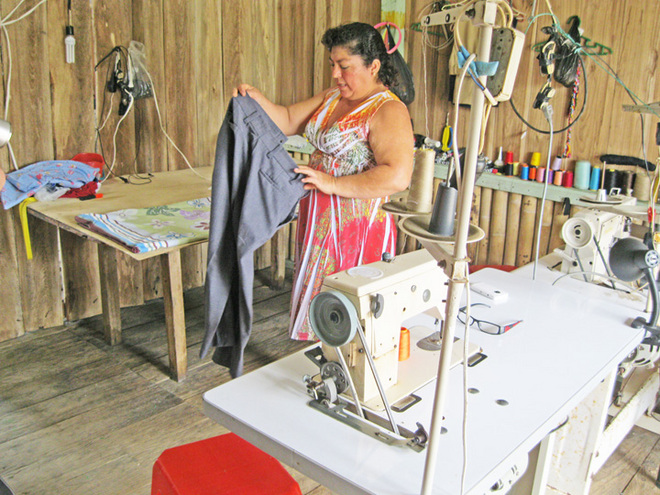 Rotary's District Designated Funds helped establish this sewing shop in Esmeraldas, Ecuador. Photo: Courtesy of Keith and Holly Axtell

Funds from the Rotary International Foundation's annual campaign earn District Designated Funds for our club. For the past three years, we have contributed our funds to multi-club microcredit projects in Ecuador, Guatemala and Peru to train people in job and entrepreneurial skills and extend microloans to help them start small businesses and become self-sufficient
____________________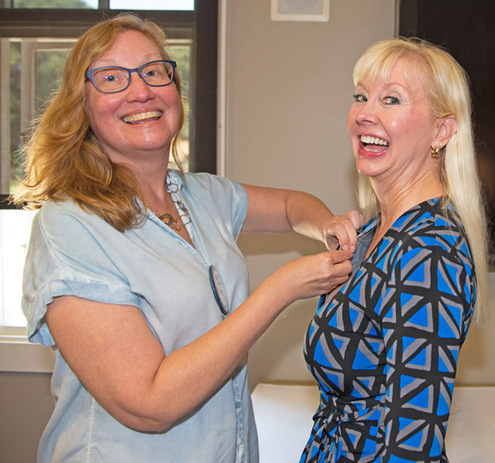 Karen Glader welcomes new member Valerie Marsh to the club and gives her a Rotary pin.
_______________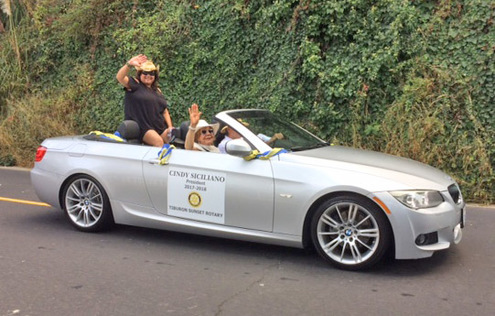 Rotarians have fun in the Day Before-Labor Day parade.
_______________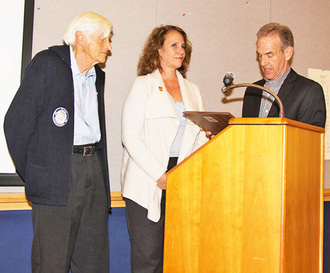 Proclamation
The Town of Tiburon issued a proclamation in honor of the Rotary Club of Tiburon-Belvedere's 40th anniversary, which we will celebrate in June, and the 100th anniversary of the Rotary International Foundation. Pictured, left to right, are George Landau, President Linda Emberson and Tiburon Mayor Jim Fraser. Photo: Marsall Gross.
______________
Visitor from Afar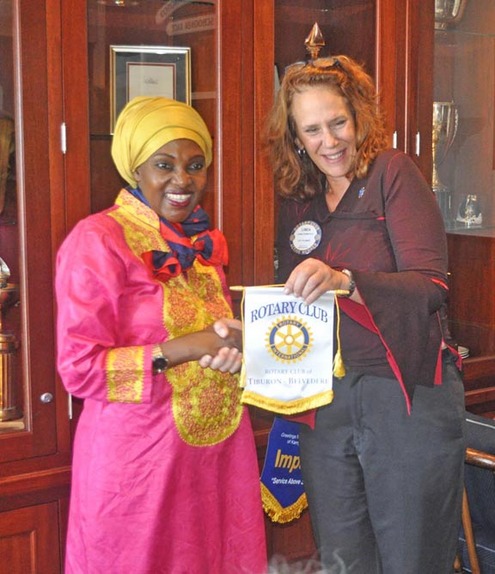 Rehmah Kasule (above left), with President Linda Emberson) is the Immediate Past President of the Rotary Club of Kampala/Impala in Uganda. She took the opportunity to visit us when she was at a conference in San Francisco in October. In 2010, she received recognition at the White House for her work in empowering women and met President Obama. She then wrote a book, From Gomba to the White House. She shared an African proverb: "When you walk fast, you walk alone. When you walk with others, you go far."
_______________

MAKING KIDS SMILE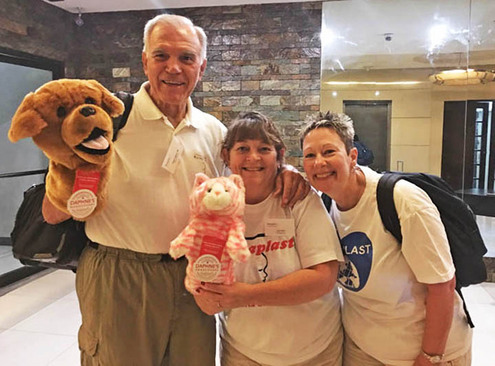 Marshall Gross donated two beautiful puppets that he won in a gift basket to Rotaplast's mission in Cebu City, Philippines. Dr. Angelo Capozzi (with the big dog) reports that the puppets are making kids smile every day before undergoing surgery, and the mission is going well.
______________

Tiburon Challenger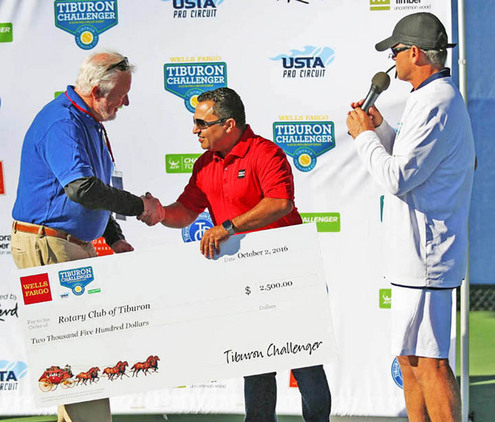 Charlie Oewel, representing the Rotary Club of Tiburon-Belvedere, accepted a generous check from Ashoo Vaid (middle) of Wells Fargo and tournament director Brendan Curry (right) at the conclusion of the Tiburon Challenger. The funds will go to the club's education projects. (Photo: Getty Images for Revd)
_______________

Rotary welcomes Kimberly Brooks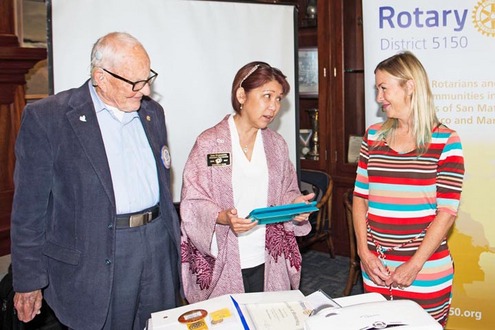 District Governor Jeri Fujimoto (center) inducted new member Kimberley Brooks (right) as Kimi's sponsor, Joe Lavigne, looked on. Photo: Marshall Gross
_____________________
DAY BEFORE LABOR DAY PARADE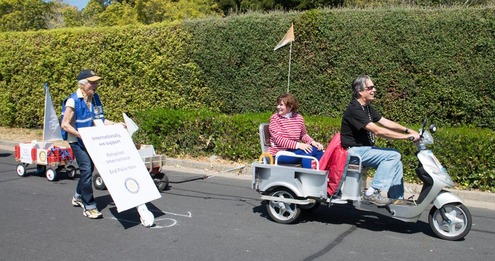 Tari Nix and friend pull wagons with books for kids from the Global Book Exchange, as Marianne Strotz walks alongside, wheeling a Rotary sign. (Photo: Marshall Gross)
To see more photos of the parade, go to www.tiburonrotary.org and click on "Photo Gallery."
____________________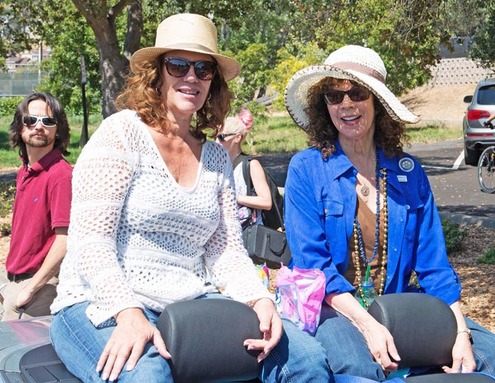 President Linda Emberson (left) of Tiburon-Belvedere and President Marilyn Nemzer of Tiburon Sunset hitch a ride with Michael Heckmann in the Day Before Labor Day Parade. (Photo: Marshall Gross)
Dana and Chester (left), making friends.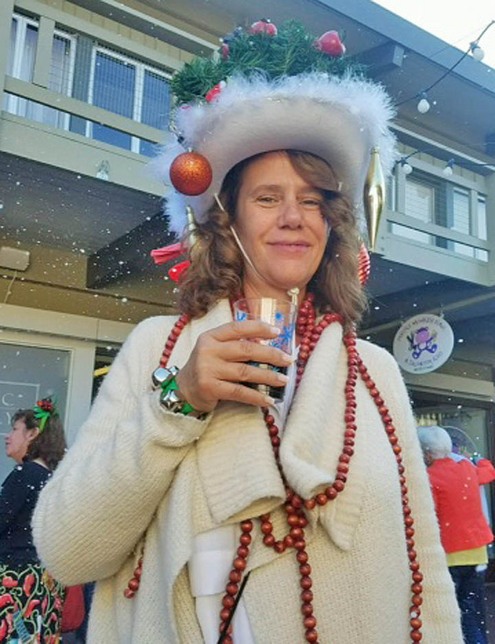 Winter in August was the theme of the Tiburon Peninsula Chamber of Commerce's mixer at the Boardwalk. President Linda Emberson took the prize for the most creative hat.

_______________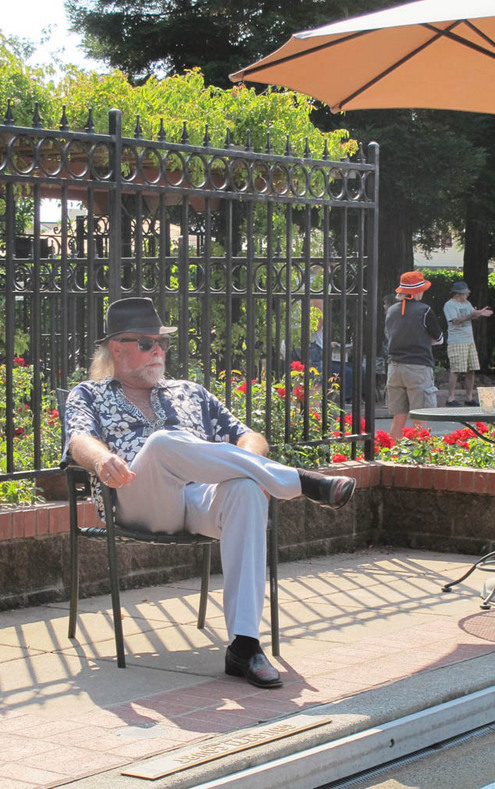 Jon Rankin views the on-court action at the annual Bocce Ball Tournament, a fundraiser for Rotaplast International. (Photo: J. Wilson)

_______________

Changing of the Guard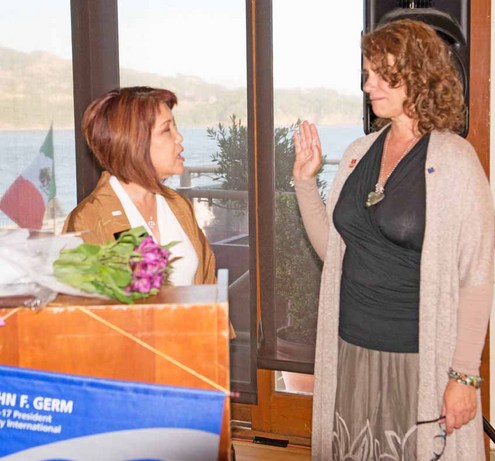 Thanks to President Marianne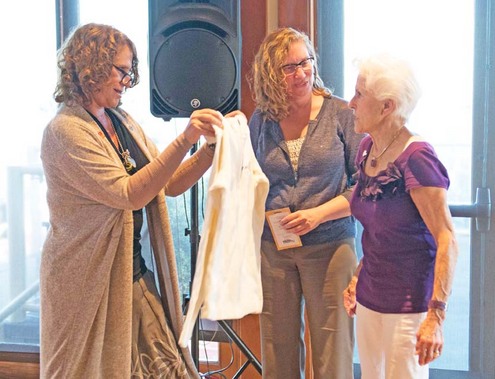 President Linda Emberson (left) thanks outgoing President Marianne Strotz (right) for her two outstanding years of leadership with a special Rotary jacket, as Karen Glader, the club's new secretary, looks on. (Photo: Marshall Gross)
____________________

Honors for Angelo
Dr. Angelo Capozzi (left) and Dr. John Kaufmann with a child who underwent surgery during a Rotaplast mission to Peru in May 2016. (Photo: Courtesy of Rotaplast International)
____________________
Service Above Self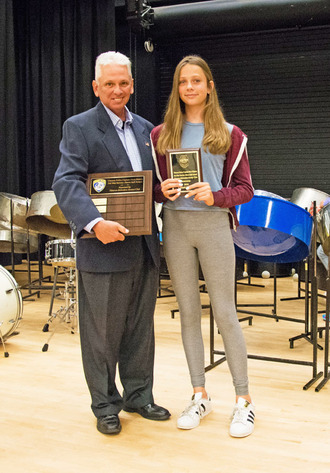 Dave Hutton presents the Capt. Dave Hutton Rotary Service Above Self Award to Kendall Hermann, graduating senior at Del Mar Middle School, for her outstanding performance in community service. The presentation took place at a special awards assembly in June. Photo: Marshall Gross
____________________
Teachers of the Year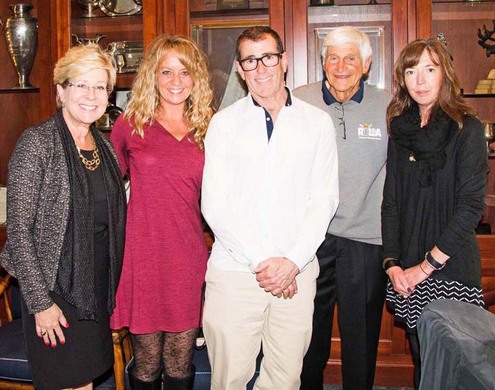 (Left to right) RUSD Superintendent Nancy Lynch, Bel Aire School's Kelly Morphy, Reed School's Ross Modlin, Rotarian George Landau and Erin Turner of St. Hilary School (photo: Marshall Gross)
____________________
Carnaval!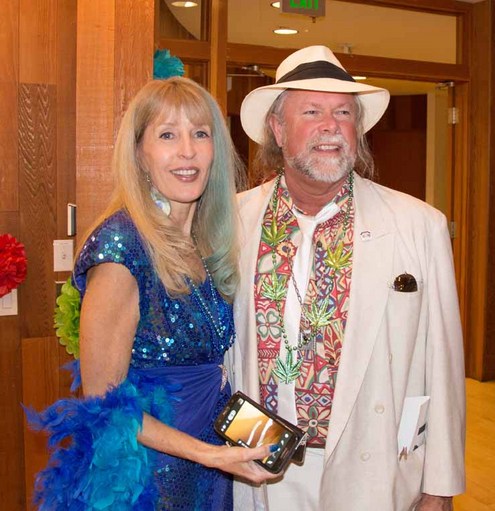 Mary Kaufmann and Jon Rankin got into the spirit of Carnaval, a fundraiser for the Rotary Club of Tiburon-Belvedere. For more, see the photo gallery at www.tiburonrotary.org. (Photo: Marshall Gross)
_______________