Welcome to Telli Marin! Sign in | Create a login

Rotary Club of Tiburon-Belvedere
Fellowship and Service
Address:
Sam's Anchor Cafe
Tiburon/Belvedere, CA 94920
Phone:
415-789-0161
ROTARY
Club of Tiburon-Belvedere

Tuesday, May 11, 2021

NEWS
WATER TALK
After a winter with scanty rainfall, drought is a reality in Marin County, so a visit from water efficiency manager Carrie Pollard and director Larry Russell of Marin Municipal Water District with information and tips on water usage was timely indeed.
"We're glad to be here. If you have any questions, get hold of me or Carrie," said Larry. "Conserve water."
Carrie began with an overview of water in Marin County. "When we hear about a great snowpack, it doesn't benefit us at all," said Carrie, explaining that 100 percent of the water MMWD provides to customers in its service area is locally sourced.
"As you may be aware, it's really dry," she said, reporting that this is the second driest year in 90 years, with reservoirs currently at 50 percent capacity. She showed us a graph with cumulative rainfall and said, "The green is where we are now. It's quite concerning as you can see." Runoff from rainfall usually fills the reservoirs, but that didn't happen this year. MMWD added storage capacity in 1980s, increasing it to 90,000 acre-feet, and in February 2020, the reservoirs held more than 70,000 acre-feet. By May 1, 2020, however, it had dropped 30,000 acre-feet to a little more than 40,000.
Consequently, the board took action on February 16, asking people to conserve water, and recently added more restrictions. The goal is 40 percent reduction in overall water use districtwide. Among the steps you can take are using recycled water as much as possible rather than potable (drinking) water and irrigating gardens in the early morning or at night. "That's because of evaporation," said Carrie.
"We want to give people tips and tools. The small behavioral changes make a difference," she said. MMWD's website also offers conservation tips and resources, as well as program offerings, such as free educational webinars, help spreading mulch, smart irrigation control that makes automatic adjustments for optimal water conservation and a metering flume, which attaches to your water meter and connects to your phone to show how much water you're using. It's meant to inform you on ways to save, and people who have used one have discovered leak. It costs $50, and if you need one, let her know, and she'll send it to you in the mail. All the information is on the website: https://www.marinwater.org/your-water.
Carrie also told us that if you have a problem with your neighbors and can't talk to them about it, call MMWD, and they'll get someone to provide information to the offending individual.
Questions and Answers
Marianne Strotz reported a misunderstanding in her neighborhood that occurred when someone was washing his car out on the street, and people got upset. "Are we allowed to do that?" she asked.
Carrie said that it's best to take your car to a carwash that uses recycled water. A list is on the MMWD website.
Bill Lindqvist recalled that at one time the water district considered putting in a water purification plant to convert sea water to fresh water, and he wanted to know if that might be a possibility now.
Carrie replied that MMWD did once consider a desalination plant but decided that conservation was a better strategy. "At this time, we're asking people to conserve and all projects are on the table," she said.
"Regarding pool covers, how recent is a purchase necessary to get a rebate?" asked George Landau, and Carrie said that anything from April 20 qualifies. She also added that people can put water in their pools.
"What percentile of rainfall are we in in this year?" asked Steve Ramirez, and Larry responded, "We're in the 30th percentile."
Angelo Capozzi recalled that in the last big drought, they put a big tank in the basement and collected water for plants. The water wasn't good for the plants, however.
"You need to change the type of soap you use," said Carrie, adding that a webinar addresses that issue.
"The Russian River provides 25 percent of our water. How secure is that and at what point, if the river goes down, is it cut off?" asked David Albert.
Carrie explained that they have an allocation model in place, and if there's a reduction, everyone gets less. They have more resources, because they have Lake Sonoma, and when they're at 50 percent they have a three-year supply, so they're in a good position.
Marianne Strotz asked about the device to attach to a water meter, and Carrie said it's called a Flume. The board adopted it early this month, and it isn't quite ready yet. You go to a specific website to purchase one for about $50, and it's very simple to use.
"Why did they take the pipe off the Richmond Bridge?" asked Marshall Gross, referring to a pipe that carried water across the bridge to Marin County during the drought in the 1970s.
Larry explained that Caltrans wanted it off, and "Unfortunately, the district made a decision to scrap the pipe." The board is looking at going across the bridge, but Cal Trans isn't too receptive. However, things are different, because the bike lane means there's a lane restriction "We're fine for water this year. We're worried about next year." he added. "You still want to use the least amount of water possible." He said that he and his wife have buckets in the shower to collect water, and he hopes everyone has a low-flush toilet.
He added that the Russian River has substantial resources, and Sonoma County will release it as it needs to be released.
George Landau recalled that the pipe across the bridge cost about $20 million. "Was it a bond issue?" he asked.
"I think it was paid out of cash flow," Larry replied. "Whether we bond it or don't bond it, it affects the rate."
Bill Lindqvist recently tried to find a leak and discovered that it was in the supply line between the meter and the house, and it was caused by eucalyptus roots. "I spent the last week trying to find out where our lines are," he said. A plumber is coming out to fix it, and "We're going to put in a bypass line to bypass the roots," he explained.
Angelo Capozzi asked where the water comes from if a water line runs across the bridge.
"We'd have to purchase the water from someone," said Larry, explaining that it would go into East Bay MUD and be directed to the pipe. "We have to provide the water. They just transport it through their system."
Charlie Oewel had a water leak earlier this year, and it was in a valve in the toilet in a second bathroom. "The water district caught it and flagged it," he said, and he received a letter and subsequently got someone to check out the whole system for leaks and find it so he could get a plumber to repair it.  "Does the bill get adjusted?" he asked.
Carrie replied that it's 50 percent, with MMWD sharing the overage with the homeowner.
Larry suggested that if you have bathrooms you don't use, follow the hose that goes down the back of the toilet tank and turn it off. It will flush once and ensure that those kinds of leaks don't happen.
Carrie added that 2,800 AMI meters have been installed in Tiburon and Belvedere to make an evaluation before going district wide. The test is going well, and It allows MMWD to see how the community is doing on conserving water. She told Marianne that as a Tiburon resident, she might have an AMI meter, and if so, she doesn't need the FLUME device.
Larry added that some homes on Paradise Drive have AMI meters to allow automatic reading on properties with meters that are inaccessible for meter readers.
He also advised looking at last year's bill to compare your current use with that of a year ago. "Just use as little as you can," he said.
Bill Lindqvist recalled a popular saying during a previous drought: "If it's mellow let it yellow, if it's brown flush it down."
Helen Lindqvist said they have to wait a long time for hot water to get to the bathroom, and Carrie replied that a water circulating system is worthwhile, and a rebate is available.
Marshall Gross said that one was installed in his house when it was built, but they are expensive to retrofit.
Larry added that a new system that's installed under the sink keeps the water hot and will cycle as often as necessary to do that.
President Annette Gibbs had an on-demand system at her home in Paradise Cay, and she put one in at her home in Strawberry, when she moved. Hot water is instantaneous, and it cuts down on water use. Aqua motion is a new system that's similar.
In response to a question about a date when the office will reopen for walk-in customers, Larry said that although staff is in the office, they don't allow people to just walk in. If you call, they'll arrange what you need. Marin must be in the yellow tier for the office to reopen for walk-in customers.
President Annette mentioned washing hands, and Larry recalled that during the previous drought, the rate of illness increased. However, handwashing doesn't use much water, so "Keep washing your hands. Washing your hands is critical to keeping well," he said.
"You don't have to let the water run all the time you're washing your hands," Carrie pointed out.
"How long have you been a director?" asked Charlie Oewel.
Larry said he has served since 2004 and has been elected four times. "To me, it's the single most important thing I do," he said, because he has a PhD in water engineering from UC Berkeley in, and he can provide education for the board. He considers helping people the most important part of the job.
Bill Lindqvist recalled having a water tank that they used to collect water from sloping roofs in New Zealand. "Does California have requirements for collecting water?" he asked.
"No. We live in a Mediterranean climate but act as if we live in a northern European climate," said Larry.  He added that the Romans put cisterns everywhere in Istanbul and "It's time for us to realize that we live in a drought-prone climate."
"Thank you so much for your words of wisdom," said President Annette.
If you have questions for Carrie, please send them to conservation@marinwater.org.
To find out more about MMWD's programs, go to www.marinwater.org.
______________
CHINA CABIN

"Captain Jack" Fiorito is the head docent at the China Cabin, which was originally the social saloon on the SS China, a Pacific Mail Steamship vessel that was active in the late 1800s. It looks exactly like it used to in its heyday on the high seas except for the deck. The two rooms at the back were staterooms, and one is now a small space for caterers to use as a staging area, and the other is a head, a ship's name for a toilet.
Jack hosts field trips for local third-graders, and he informed us, as he does the kids, that we should use nautical terms for the parts of the cabin, referring to them as the deck, portholes and bulkhead. He asked us what the part overhead is called and said, "I ask the kids that all the time."  Answer: the overhead.
History
The China was built in 1866, right at the end of the Civil War. It was one of the largest ocean-going passenger ships ever built, and the saloon, which we know as the China Cabin, was for first-class passengers, while Chinese immigrants made the journey in the hold. During its years in service, the ship made 30 round trips and brought about 30,000 workers from China to California. "A one-way trip was about a month," said Jack, adding that it was a safe, secure ship that took many people to and from China.
The China Cabin sat on the top deck, and the main mast went right through the room. A staircase went down to the main dining room. Two giant paddlewheels drove the ship, and it carried 2,000 ton of coal, allowing it to go non-stop. It also had sails. "If there were a failure at sea, what do you do? They had sails just in case," said Jack. Although the ship could go 12 knots, that speed would have used too much fuel, so it operated at 10 knots. It went from San Francisco to Yokahama and didn't stop in Hawaii because the islands didn't have port facilities for a ship that size. The voyage was 23 days to Yokahama, and from there it went to Shanghai. The ship had a crew of 125, 200 first-class passengers and about 1,000 Chinese immigrants. Passage was $249 for first-class passengers, which was a lot of money at the time, and Chinese coming from Hong Kong to San Francisco paid $45, but didn't have the same facilities.
The China became obsolete because it was wood, and steel was becoming more popular. For a time after its ocean-going days ended, it was docked and served as a place to house immigrants. Eventually, however, the owners decided to destroy it and burn it for scrap. The intent was to salvage the copper hull, as the metal was valuable, but they saved everything else possible as well.
A retired sea captain in Belvedere thought the cabin was too beautiful to destroy, and so he bought it, had it lifted off the ship and towed past Angel Island to Belvedere Cove, where it served as a house for about 90 years. The cabin was the living room, and it was positioned differently so the portholes looked out on the day. The last people to use it as a residence were Fred and Juanita Zelinsky.
The Belvedere-Tiburon Landmarks Society took possession of the China Cabin for $1 in 1978 and did extensive restoration to preserve it as a historic site. The late Beverly Bastian was instrumental in spearheading the restoration.
Jack asked us to look around the room. "You should know that this is gold leaf. It's 22-carat gold leaf, not gold paint," he said. "Gold is the most malleable of all metals." Craftsmen painted the areas to be gilded with a solution that attracted the gold like a magnet. The total amount of gold in the whole room is 4 ounces.
The columns are walnut, and by the time the Landmarks Society acquired the China Cabin, the whole bulkhead had rotted away and needed to be replaced. Workers removed the columns, and underneath, they found the names of workers who had built the ship. The names of donors to the restoration effort are beneath the new columns.
"This looks very much like a French drawing room," observed John Kaufmann. "Who did the work?"
People came from all over the country, said Jack. He pointed out the moldings, which are molded rather than carved, and said, "There are 27 different moldings in the room." They were made of an early version of plastic, and the original wood was white pine.
Restoration took eight years, and "The work here is magnificent. It looks the same as it did originally," said Jack. The portholes were made of etched glass and could open, and the sun discolors them, so the originals have a slight tinge of pink. Twenty-three of the upper windows are original.
"Wasn't this ship famous for its fast mail delivery?" asked George Landau.
Jack replied yes, explaining that four ships were built to carry mail. Two ships traveling in the opposite direction met mid-ocean, and they exchanged letters, notes and news.
The ship served two meals a day, breakfast and dinner. The breakfast menu was extensive with boiled salt mackerel, beefsteak and tomatoes, fried ham and eggs, toast, corncakes, tea and coffee among the offerings. A lengthy dinner menu included dishes such as oxtail soup, boiled mutton, corned beef and sauerkraut, steamed lobster, roast goose, ragout of ox heart, fricassee of brains and all kinds of vegetables, as well as ice cream.
"What did the Chinese eat?" asked George Landau. "They brought their own food and were very happy," said Jack, adding that their food included bok choy and fish heads.
The ship carried livestock, and food was stored in a room below deck called a haylocker. Once the China was supposed to meeting the America for a mid-ocean rendezvous, but the America didn't show up. It turned out that someone had been smoking in the haylocker, set fire to the ship, and it burned and sank. A third ship, the Japan also caught fire 10 miles out of Hong Kong as a result of spontaneous combustion igniting coal. It was the largest seagoing disaster of a merchant vessel until the Titanic.
On May 13, 1890, a story appeared in the Sausalito newspaper about a captain of the China, who talked to passengers about smoking in their cabins, because it was unsafe and not allowed at certain times. He warned them, and one answered imprudently, and so the next day, he had the offenders handcuffed to the upper deck for three hours, thereby discouraging further back talk.
Questions and Answers
"What did they do about water?" asked George Landau, and Jack explained that they had to take it on board or capture rainwater.
John Kaufmann asked how long the China was in service, and Jack said it was 10 years. He added that it was later homeported in San Francisco at the foot of Brannan Street. In the 1906 earthquake, Pacific Mail's office was destroyed, and all the records were lost, including passenger lists. Occasionally individuals will come forward with family documents, which add to the picture of the China's seagoing history.
"What happened to the Chinese when they got here?" asked John Kaufmann.
Jack explained that Angel Island was a military post and did not yet have a facility for immigrants, and China
Camp was a fishing camp for ghost shrimp, so it was a business.
"A lot of Chinese came for the gold fields," said Bill Lindqvist, but Jack explained that the Gold Rush was earlier (1849), and the Chinese came on smaller ships. He added that they were gleaners, who collected leftover gold from rivers and streams after all placer miners had taken all the easy gold.
Jack flies different flags on the mast outside, depending on the occasion, and he once tried to get an old flag from Hong Kong. The Chinese Embassy said absolutely not, because China has a new flag. Then on the opening day of a Chinese exhibit, a limo from the embassy pulled up to make sure they didn't have an original flag.
Descendants of Japanese immigrants who traveled to California aboard the China to establish the Wakamatsu Colony in Gold Country, came to visit the China Cabin for the 100th anniversary of the colony two years ago. Former Samurai Capt. Johann Schnell was the colonists' leader, and Jack showed Kathleen Defever how to wear a sword and salute with it. "It was my naval officer's sword," said Jack, and he explained that naval officers would have worn swords that way.
The China had 50 muskets, other armaments and cannons. "Why were there so many weapons on board?" asked Karl Hoppe.
Jack explained that the ship went into the South China Sea. "It had pirates then, and it has pirates now," he said, although the China never had an encounter with pirates.
He then told us how a man once jumped off the ship, and the captain had it circle so they could conduct a search. They didn't find him and left the area. When the captain did inspection the next morning, however, he found him and discovered that one of the paddlewheels had picked him up and dumped him into the ship. The ship's surgeon put him into a bathtub to revive him, and he survived.
"Was it a cargo ship?" asked Azita Bievers, and Jack explained that the ships were built because the Pacific Mail Steamship Co. had a contract to take mail to the Far East. It also took California wheat to China for making noodles and brought back silk and other goods.
Passengers included bankers, a lot of religious people, people coming back from Hong Kong, and U.S. sailors and officers.
"How fast could it go under sail?" asked Steve Ramirez.
Jack explained that it didn't use the sails for travel. Rather, if the sails were up, it was to stabilize the ship.
The crew did repairs when it was circling.
"When it was fully loaded, what did it actually weigh?" asked Angelo Capozzi.
Jack replied that it was about the size of a WWI destroyer, or 3,800 tons. "It displaces that amount of water, which allows it to float," he said.
Jack told us that Zohre Grothe is a docent at the China Cabin, and he commended her for the way she folds the flag, when she takes it down.
The China Cabin is located at 52 Beach Rd., Belvedere, and is open Saturdays and Sundays from 1 to 4 p.m., April through October. Find out more at https://landmarkssociety.com/.
_______________

MARK YOUR CALENDAR
GREAT GUEST SPEAKERS
May 12       Dr. Matthew Anderson, Trust Yourself
May 19       Educator of the Year Awards
May 26       Kathy McLeod, Butterfly garden
June 2        Cheryl Sorokin, Marin Villages
June 9        Chief Ryan Monaghan, Tiburon Police Department

Meetings will be on Zoom until further notice unless noted. If you'd like to attend a meeting
or be a guest speaker, please send an email to rotary@telli.com
  ____________________

NOTEWORTHY EVENTS
May 15            Rotary Chosen Family Reunion, District 5150 Annual Conference, virtual,
                        register www.rotary5150.org. $28 per person, guests welcome
May 19            Educator of the Year Awards
June 30           Celebrating a new Rotary year

_______________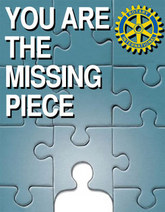 Meetings

All in-person Rotary meetings and events have been cancelled or postponed as a result of the COVID-19 pandemic. We will be meeting on Zoom at 4 p.m. on Wednesday until further notice. If you'd like to join us, we'd be delighted to meet you. Please go to https://us02web.zoom.us/j/81915154482?pwd=MDVHWWVjemovQ2ovdjJkZzczeW9qZz09,

Our usual meeting place is Sam's Anchor Cafe, and we gather at 5:30 p.m. for an early evening meeting on the first and third Wednesday of the month and for lunch at 12:15 p.m. on the second and fourth Wednesday of the month. Most weeks, either a guest speaker makes a presentation or we have a program. Attendance is $10. Food and drinks are no-host  We welcome guests. If you'd like to hear a speaker, offer to be one or find out more about Rotary, pay us a visit. We'd be happy to make your acquaintance.

Board of Directors Meetings
Meetings of the Board of Directors are open to all members and take place monthly at a time to be announced. For information, please send an email to judith@telli.com.

Contact us at rotary@telli.com.
If you'd like to be a guest speaker, please contact Marianne Strotz at properties@pacbell.net.

Send mail to Rotary Club of Tiburon-Belvedere, P.O. Box 220, Tiburon, CA 94920.


Follow us on Facebook: https://www.facebook.com/tbrotary. Hope you "like" us!
_________________________
Scroll down to see our photo gallery of Rotarians at work and play!
____________________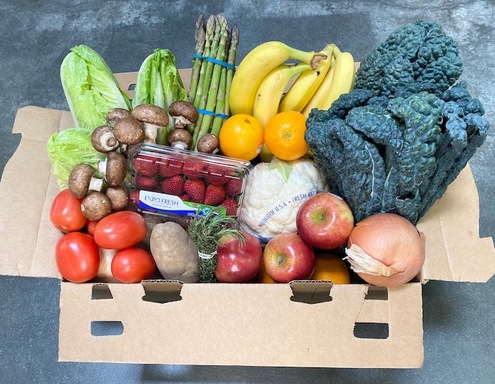 COVID-19 RELIEF

 ROTARY AT WORK

The Rotary Club of Tiburon-Belvedere supports a wide range of programs, with a focus on youth, literacy and community. We believe that reaching out to others makes a better world and encourage others to join us. Here's what we're supporting in 2020-2021

Youth—Investing in the Future
• Ambassadors of Hope and Opportunity: Support to provide a safety net of stable housing, guidance and community connections for young people 16 to 25, who are homeless or in danger of becoming homeless in Marin County.

• Del Mar Middle School's Liberia Project: Support for the students' service-learning projects to help their sister school in Liberia, thus encouraging altruism at home and helping children in a disadvantaged country across the world.
• Dave Hutton Rotary Award for Service Above Self: An annual award to a graduating eighth-grader with a record of outstanding community service at Del Mar Middle School.
• Educator of the Year Awards: Annual awards to outstanding educators in local schools, whose unique projects give children a worldview that encourages them to become good citizens
• Global Book Exchange: Support for the Global Book Exchange in San Rafael, which collects lightly-used books and redistributes them to teachers at schools with limited budgets, disadvantaged families and nonprofits that serve children, as well as schools throughout the world.
• Marielos Fund: A scholarship to send a young woman in El Salvador to medical school.
• Rotaplast International: Support for volunteer medical teams to provide life-changing surgery for children with cleft-lip and palate in needy communities around the world.
• Rotary Youth Leadership Awards: Scholarships so high school sophomores and juniors can attend a special camp that guides them to develop their leadership skills.
• Young Performers International: Scholarships for kids to take music lessons and develop their performing skills. Music makes kids smarter!

Meaningful Projects—Service Above Self
• Canal Alliance: Support for a population that includes many of Marin County's essential workers, who have been disproportionately impacted by COVID-19 pandemic.

• Marin Villages: Support for programs that help seniors age in their own homes. Members pay a small fee and can enjoy social get-togethers and access to volunteers for help with tasks such as getting to appointments, changing light bulbs or assisting with pets.

• Service to the Community Awards: Recognition for people who serve the community in meaningful ways, but don't often get acknowledgement.

• St. Vincent de Paul: Support for helping Marin's neediest residents obtain nutritious food, affordable housing, meaningful employment and a voice in the community.

• Vivalon: Underwriting for Whistlestop's Thanksgiving Feast for Seniors.

District Designated Funds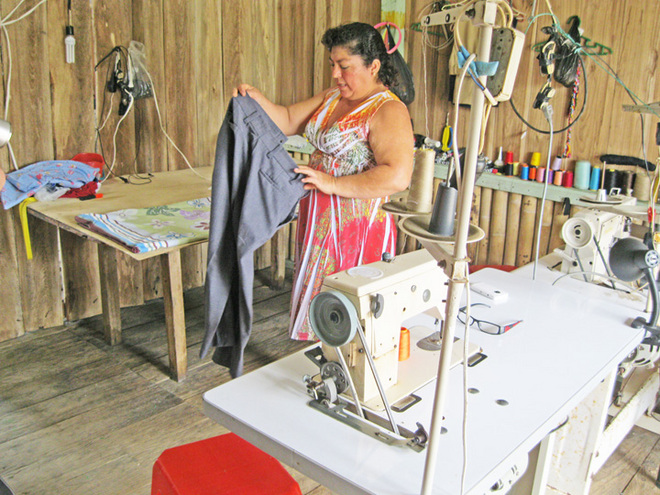 Rotary's District Designated Funds helped establish this sewing shop in Esmeraldas, Ecuador. Photo: Courtesy of Keith and Holly Axtell

Funds from the Rotary International Foundation's annual campaign earn District Designated Funds for our club. This year, we're contributing our international funds to the Rotary Club of Marin Evening's new microcredit project in Ecuador and the Rotary Club of Mill Valley's greenhouse project in the high Andes n Peru.
District Designated Funds also support local projects, and this year our funds purchased boxes of produce for the food pantry at The Ranch.

____________________
Angelo Capozzi picking up groceries from the food pantry at The Ranch to deliver to residents of The Hilarita.
Cindy Siciliano, of the Rotary Club of Tiburon Sunset, has been helping the residents of the homeless encampment at Dunphy Park in Sausalito. Linda Emberson and George Landau of the Rotary Club of Tiburon-Belvedere joined her on Sunday, March 7, to prepare and serve a pancake breakfast.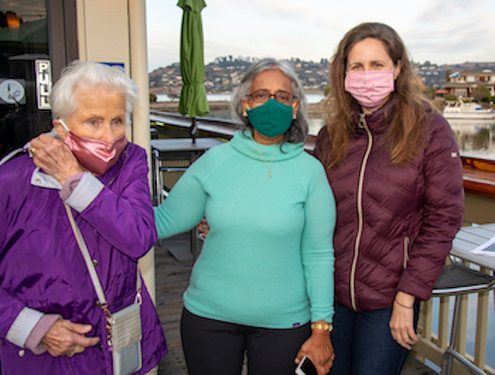 Marianne Strotz, Revati Natesan and Geneva Michaelcheck at Happy Hour at the Club at Harbor Point. Photo: Marshall Gross
_______________

Julie Aubrey visited from Rotary International's headquarters in Evanston, Illinois.
(l. to r.) Irene Russell, Kathleen Defever, Helen Lindqvist and Bill Lindqvist at the Tiburon Peninsula Chamber of Commerce mixer at the downtown Tiburon firehouse.
HELPING KIDS GO TO CAMP

President Annette Gibbs presented Jessica Hochkiss with a check for $1,000  for The Ranch from the club's foundation, which will help low-income children attend day camp. "We currently have two large summer camps going on," said Jessica, and she explained that they take kids to Angel Island every day. "The camp has gone on for 40 years," she said, and some of today's campers have parents who attended when they were young.
The Ranch is a nonprofit, and "Every little bit helps," she said, expressing her gratitude.
_______________

Past-president Linda Emberson and incoming President Annette Gibbs at the Installation Celebration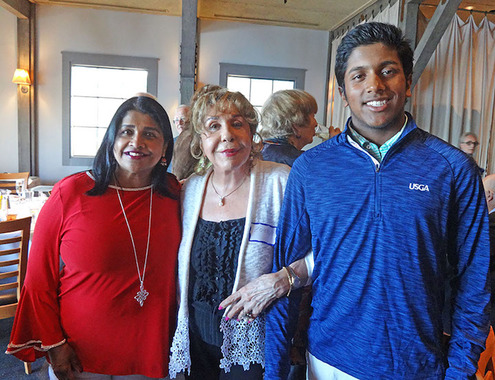 Lata Setty, Zohre Grothe and Lata's son, Deven Ramachandran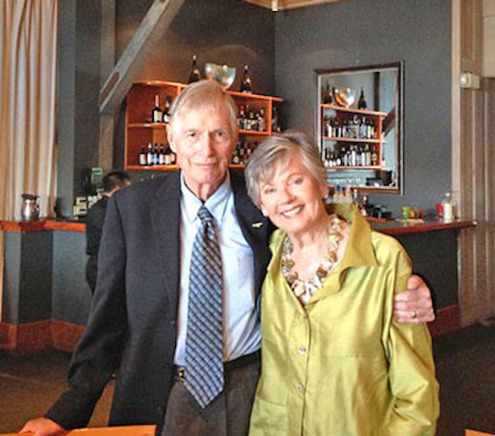 Warren and Irene Russell
_______________

Having fun at the Tiburon Classic Car Show!
Rotary in the community: Cindy Siciliano and Linda Emberson made it look easy, as they spent the day flipping burgers, hot dogs and corn on the cob for scores of happy customers.
____________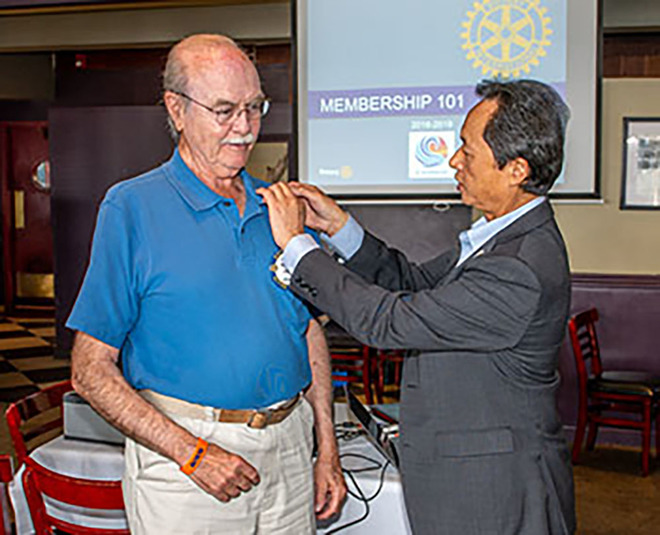 Past District Governor Ron Gin, now district membership chair, presents Mike Keran with a pin in honor of his being chosen Rotarian of the Month for District 5150.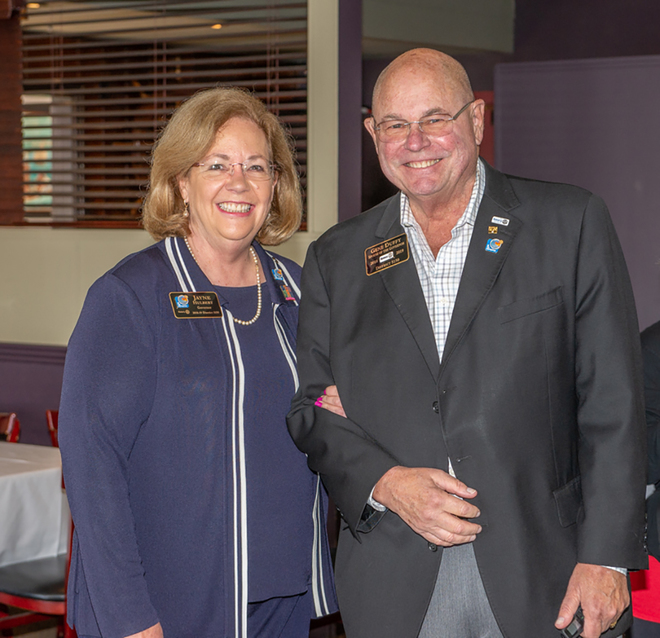 District Governor Jayne Hulbert and First Husband Gene Duffy paid the club a visit.
Cindy Siliciano of the Tiburon Sunset Rotary Club (left) and President Linda Emberson of the Tiburon-Belvedere club get ready to toss goodies to kids at the Labor Day weekend hometown parade. (Photo: Marshall Gross)
_______________

Welcome New Members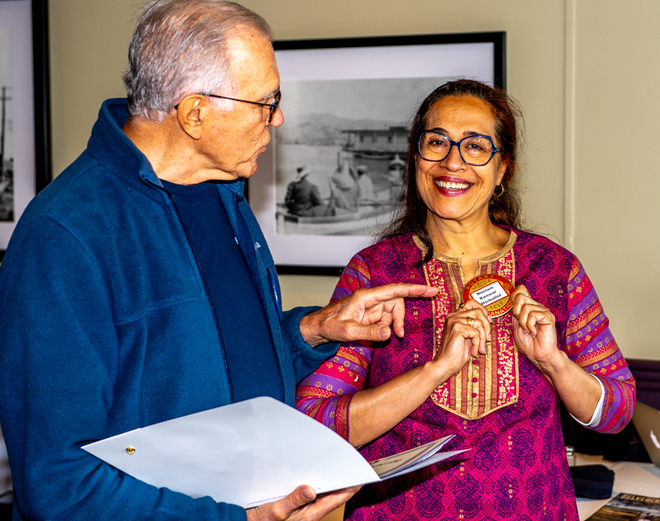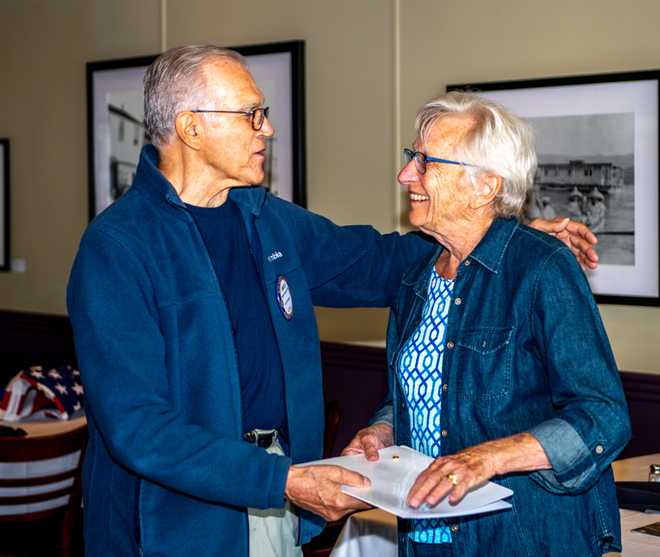 Membership chair Angelo Capozzi welcomed new members Neelam Kanwar (upper photo) and Lynn Spitler (lower photo).
_______________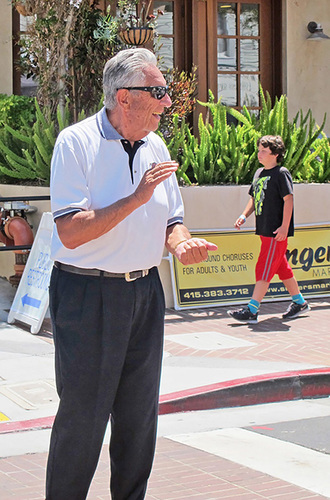 It is with profound sadness that President Linda Emberson announces the passing of beloved member Jim Deitz on Friday, July 13. Jim exemplified Rotary's motto, Service Above Self, and his altruistic spirit was a model for everyone. He was devoted to his family, loved dogs and was one of the best. We'll miss him terribly.
_______________

Good Work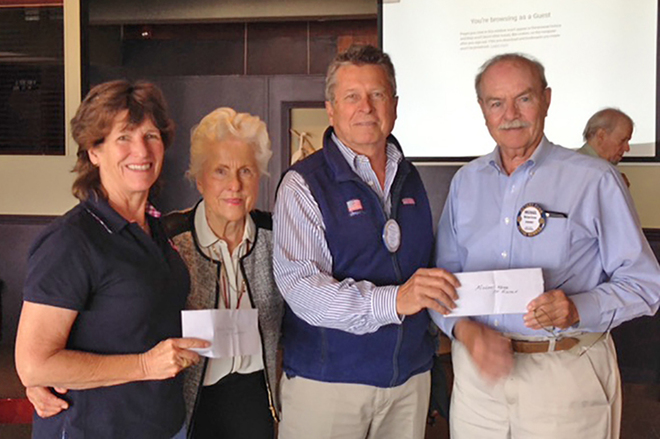 (l. to r.) Lisa Brinkmann of Marin Villages accepts a check from Marianne Strotz, and Michael Heckmann presents a check to Michael Keran for St. Vincent de Paul. Photo: Lynn Fox

_______________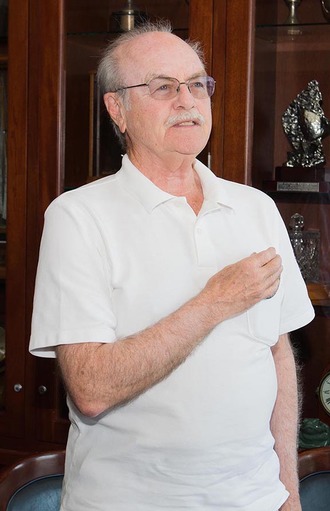 District 5150 named Michael Keran Rotarian of the Month for May. Mike's much-deserved honor is in recognition of his ongoing commitment to St. Vincent de Paul and helping the homeless in Marin County. In addition, he recruits a crew of Rotarians to serve lunch at the St. Vincent de Paul Free Dining Room in San Rafael every month. May marked the beginning of the 12th year of this service project.
_______________

Annette Gibbs (left) and Shelby Gross joined the Rotary contingent and got into the spirit
of this year's first Friday Night on Main
_______________

Celebrating Earth Day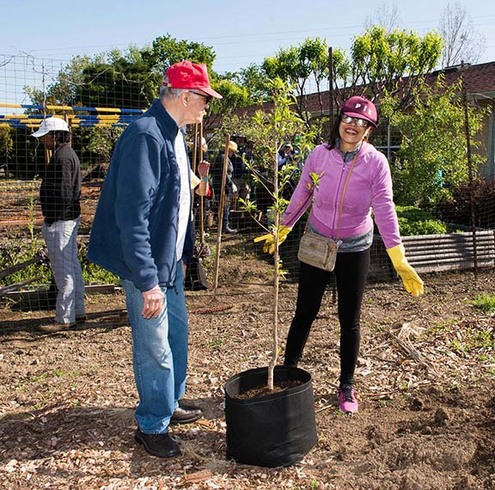 Having Fun at Friday Night on Main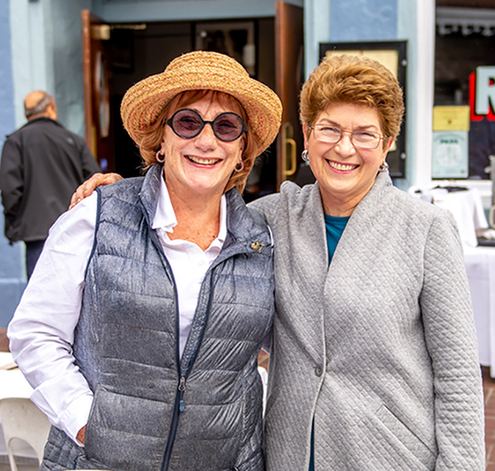 Angelo Capozzi (left) and Neelam Kanwar planted trees at Homeward Bound as part of Rotary International's initiative to plant one tree for every Rotarian. Photo: Marshall Gross
_______________
Lending a Hand at St. Vincent de Paul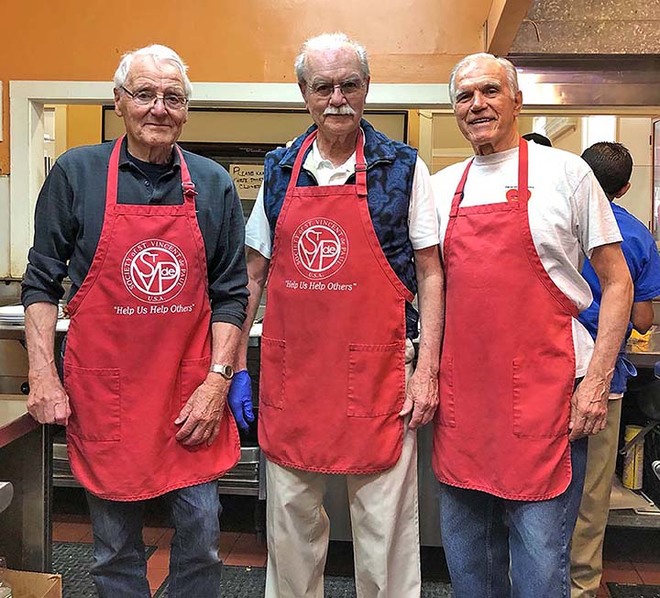 Stalwart volunteers (l. to r.) Klaus Meinberg, Michael Keran and Angelo Capozzi in the kitchen of the St. Vincent de Paul Free Dining Room in San Rafael. The Rotary Club of Tiburon-Belvedere serves lunch on the fourth Thursday of every month and will begin its twelfth year of volunteering, under Mike Keran's leadership, in May. Angelo is team leader for the club's participation in the REST program, and he and Klaus also served dinner to a group of homeless men at St. Hilary's Church the same day. Service Above Self at its best!
_______________

First meeting at Sam's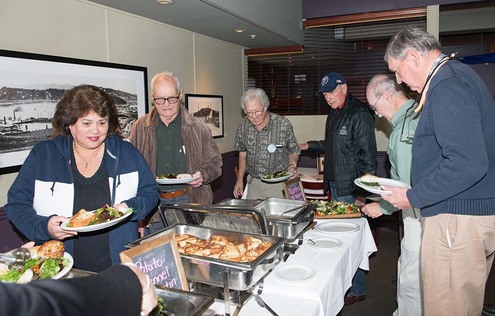 _______________

Rotary does REST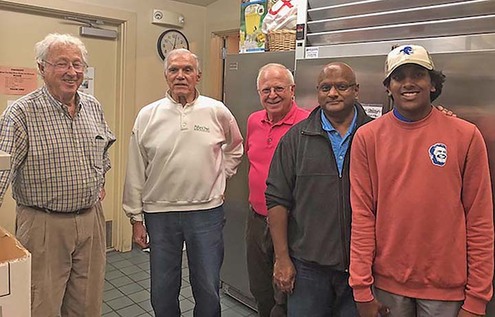 The Rotary Club of Tiburon-Belvedre hosted dinner for a group of 25 homeless men who were spending the night at St. Hilary's Church on Thursday, February 15, as part of the REST (Rotating Emergency Shelter Team) program.
Members of the Rotary crew (above, l. to r.), John Kaufmann, Angelo Capozzi, Brian Walker, Raja Ramachandran and Deven Ramachandran, took a break before serving dinner to guests in Tarantino Hall. Lata Setty, Annette Gibbs, Bill Goldberg, Zohre Grothe, Karl Hoppe and Lata Setty were also on hand to help. The evening featured good conversation, great appetites and uplifting camaraderie, as well as good food.which included homemade lasagna that Deven, Lata's son, helped prepare as a family Valentine's Day project, and Mary Kaufmann'a delicious oatmeal cookies and cupcakes decorated with hearts.
_______________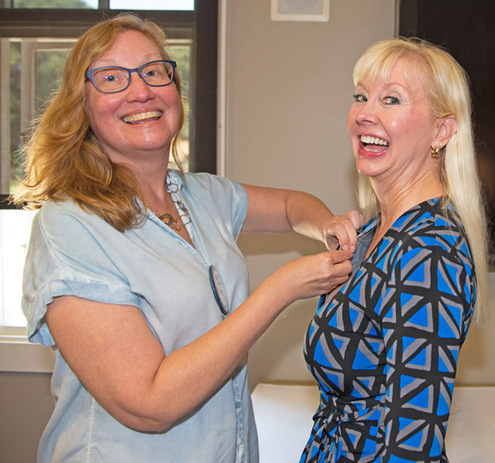 Karen Glader welcomes new member Valerie Marsh to the club and gives her a Rotary pin.
_______________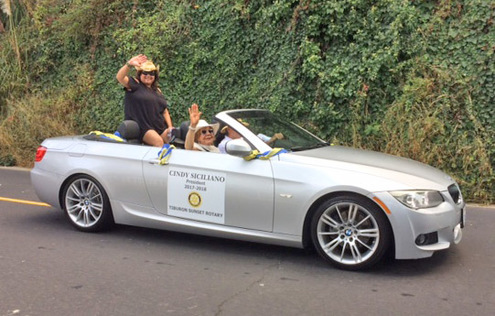 Rotarians have fun in the Day Before-Labor Day parade.
_______________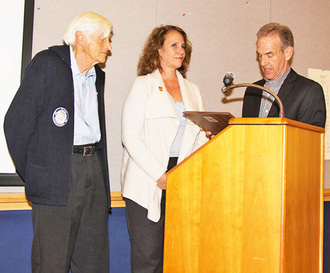 Proclamation
The Town of Tiburon issued a proclamation in honor of the Rotary Club of Tiburon-Belvedere's 40th anniversary, which we will celebrate in June, and the 100th anniversary of the Rotary International Foundation. Pictured, left to right, are George Landau, President Linda Emberson and Tiburon Mayor Jim Fraser. Photo: Marsall Gross.
______________
Visitor from Afar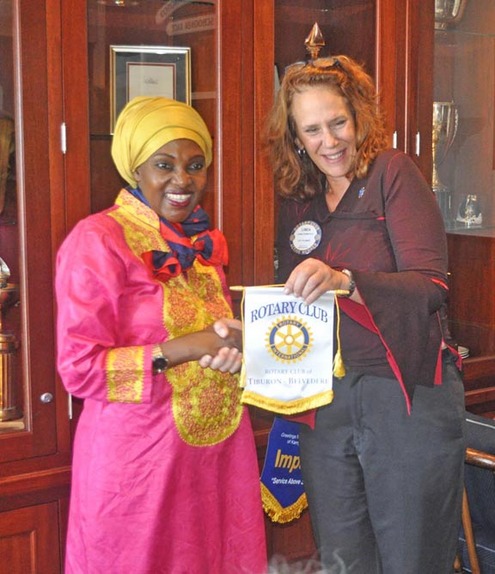 Rehmah Kasule (above left), with President Linda Emberson) is the Immediate Past President of the Rotary Club of Kampala/Impala in Uganda. She took the opportunity to visit us when she was at a conference in San Francisco in October. In 2010, she received recognition at the White House for her work in empowering women and met President Obama. She then wrote a book, From Gomba to the White House. She shared an African proverb: "When you walk fast, you walk alone. When you walk with others, you go far."
_______________

MAKING KIDS SMILE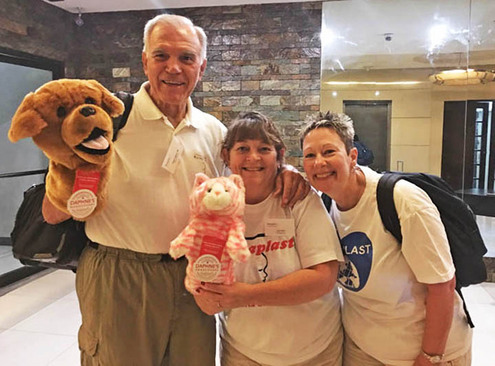 Marshall Gross donated two beautiful puppets that he won in a gift basket to Rotaplast's mission in Cebu City, Philippines. Dr. Angelo Capozzi (with the big dog) reports that the puppets are making kids smile every day before undergoing surgery, and the mission is going well.
______________

Tiburon Challenger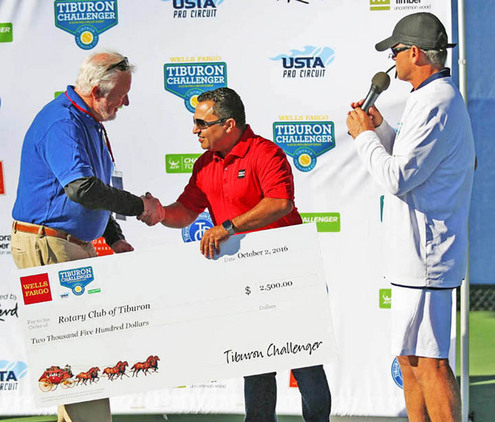 Charlie Oewel, representing the Rotary Club of Tiburon-Belvedere, accepted a generous check from Ashoo Vaid (middle) of Wells Fargo and tournament director Brendan Curry (right) at the conclusion of the Tiburon Challenger. The funds will go to the club's education projects. (Photo: Getty Images for Revd)
_______________

Rotary welcomes Kimberly Brooks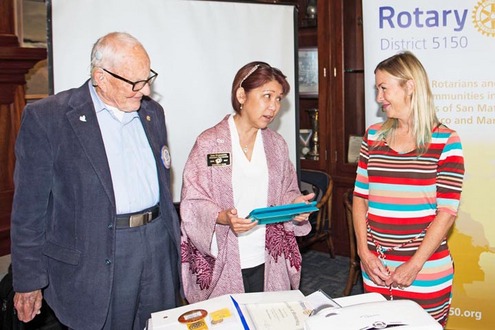 District Governor Jeri Fujimoto (center) inducted new member Kimberley Brooks (right) as Kimi's sponsor, Joe Lavigne, looked on. Photo: Marshall Gross
_____________________
DAY BEFORE LABOR DAY PARADE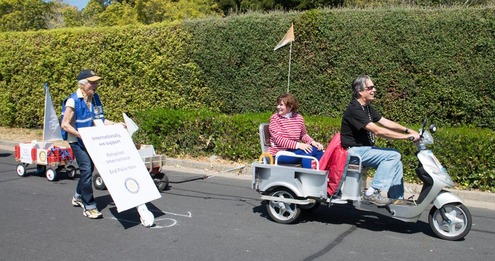 Tari Nix and friend pull wagons with books for kids from the Global Book Exchange, as Marianne Strotz walks alongside, wheeling a Rotary sign. (Photo: Marshall Gross)
To see more photos of the parade, go to www.tiburonrotary.org and click on "Photo Gallery."
____________________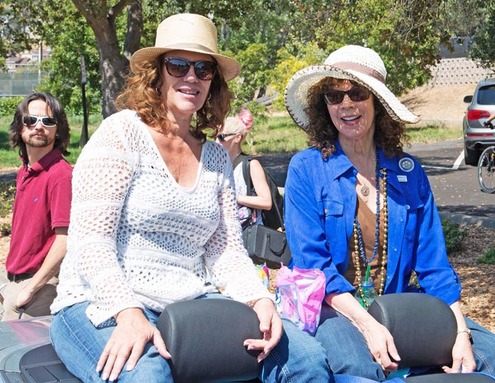 President Linda Emberson (left) of Tiburon-Belvedere and President Marilyn Nemzer of Tiburon Sunset hitch a ride with Michael Heckmann in the Day Before Labor Day Parade. (Photo: Marshall Gross)
Dana and Chester (left), making friends.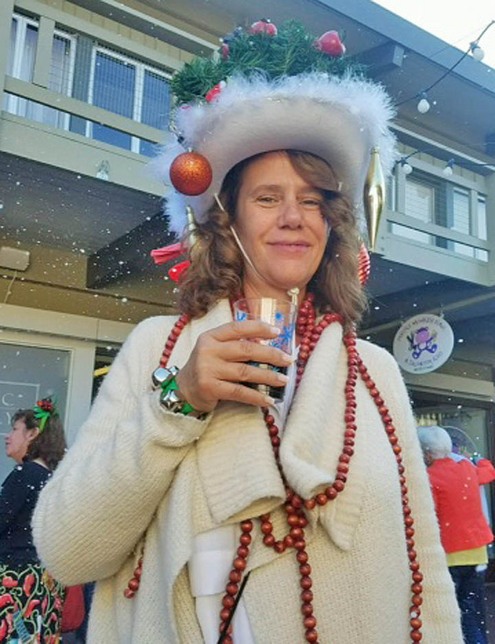 Winter in August was the theme of the Tiburon Peninsula Chamber of Commerce's mixer at the Boardwalk. President Linda Emberson took the prize for the most creative hat.

_______________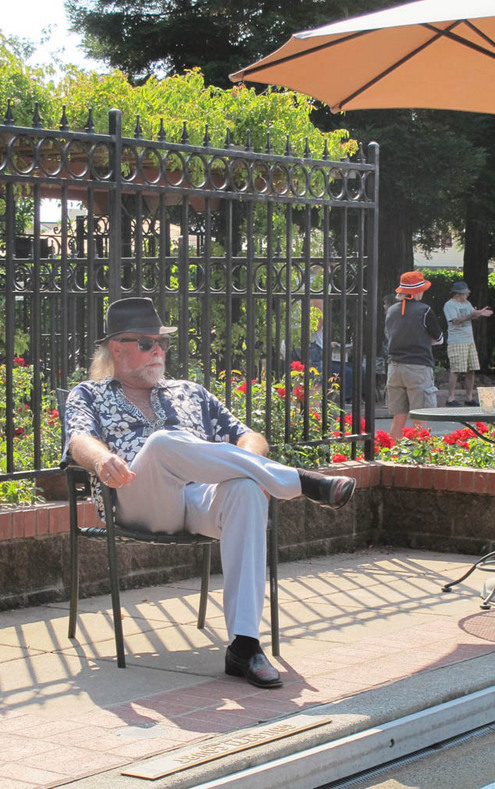 Jon Rankin views the on-court action at the annual Bocce Ball Tournament, a fundraiser for Rotaplast International. (Photo: J. Wilson)

_______________

Changing of the Guard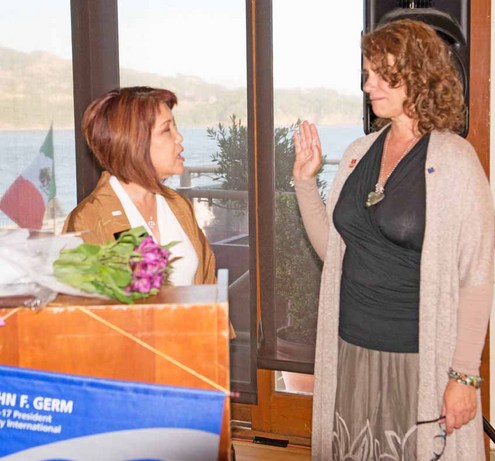 Thanks to President Marianne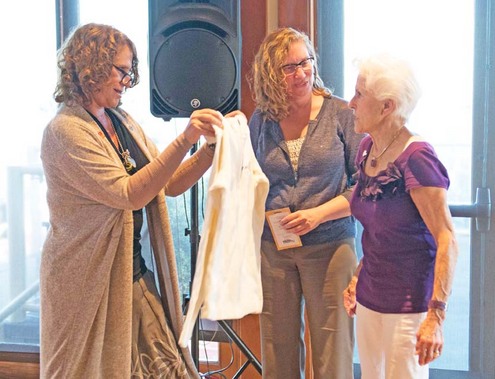 President Linda Emberson (left) thanks outgoing President Marianne Strotz (right) for her two outstanding years of leadership with a special Rotary jacket, as Karen Glader, the club's new secretary, looks on. (Photo: Marshall Gross)
____________________

Honors for Angelo
Dr. Angelo Capozzi (left) and Dr. John Kaufmann with a child who underwent surgery during a Rotaplast mission to Peru in May 2016. (Photo: Courtesy of Rotaplast International)
____________________
Service Above Self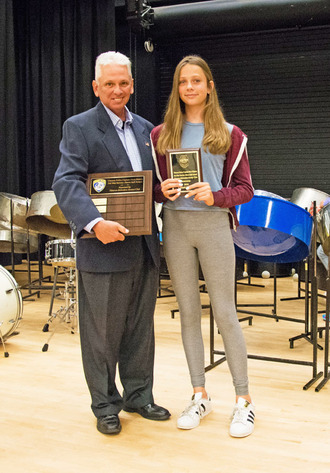 Dave Hutton presents the Capt. Dave Hutton Rotary Service Above Self Award to Kendall Hermann, graduating senior at Del Mar Middle School, for her outstanding performance in community service. The presentation took place at a special awards assembly in June. Photo: Marshall Gross
____________________
Teachers of the Year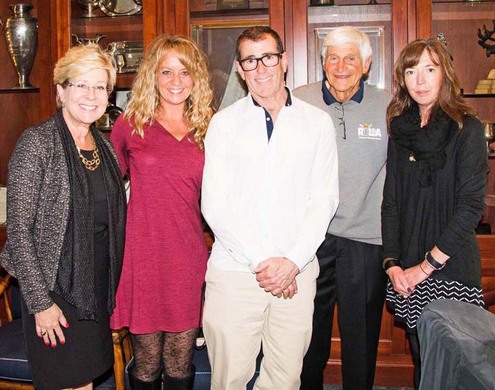 (Left to right) RUSD Superintendent Nancy Lynch, Bel Aire School's Kelly Morphy, Reed School's Ross Modlin, Rotarian George Landau and Erin Turner of St. Hilary School (photo: Marshall Gross)
____________________
Carnaval!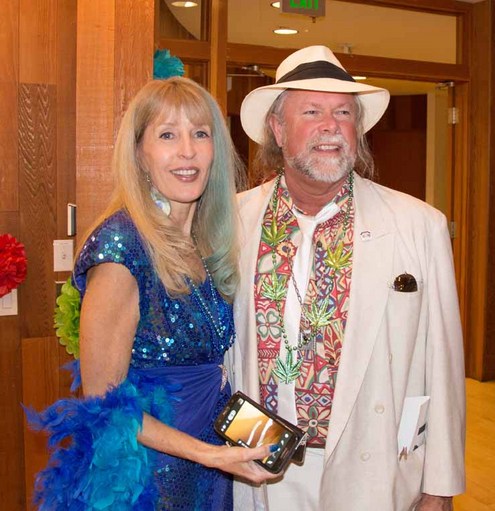 Mary Kaufmann and Jon Rankin got into the spirit of Carnaval, a fundraiser for the Rotary Club of Tiburon-Belvedere. For more, see the photo gallery at www.tiburonrotary.org. (Photo: Marshall Gross)
_______________

In 1976, Tim Severin decided to test the theory. He built a similar boat, in Bantry, where Tom's family is from, and he sailed it to North America, demonstrating that Brendan could have done it. [Severin wrote a book about his experiences, The Brendan Voyage, and it was made into a film.]
Severin also encountered a tribe of American Indians with white skin, brown and reddish hair and blue eyes. The name of the tribe was Duhare, a name that comes from ancient Celtic. Their carvings were the same as those in the west of Ireland, and the only person who reputedly reached North America early was Brendan, suggesting that he and the tribe are connected.
Tom's family coat of arms has a red hand, and legend has it that when the first Europeans came to North America, one of Tom's ancestors cut off his right hand and threw it to the shore so he could be the first to touch the new land.
"Was your ancestor called Lefty O'Neill?" quipped David Albert.
Terry Graham said she has done some research and discovered that when the first ships arrived from England, some of the tribes met the ships and tried to communicate with the sailors. Welsh sailors understood what the Indians were saying, leading to speculation the natives' language came from Ancient Welsh, which is also related to Hebrew.
Tom added that the Irish and Welsh languages are Gaelic, and the first people in England and Ireland were Phoenicians, who are from the Levant region of the eastern Mediterranean.