Welcome to Telli Marin! Sign in | Create a login

Rotary Club of Tiburon-Belvedere
Fellowship and Service
Address:
1600 Mar West Street
Tiburon/Belvedere, CA 94920
Phone:
415-789-0161
Monday, June 19, 2017


Neighborhood Legislature Gives People a Voice
John Cox explains how the Neighborhoold Legislature works. (Photo: Joe Lavigne)

John Cox is a proponent of a new type of representative government called the Neighborhood Legislature. He lives in Rancho Santa Fe in San Diego, but was born and raised in Chicago, where his mother was a teacher and taught in the south side of Chicago. His father left when he was young. He worked his way through college and became an attorney and CPA. "I'm a businessman," he said, explaining that he started buying buildings when he was in his twenties. "Now I have 3,000 apartments," he said. That's what's given him the time and opportunity to work on political reform and also become a candidate for governor.
"I am an enemy of political corruption," said John, explaining that his mother was the breadwinner in his family and his hero. "She was the defining figure in my life," he said. She experienced frustration in dealing with the principal of her school. Aldermen chose school principals, and "That is political corruption," he said, observing that any time a political leader makes a decision for political purposes instead of doing it because it's the right thing, it's corruption.
He discovered that California is even more corrupt than Illinois, because special interests have control. "We don't elect corrupt people," he said, observing that they usually mean well as political leaders go, but we put them into a system that ensures they become corrupt.
California's constitution dates to 1879, when the state had 1 million people, not 40 million, and in terms of representation, "It's way out of wack compared to the rest of the country," he said. He pointed to New Hampshire as an example of a state that has a better system, with 400 representatives who get paid $100 a year. "These guys don't get paid $100,000 a year to serve in the state legislature. They do it because it's an honor to serve your fellow man," he said. "Service Above Self; that's what we need to bring back to our political leadership."
Currently, it's expensive to win, and once representatives are elected, their backers want favors in return for their support. Wal-Mart, Chevron and the state teachers union are among the most powerful. "Introduce a bill to eliminate tenure, and they'll drive you out of office," said John.  "It's also about attack ads.
A New Model

The California State Capitol in Sacramento (Photo: Wikimedia Commons)

"We need to change the system. We want to have an accountable government," said John, who believes the answer is tiny districts, like New Hampshire has. He went to the top minds for help in designing the Neighborhood Legislature and has been working on it for seven years. He believes we need to decentralize, and it has to be a constitutional amendment.
It's a model that requires chopping a district into 100 pieces and having each one elect a neighborhood senator. The senators would then get together after an election and select one person as their representative to be on a working committee and go to Sacramento. The 120 representatives in Sacramento would communicate with the legislators back home, who would have to ratify votes up or down, and that would allow them to build consensus. "No one can complain that they're losing a vote," said John.  "Modern technology is what allows this to be successful.
"The public is tuned out. They don't care," he said, and it's because they believe legislators don't listen to them. A lot of people don't register to vote, and that's a problem, because absolute power is the result when we tune out. Surveys show that the public is convinced special interests control Sacramento, and they want reform.
The proposal needs 585,000 signatures to put it on the ballot, and it has 100,000 so far. John expects to reach the goal, and he hopes to be on the ballot for governor as well. "I want to be there to make sure this gets done," he said. He suggested that we go to the website, www.neighborhooldlegislature.com and find out how to sign the petition. "You're going to have a chance to vote on this, and we hope you'll help get the vote out. You represent the real people in this state."
Questions and Answers
"You have to have a staff," observed Dave Kweder.
"I think you're right. You'll need some help," said John.
Lynn Fox finds it difficult to get to speak to our representatives. "You go there, and they won't let you through the door," she said, adding that it can take hundreds of hours to find someone who will listen to you.
"How do you get your numbers?" asked President Linda. John explained that each district has 100 representatives, and they elect one person from that number to represent them into Sacramento. One goes to Sacramento and does all the work, while the other 99 stay home and get information from the representative in Sacramento. When a vote is approaching, they take a preliminary vote, which determines how their representative in Sacramento will vote.  "How did we get out of kilter with the other states?" asked Bill Lindqvist.
"California grew," John replied, explaining that the state's population went from 1 million to 40 million and never changed the number of representatives. New York and Texas also have large districts. "No politician ever wants to reduce their power," he observed.
Bill pointed out that the 100 would be mixed Republicans and Democrats and asked if the representative in Sacramento would communicate with all of them. John replied yes."
"It's the representation phenomenon," observed Charlie Oewel.
"It's getting money out of politics," added John."Has the budget office looked at it?" asked President Linda. John responed that it has and determined that the Neighborhood Legislature would save the state $100 million per year, partly because it wouldn't require having district offices.
"Can you sign the petition online?" asked Joe Lavigne, and John said no, you have to request one and have it mailed to you.
"When it gets on the ballot, who do you anticipate the major opposition will come from?" Joe asked.
John expects opponents to be unions, big businesses and the special interests that control the legislature now. "The big spenders in Sacramento aren't going to like this," he said.
George Landau pointed out that such a model would bypass the current system, in which people serve on local boards, have to attend lots of meetings and get experience in governance, then move p.
"They could be one of the 100," said John.
"What happens if the referendum passes?" asked Bill Lindqvist, and John said it would go into effect in 2022, allowing a four-year time frame for implementation.
"I think this could pass very swiftly and be very popular. It's the right thing to do in giving people a voice," he concluded.
_______________

_______________
MARK YOUR CALENDAR
GREAT GUEST SPEAKERS
June 21: Anita Renzetti, Director of Program Innovation, Whistlestop

June 27: 40th Anniversary Celeberation, 6 p.m., Servino Ristorante
June 28: No meeting
July 5: No meeting

_______________

  NOTEWORTHY EVENT
Friday Night on Main. June 30, 6 to 9 p.m., A Whale of a Time, downtown Tiburon. Look for Rotary at Fountain Plaza.

___________________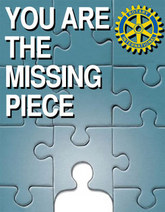 WHERE TO FIND US
Lunch Meetings
We welcome guests. If you'd like to hear a guest speaker or find out more about Rotary, please pay us a visit. We meet at the Tiburon Peninsula Club, 1600 Mar West Street, Tiburon, at 12:15 p.m., most Wednesdays, for a guest speaker's interesting presentation and lunch (optional). Lunch & Attendance: $23, attendance only: $10

First Wednesday Evening Meeting
On the first Wednesday of the month, we meet at the Tiburon Peninsula Club, 1600 Mar West Street, Tiburon, at 5:30 p.m. We welcome guests, visiting Rotarians and friends for fellowship, camaraderie, a little Rotary business, hors d'oeuvres and a no-host bar. $15

Happy Hour
We enjoy a social gathering on the third Thursday of every month at 5:30 p.m. at Servino Ristorante, 9 Main Street, Tiburon. This is a no-host event—place and pay for your own order.
Board of Directors Meetings
Meetings of the Board of Directors are open to all members and take place on the second Wednesday of the month at 10:30 a.m. at the TPC.
Contact us at rotary@telli.com.
See our website at www.tiburonrotary.org
Send mail to Rotary Club of Tiburon-Belvedere, P.O. Box 220, Tiburon, CA 94920


Follow us on Facebook: https://www.facebook.com/tbrotary. Hope you "like" us!
_________________________
Scroll down to see our photo gallery of Rotarians at work and play!
____________________

 ROTARY AT WORK

The Rotary Club of Tiburon-Belvedere supports a wide range of programs, with a focus on youth, literacy and community. We believe that reaching out to others makes a better world and encourage others to join us. Here's what we're supporting in 2016-2017.

Youth—Investing in the Future
• 10,000 Degrees: Funding for support and mentoring to help low-income students gain access college and succeed.

• Ambassadors of Hope and Opportunity: Support to provide a safety net of stable housing, guidance and community connections for young people 16 to 25, who are homeless or in danger of becoming homeless in Marin County.

• Audubon Canyon Ranch: Support for children from low-income urban neighborhoods to go on field trips and experience nature.
• Bel Aire School's Liberia Project: Advice and support for the fifth-grade students' ongoing projects to help their sister school in Liberia, thus encouraging altruism at home and helping children in a disadvantaged country across the world.
• Dave Hutton Rotary Award for Service Above Self: An annual award to a graduating eighth-grader with a record of outstanding community service at Del Mar Middle School.

• Dictionaries: Full-color, illustrated children's dictionaries for every third grader in local schools every year.
• Eagle Scouts: Financial support for Eagle Scout projects, thus allowing Boy Scouts to develop leadership skills and prepare to become tomorrow's leaders.
• Global Book Exchange: Support for the Global Book Exchange in San Rafael, which collects lightly-used books and redistributes them to teachers at schools with limited budgets, disadvantaged families and nonprofits that serve children, as well as schools throughout the world.
• Rotaplast International: Support for volunteer medical teams to provide life-changing surgery for children with cleft-lip and palate in needy communities around the world.
• Rotary Youth Leadership Awards: Scholarships so high school sophomores and juniors can attend a special camp that guides them to develop their leadership skills.

• Educator of the Year Awards: Annual awards to outstanding educators in local schools, whose unique projects give children a worldview that encourages them to become good citizens.
• Trade School in Uganda: Funding to help a new trade school in Uganda purchase sewing machines and other equipment, so students can learn a trade and become employable.
Meaningful Projects—Service Above Self
• Canal Alliance: Support for a program that teaches immigrants to speak English.

• Marin Villages: Support for programs that help seniors age in their own homes. Members pay a small fee and can enjoy social get-togethers and access to volunteers for help with tasks such as getting to appointments, changing light bulbs or assisting with pets.

• Pathway Home: Support for a program in Napa County that provides residential treatment for veterans suffering from Post Traumatic Stress Disorder.
• Service to the Community Awards: Recognition for people who serve the community in meaningful ways, but don't often get acknowledgement.

• St. Vincent de Paul: Support for helping Marin's neediest residents obtain nutritious food, affordable housing, meaningful employment and a voice in the community.

• Tiburon's Green Team: Support for the volunteers who plant, weed, prune and trim landscaping in public places to keep our community beautiful.
District Designated Funds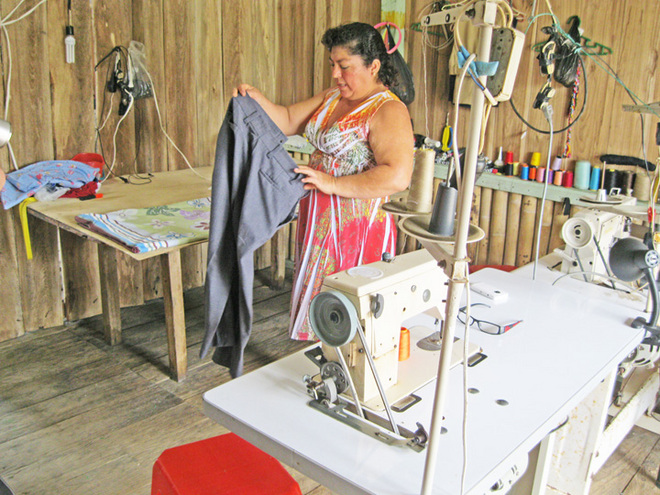 Rotary's District Designated Funds helped establish this sewing shop in Esmeraldas, Ecuador. Photo: Courtesy of Keith and Holly Axtell

• Microcredit in Ecuador: Funds from the sale of raffle tickets associated with District 5150's fall event earn District Designated Funds for our club. For the past two years, we have contributed our funds to a multi-district, multi-club microcredit project in Esmeraldas, Ecuador, which is training people in job and entrepreneurial skills and extending microloans to help them start small businesses and become self-sufficient.
____________________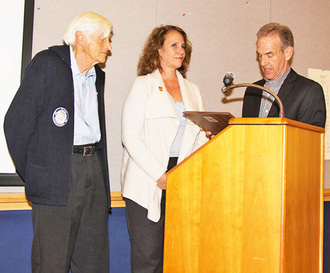 Proclamation
The Town of Tiburon issued a proclamation in honor of the Rotary Club of Tiburon-Belvedere's 40th anniversary, which we will celebrate in June, and the 100th anniversary of the Rotary International Foundation. Pictured, left to right, are George Landau, President Linda Emberson and Tiburon Mayor Jim Fraser. Photo: Marsall Gross.
______________
Visitor from Afar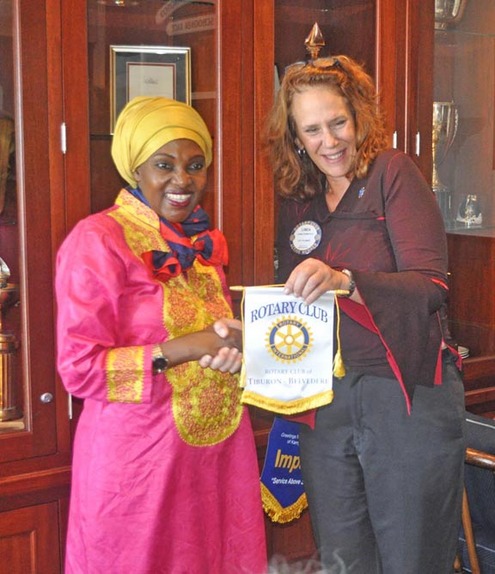 Rehmah Kasule (above left), with President Linda Emberson) is the Immediate Past President of the Rotary Club of Kampala/Impala in Uganda. She took the opportunity to visit us when she was at a conference in San Francisco in October. In 2010, she received recognition at the White House for her work in empowering women and met President Obama. She then wrote a book, From Gomba to the White House. She shared an African proverb: "When you walk fast, you walk alone. When you walk with others, you go far."
_______________

MAKING KIDS SMILE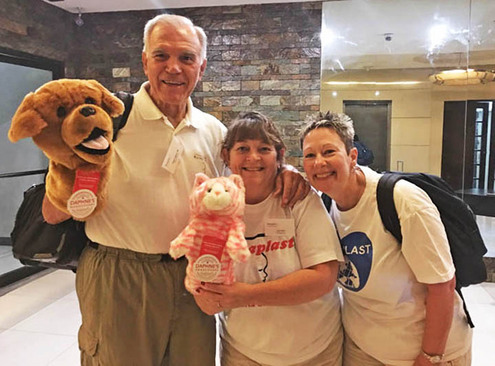 Marshall Gross donated two beautiful puppets that he won in a gift basket to Rotaplast's mission in Cebu City, Philippines. Dr. Angelo Capozzi (with the big dog) reports that the puppets are making kids smile every day before undergoing surgery, and the mission is going well.
______________

Tiburon Challenger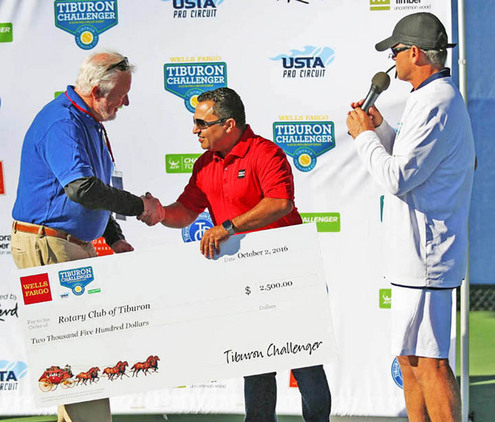 Charlie Oewel, representing the Rotary Club of Tiburon-Belvedere, accepted a generous check from Ashoo Vaid (middle) of Wells Fargo and tournament director Brendan Curry (right) at the conclusion of the Tiburon Challenger. The funds will go to the club's education projects. (Photo: Getty Images for Revd)
_______________

Rotary welcomes Kimberly Brooks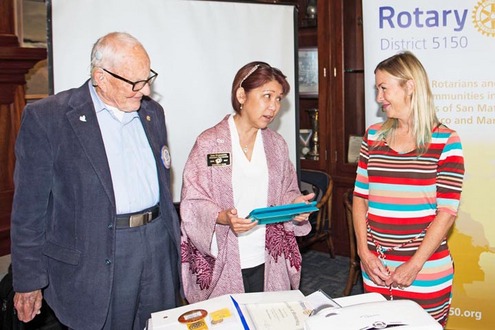 District Governor Jeri Fujimoto (center) inducted new member Kimberley Brooks (right) as Kimi's sponsor, Joe Lavigne, looked on. Photo: Marshall Gross
_____________________
DAY BEFORE LABOR DAY PARADE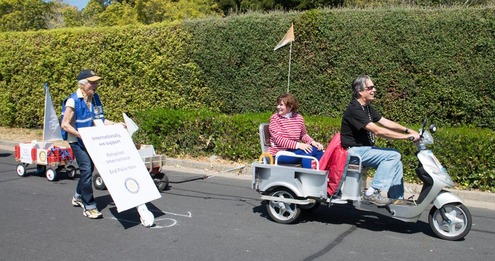 Tari Nix and friend pull wagons with books for kids from the Global Book Exchange, as Marianne Strotz walks alongside, wheeling a Rotary sign. (Photo: Marshall Gross)
To see more photos of the parade, go to www.tiburonrotary.org and click on "Photo Gallery."
____________________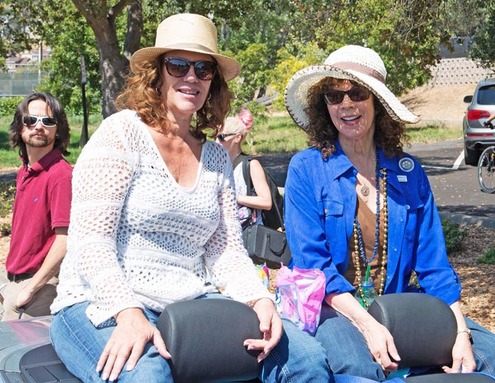 President Linda Emberson (left) of Tiburon-Belvedere and President Marilyn Nemzer of Tiburon Sunset hitch a ride with Michael Heckmann in the Day Before Labor Day Parade. (Photo: Marshall Gross)
Dana and Chester (left), making friends.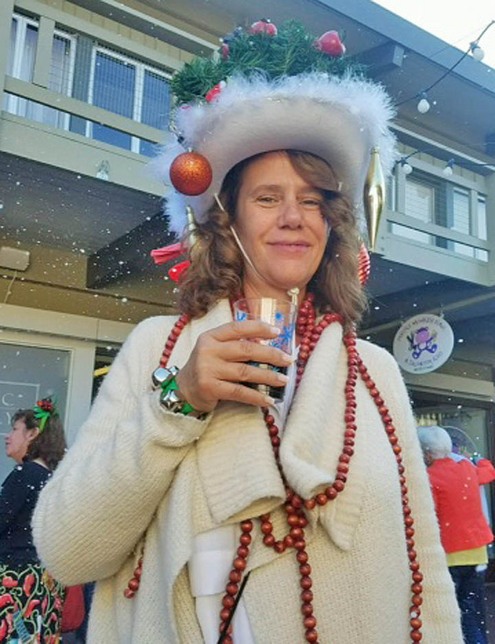 Winter in August was the theme of the Tiburon Peninsula Chamber of Commerce's mixer at the Boardwalk. President Linda Emberson took the prize for the most creative hat.

_______________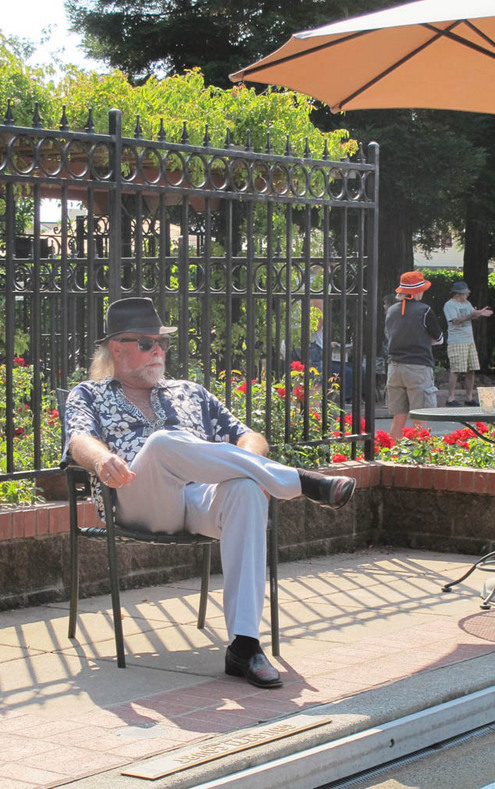 Jon Rankin views the on-court action at the annual Bocce Ball Tournament, a fundraiser for Rotaplast International. (Photo: J. Wilson)

_______________

Changing of the Guard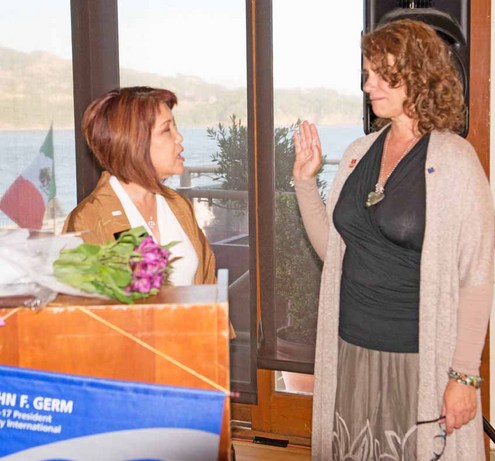 Thanks to President Marianne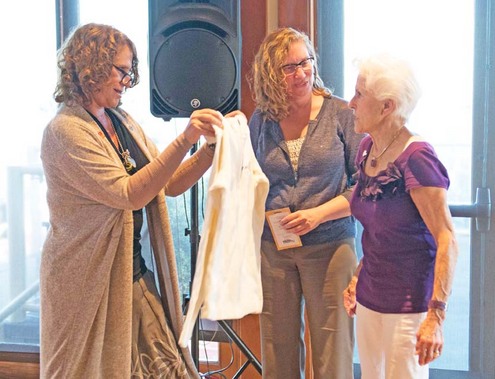 President Linda Emberson (left) thanks outgoing President Marianne Strotz (right) for her two outstanding years of leadership with a special Rotary jacket, as Karen Glader, the club's new secretary, looks on. (Photo: Marshall Gross)
____________________

Honors for Angelo
Dr. Angelo Capozzi (left) and Dr. John Kaufmann with a child who underwent surgery during a Rotaplast mission to Peru in May 2016. (Photo: Courtesy of Rotaplast International)
____________________
Service Above Self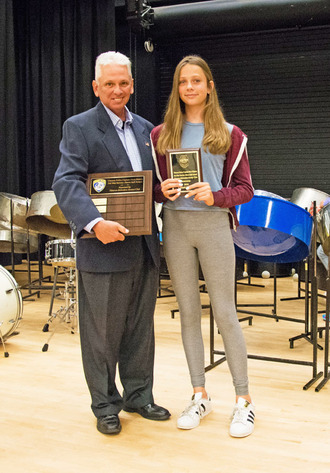 Dave Hutton presents the Capt. Dave Hutton Rotary Service Above Self Award to Kendall Hermann, graduating senior at Del Mar Middle School, for her outstanding performance in community service. The presentation took place at a special awards assembly in June. Photo: Marshall Gross
____________________
Teachers of the Year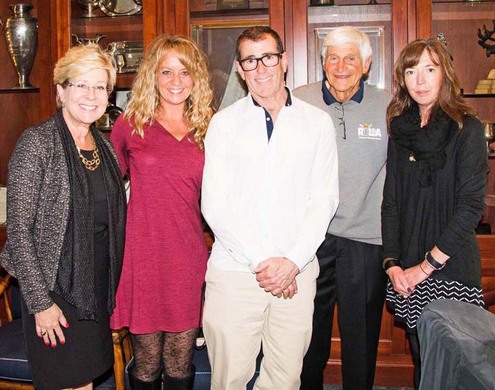 (Left to right) RUSD Superintendent Nancy Lynch, Bel Aire School's Kelly Morphy, Reed School's Ross Modlin, Rotarian George Landau and Erin Turner of St. Hilary School (photo: Marshall Gross)
____________________
Carnaval!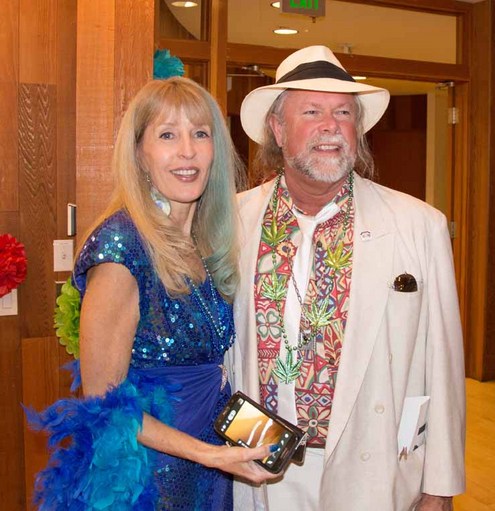 Mary Kaufmann and Jon Rankin got into the spirit of Carnaval, a fundraiser for the Rotary Club of Tiburon-Belvedere. For more, see the photo gallery at www.tiburonrotary.org. (Photo: Marshall Gross)
_______________