Welcome to Telli Marin! Sign in | Create a login

Rotary Club of Tiburon-Belvedere
Fellowship and Service
Address:
1600 Mar West Street
Tiburon/Belvedere, CA 94920
Phone:
415-789-0161
Sunday, November 12, 2017


Golden Gate Park Car Races 1952-1954
Robert Devlin, known as Bob, started with some questions. "How many of you knew there were road races in Golden Gate Park in 1952 to 1954?" he asked. He explained that they ran for three years, and the Guardsmen, a San Francisco service organization, arranged them. He was a flagman.
He showed several photos and talked about crowd control—or the lack of it. About 50,000 people attended, and only a rope separated spectators from the road. In one photo, two MG Specials were rounding a curve, with only hay bales as the barrier between the cars and spectators. There were no curbs in those days. "You went from pavement to grass," said Bob.
Walter Haas was president, and organizers determined the categories. Bob took a course at Sacramento High School in photography and he made a fake photo ID and changed his birthdate, so he could drive in road races. He started when he was 19.
He showed photos of several drivers, and said, "These guys were all very successful in their businesses."
The first car across the finish line after 100 miles was the winner, and one was the first Porsche to ever have an international win.
Bob showed a photo of a car at Pebble Beach that was wrecked and then showed it redone, and he pointed out the lack of roll bars and safety equipment, adding that helmets came later.
"Were they wearing seatbelts?" asked Marshall Gross, and Bob replied both yes and no.
Charles Arnold recalled owning a 1956 Cabriolet Porsche in Europe and said that seatbelts were meant to keep people in driving position, not to keep them from being thrown from the cars.
Angelo Capozzi asked how many cars raced, and how much money was involved. Bob said about 60 cars took part, and as for money, "None, it was amateur. They were racing for a trophy."
Bob said he and friends got into the pit without a pass by getting a tire and rolling it in.
He showed a map of the circuit and pointed out a spot where one driver didn't make the turn, got off the course and drove out to the windmills.
John Kaufmann recalled going to the Sonoma Speedway and seeing lots of tents with various activities. One had Playboy bunnies, who posed for pictures with spectators. "It was incredibly noisy," he said, and so half the people were wearing noise-cancelling earphones. He had difficulty telling what was going on. "I couldn't figure it out," he said.
Angelo Capozzi remembered trying to join the Guardsmen when he was 35, but they wouldn't let him in, because he was too old.
Bob shook Marshall Gross' hand and thanked him for his help in advancing the slides.
Bill Pollack, winner of the 1952 race in Cad Allard, rounds turn 2.
Car photos: Google Images
_______________


MARK YOUR CALENDAR
GREAT GUEST SPEAKER
November 18: Cecilia Chen, Chinese Wisdom
November 22: No meeting, Thanksgiving holiday
November 29: TBA
December 6: 6 p.m., Holiday Party
December 13: TBA
December 20: TBA
December 29: No meeting, Holiday Season

_______________

  NOTEWORTHY EVENTS
Felix Kellaway, Classical Guitarist: 2 p.m., Sunday, November 19, Old St. Hilary's Landmark, $20 general admission and $15 for seniors & youth in advance; add $5 at the door. (Scroll up for details.)
Tiburon Winter Festival: 2 to 6 p.m., carols, mulled wine, wreath sales and more in a tent on Ark Row. 6 p.m.: tree lighting at Fountain Plaza.

___________________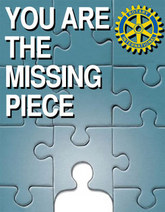 Lunch Meetings
We welcome guests. If you'd like to hear a guest speaker or find out more about Rotary, please pay us a visit. We meet at the Tiburon Peninsula Club, 1600 Mar West Street, Tiburon, at 12:15 p.m., most Wednesdays, for a guest speaker's interesting presentation and lunch (optional). Lunch & Attendance: $23, attendance only: $10

First Wednesday Evening Meeting
On the first Wednesday of the month, we meet at the Tiburon Peninsula Club, 1600 Mar West Street, Tiburon, at 5:30 p.m. We welcome guests, visiting Rotarians and friends for fellowship, camaraderie, a little Rotary business, hors d'oeuvres and a no-host bar. $15

Happy Hour
We enjoy a social gathering on the third Thursday of every month at 5:30 p.m. at Servino Ristorante, 9 Main Street, Tiburon. This is a no-host event—place and pay for your own order.
Board of Directors Meetings
Meetings of the Board of Directors are open to all members and take place on the second Wednesday of the month at 10:30 a.m. at the TPC.
Contact us at rotary@telli.com.
See our website at www.tiburonrotary.org
Send mail to Rotary Club of Tiburon-Belvedere, P.O. Box 220, Tiburon, CA 94920


Follow us on Facebook: https://www.facebook.com/tbrotary. Hope you "like" us!
_________________________
Scroll down to see our photo gallery of Rotarians at work and play!
____________________

 ROTARY AT WORK

The Rotary Club of Tiburon-Belvedere supports a wide range of programs, with a focus on youth, literacy and community. We believe that reaching out to others makes a better world and encourage others to join us. Here's what we're supporting in 2016-2017.

Youth—Investing in the Future
• 10,000 Degrees: Funding for support and mentoring to help low-income students gain access college and succeed.

• Ambassadors of Hope and Opportunity: Support to provide a safety net of stable housing, guidance and community connections for young people 16 to 25, who are homeless or in danger of becoming homeless in Marin County.

• Audubon Canyon Ranch: Support for children from low-income urban neighborhoods to go on field trips and experience nature.
• Bel Aire School's Liberia Project: Advice and support for the fifth-grade students' ongoing projects to help their sister school in Liberia, thus encouraging altruism at home and helping children in a disadvantaged country across the world.
• Dave Hutton Rotary Award for Service Above Self: An annual award to a graduating eighth-grader with a record of outstanding community service at Del Mar Middle School.

• Dictionaries: Full-color, illustrated children's dictionaries for every third grader in local schools every year.
• Eagle Scouts: Financial support for Eagle Scout projects, thus allowing Boy Scouts to develop leadership skills and prepare to become tomorrow's leaders.
• Global Book Exchange: Support for the Global Book Exchange in San Rafael, which collects lightly-used books and redistributes them to teachers at schools with limited budgets, disadvantaged families and nonprofits that serve children, as well as schools throughout the world.
• Rotaplast International: Support for volunteer medical teams to provide life-changing surgery for children with cleft-lip and palate in needy communities around the world.
• Rotary Youth Leadership Awards: Scholarships so high school sophomores and juniors can attend a special camp that guides them to develop their leadership skills.

• Educator of the Year Awards: Annual awards to outstanding educators in local schools, whose unique projects give children a worldview that encourages them to become good citizens.
Meaningful Projects—Service Above Self
• Canal Alliance: Support for a program that teaches immigrants to speak English.

• Marin Villages: Support for programs that help seniors age in their own homes. Members pay a small fee and can enjoy social get-togethers and access to volunteers for help with tasks such as getting to appointments, changing light bulbs or assisting with pets.

• Pathway Home: Support for a program in Napa County that provides residential treatment for veterans suffering from Post Traumatic Stress Disorder.
• Service to the Community Awards: Recognition for people who serve the community in meaningful ways, but don't often get acknowledgement.

• St. Vincent de Paul: Support for helping Marin's neediest residents obtain nutritious food, affordable housing, meaningful employment and a voice in the community.

• Tiburon's Green Team: Support for the volunteers who plant, weed, prune and trim landscaping in public places to keep our community beautiful.
District Designated Funds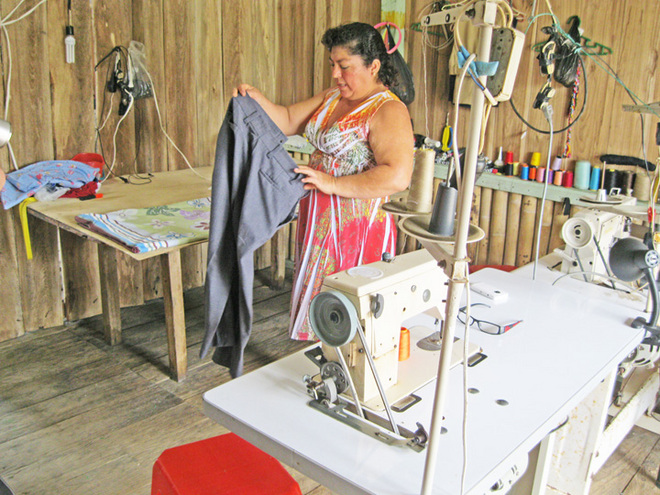 Rotary's District Designated Funds helped establish this sewing shop in Esmeraldas, Ecuador. Photo: Courtesy of Keith and Holly Axtell

Funds from the Rotary International Foundation's annual campaign earn District Designated Funds for our club. For the past three years, we have contributed our funds to multi-club microcredit projects in Ecuador, Guatemala and Peru to train people in job and entrepreneurial skills and extend microloans to help them start small businesses and become self-sufficient
____________________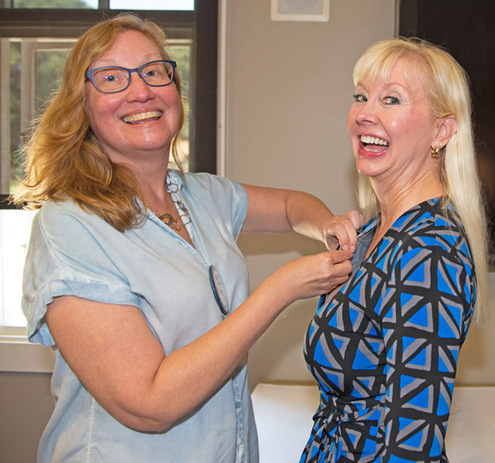 Karen Glader welcomes new member Valerie Marsh to the club and gives her a Rotary pin.
_______________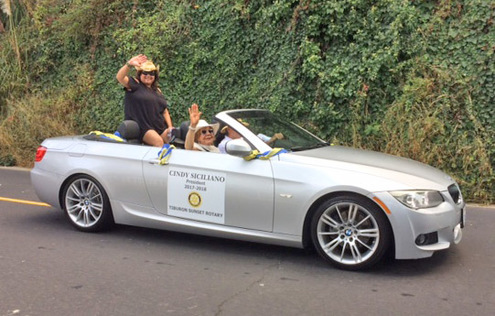 Rotarians have fun in the Day Before-Labor Day parade.
_______________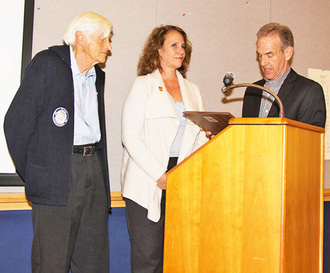 Proclamation
The Town of Tiburon issued a proclamation in honor of the Rotary Club of Tiburon-Belvedere's 40th anniversary, which we will celebrate in June, and the 100th anniversary of the Rotary International Foundation. Pictured, left to right, are George Landau, President Linda Emberson and Tiburon Mayor Jim Fraser. Photo: Marsall Gross.
______________
Visitor from Afar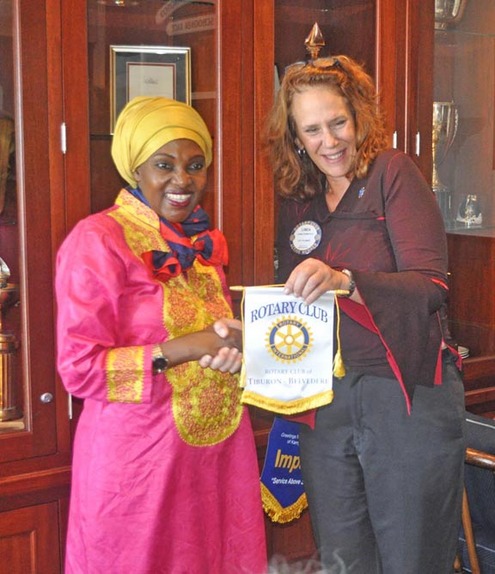 Rehmah Kasule (above left), with President Linda Emberson) is the Immediate Past President of the Rotary Club of Kampala/Impala in Uganda. She took the opportunity to visit us when she was at a conference in San Francisco in October. In 2010, she received recognition at the White House for her work in empowering women and met President Obama. She then wrote a book, From Gomba to the White House. She shared an African proverb: "When you walk fast, you walk alone. When you walk with others, you go far."
_______________

MAKING KIDS SMILE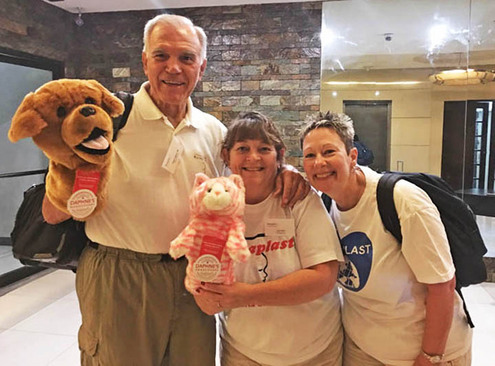 Marshall Gross donated two beautiful puppets that he won in a gift basket to Rotaplast's mission in Cebu City, Philippines. Dr. Angelo Capozzi (with the big dog) reports that the puppets are making kids smile every day before undergoing surgery, and the mission is going well.
______________

Tiburon Challenger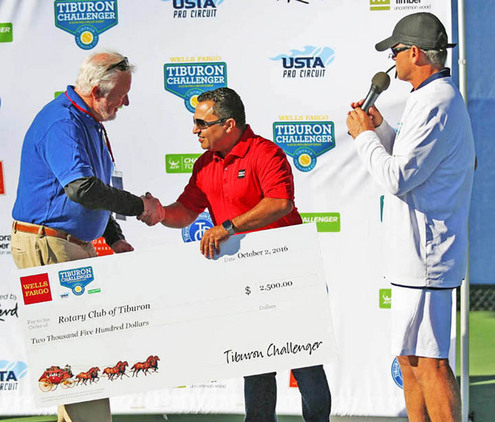 Charlie Oewel, representing the Rotary Club of Tiburon-Belvedere, accepted a generous check from Ashoo Vaid (middle) of Wells Fargo and tournament director Brendan Curry (right) at the conclusion of the Tiburon Challenger. The funds will go to the club's education projects. (Photo: Getty Images for Revd)
_______________

Rotary welcomes Kimberly Brooks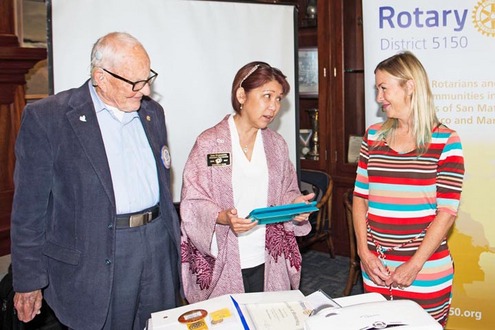 District Governor Jeri Fujimoto (center) inducted new member Kimberley Brooks (right) as Kimi's sponsor, Joe Lavigne, looked on. Photo: Marshall Gross
_____________________
DAY BEFORE LABOR DAY PARADE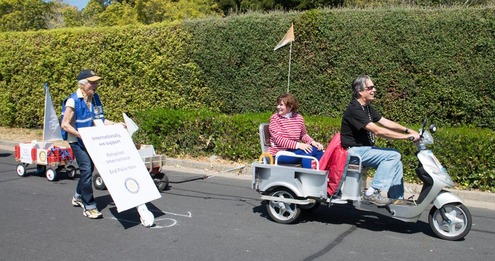 Tari Nix and friend pull wagons with books for kids from the Global Book Exchange, as Marianne Strotz walks alongside, wheeling a Rotary sign. (Photo: Marshall Gross)
To see more photos of the parade, go to www.tiburonrotary.org and click on "Photo Gallery."
____________________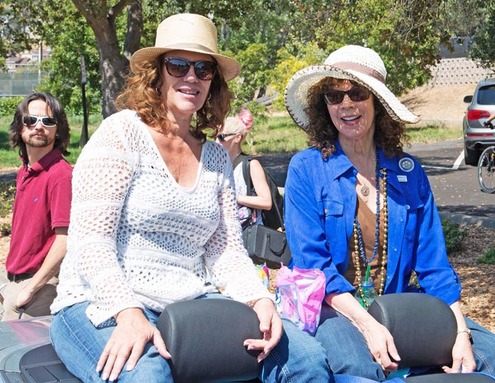 President Linda Emberson (left) of Tiburon-Belvedere and President Marilyn Nemzer of Tiburon Sunset hitch a ride with Michael Heckmann in the Day Before Labor Day Parade. (Photo: Marshall Gross)
Dana and Chester (left), making friends.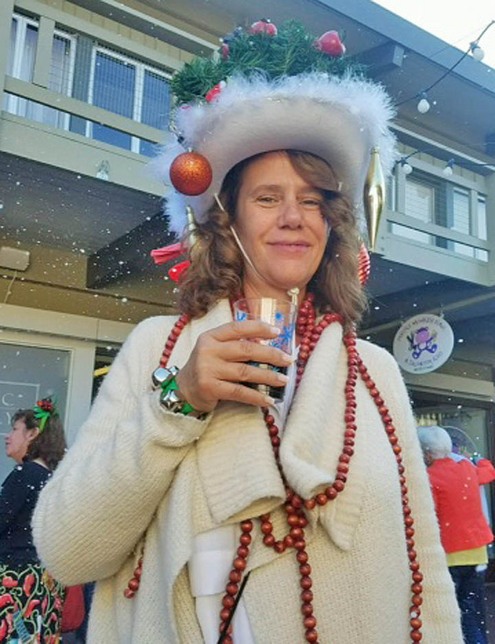 Winter in August was the theme of the Tiburon Peninsula Chamber of Commerce's mixer at the Boardwalk. President Linda Emberson took the prize for the most creative hat.

_______________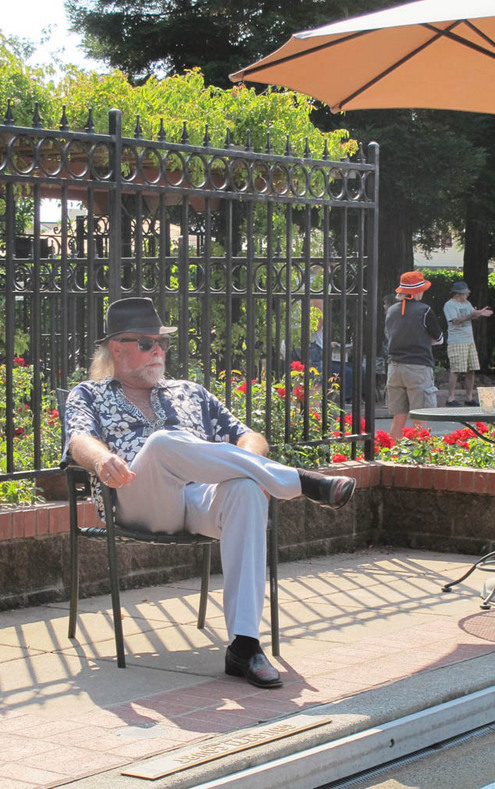 Jon Rankin views the on-court action at the annual Bocce Ball Tournament, a fundraiser for Rotaplast International. (Photo: J. Wilson)

_______________

Changing of the Guard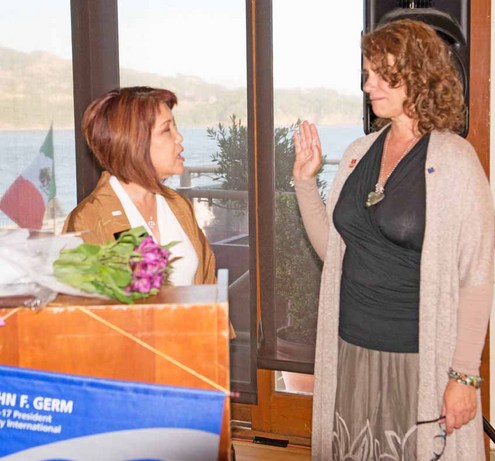 Thanks to President Marianne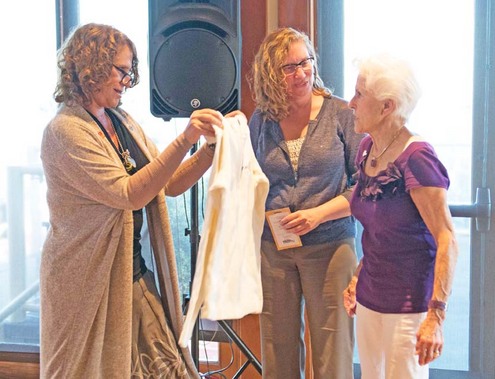 President Linda Emberson (left) thanks outgoing President Marianne Strotz (right) for her two outstanding years of leadership with a special Rotary jacket, as Karen Glader, the club's new secretary, looks on. (Photo: Marshall Gross)
____________________

Honors for Angelo
Dr. Angelo Capozzi (left) and Dr. John Kaufmann with a child who underwent surgery during a Rotaplast mission to Peru in May 2016. (Photo: Courtesy of Rotaplast International)
____________________
Service Above Self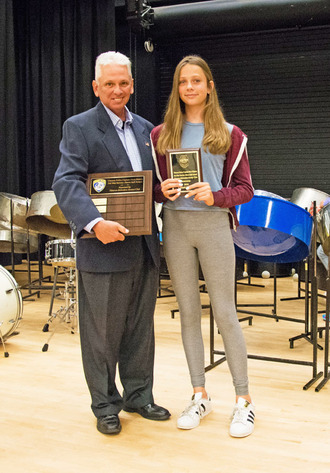 Dave Hutton presents the Capt. Dave Hutton Rotary Service Above Self Award to Kendall Hermann, graduating senior at Del Mar Middle School, for her outstanding performance in community service. The presentation took place at a special awards assembly in June. Photo: Marshall Gross
____________________
Teachers of the Year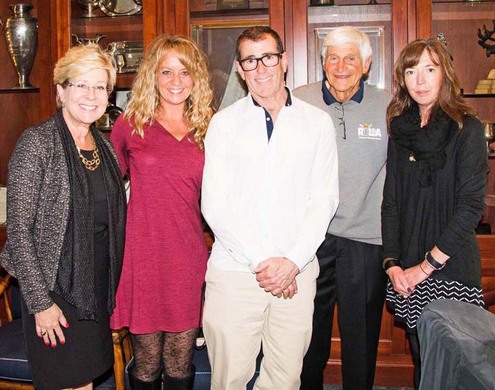 (Left to right) RUSD Superintendent Nancy Lynch, Bel Aire School's Kelly Morphy, Reed School's Ross Modlin, Rotarian George Landau and Erin Turner of St. Hilary School (photo: Marshall Gross)
____________________
Carnaval!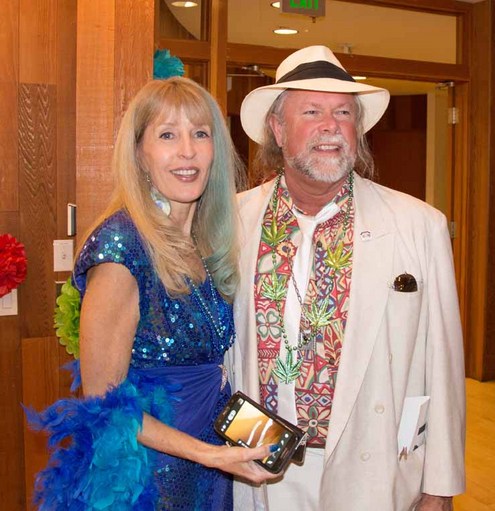 Mary Kaufmann and Jon Rankin got into the spirit of Carnaval, a fundraiser for the Rotary Club of Tiburon-Belvedere. For more, see the photo gallery at www.tiburonrotary.org. (Photo: Marshall Gross)
_______________