Welcome to Telli Marin! Sign in | Create a login

Rotary Club of Tiburon-Belvedere
Fellowship and Service
Address:
1600 Mar West Street
Tiburon/Belvedere, CA 94920
Phone:
415-789-0161
Friday, September 22, 2017

Emberson Fund
On September 5, President Linda Emberson's daughter was diagnosed with leukemia. She was immediately transferred to Stanford Hospital, where she is undergoing treatment. The financial impact of such a disease is devastating, adding to the emotional stress a patient and family must endure. In response to the many people who want to help, the Rotary Club of Tiburon-Belvedere has set up a fund to assist the Emberson family. The foundation is a registered 501(c)3 non-profit organization, so all donations are tax-deductible. Please send checks payable to the Rotary Club of Tiburon-Bevedere Foundation, designated for the Emberson Fund, and send them to P.O. Box 220, Tiburon, CA 94920.
_______________

CITIZEN OF THE YEAR
The Tiburon Peninsula Chamber of Commer and the Rotary Club of Tiburon-Belvedere cordially invite members of the community to salute Steve Sears of Sam's Anchor Cafe as 2017 Citizen of the Year. The festivities and roast take place on Wednesday, November 1, beginning at 11:30 a.m., at the Tiburon Lodge. Cost is $37.50, and includes a buffet lunch and no-host bar. Reservations are required. www.tiburonchamber.org

_______________

Samantha Grier, MSW, is the founder of Caring for Children, an international organization that helps children heal from the psychological effects of trauma by giving them teddy bears. She founded the organization in 1985, after discovering that the teddy bear is an effective therapeutic tool, and she has reached thousands of children around the world as well as in the United States.
One of the principals of the organization is based on attachment theory. Samantha explained that during World War II in Britain, children from London were sent into the country to escape the bombing. Studies showed that children who stayed in London adapted better psychologically, because breaking the bonds with one's mother creates anxiety that never completely goes away. More than 10,000 children in California are in foster care and suffer similar trauma, and an upcoming conference is for people who work with children in crisis.
Caring for Children has won a Jefferson Award for its work with children at the Tenderloin childcare center, and a segment on the organization will be on television on October 11. In addition, an article about sending teddy bears to Jordan appeared in the San Francisco Chronicle in the spring.
A Profound Effect
Teddy bears mean a lot to a child who's lonely, scared and afraid, and George Landau confirmed that, saying he still has his teddy bear, which was deported with him, when he was a child.
"The impact of the teddy bear is enormous," she said. "I had a teddy bear," she added, explaining that unconsciously she had a connection as a result of a teddy bear her grandfather gave her when she was young.
"A teddy bear might seem like a small thing, but it's enormously powerful," she said. It reduces bed-wetting and aggression in children who act out because they're scared. On a micro level, a child needs solace and comfort, while on a macro level, a worldwide crisis exists, with 60 million children who are refugees or unaccompanied minors. A 15-year-old Afghani boy whose mother sends him out into the world to avoid being recruited by the Taliban is an example. Young people who are alone and scared are easy to recruit, so it's important for them to get teddy bears.
Samantha wants to send thousands of teddy bear to the island of Lesbos, where lots of young people have gone as refugees. Many have experienced violence and destruction and even lost family members. They're physically safe, but psychologically insecure, and she's looking for support from all kinds of organizations to help deliver at least 15,000 teddy bears to Greece.
Caring for Children began when Samantha had just moved to San Francisco and saw an article in the San Francisco Chronicle with a report on the children who were affected by the Sandinista conflict in Central America. She was accused of being a bourgeois do-gooder by one of the people she came into contact with, but he eventually understood the value of teddy bears and became a supporter.
If a police officer gives a teddy bear to a child who's been abused, they know they haven't done anything wrong, because the police don't give teddy bears to bad children. Samantha recently met San Francisco's new chief of police at a party for Amos Brown, and they talked about teddy bears. There are more traumatized children today than ever before, and they are abused, homeless or in foster case. "The resources aren't available to address the needs of theses children, so they're really going unattended," she said.
A teddy bear has a profound psychological effect, because it replaces what the child has lost. Children want to cling to something, when they're frightened, and they'll hug a bear.
There are all kinds of bears, and Samantha showed us a very cute one that was one wearing a red hat  and shirt and singing "When I'm 64."
Questions and Answers
What age bracket are the teddy bears most effective?" asked Joe Lavigne.
She explained that she puts teddy bears on a table and let the kids choose. When they're traumatized, they have very few opportunities to make choices, so it's important for them to be able to select a bear themselves. She showed us a photo of a suspicious 13-year-old Peruvian boy, and then displayed another one of him holding a teddy bear and smiling, which was taken an hour later.
Caring for Children has worked with teenage boys at Casa Alianza in Bolivia, and she thought they were too old for teddy bears. However, they took them and hed them as close to their hearts as they could. "It's almost ageless," she said, explaining that she was told that they're 3-year-olds inside. When someone has lost a relationship, a teddy bear replaces it, regardless of age.
Michael Shehan asked if a child loses a teddy bear, would another one replace it? Samantha said yes, because replacing someone they've lost is a fantasy, and another bear will serve the same purpose.
She added that teddy bears address a serious problem, and she observed that most people in prisons were abused children, who were unable to deal with the trauma.
"No, it's 100 percent," said Jon Rankin, who explained that prisoners go after child abusers because it reminds them of what happened to them. "If everybody did right by the kids, the prisons would be empty in 20 years," he said.
If you would like to volunteer, make a donation or support Caring for Children in any way, Samantha would be happy to hear from you. The organization has a new website: www.caringforchildren-worldwide.org. Please check it out for more information.
In response to a question about production, she said  that the bears are made in China, and the company ships them directly to wherever in the world they're needed.
Dave Hutton said that he's witnessed the power of teddy bears firsthand. The Tiburon Police Department carries teddy bears in patrol cars, and "When a child is in need, we give them out," he said. They also give them to lost kids at Friday Night on Main, and they can keep them.  "It's a useful tool," he reported.
Joe Lavigne asked who pays for the teddy bears, and Dave replied that the Police Officers Association covers the cost.
Samantha gave two examples of cases when a teddy was a comfort. In one, a couple was arrested for shoplifting, and their 2-year-old child had to go to foster care. In another in New York, after a woman was shot and killed, her child wouldn't leave her, and a teddy bear helped.
Klaus Meinberg recalled ordering Beany Babies when he and Linda owned the candy store, and the minimum was 1,200 animals. "I said to Linda, 'We'll never, never get rid of these,"' he recalled. Most of them were teddy bears, and they sold them all in three or four weeks.
Dave commended Samantha for the outstanding work she does. "Thank you very much for all you do," he said.
_______________


MARK YOUR CALENDAR
GREAT GUEST SPEAKER
September 27: TBA. Please note location change to Servino's Ristorante, 9 Main Street, Tiburon

October 4: Fellowship meeting at 5:30 p.m.
October 11: Jay Gardner, Wind + Wing Technologies, Wind-powered ferries on San Francisco Bay.
October 18: Patricia Gill: Schurig Center for Brain Injury Recovery

October 25: TBA

November 1: Citizen of the Year lunch to honor Steve Sears, 11:30 a.m., Tiburon Lodge

November 8: Rob Devlin, Automobile Historian, The Golden Gate Races of 1952-1954
_______________

  NOTEWORTHY EVENTS
Friday Night on Main: 6 to 9 p.m., Friday, September 29, Fireman's Dance with the Fundamentals
District 5150 Foundation Event: 5:30 to 9:30 p.m., Saturday, October 21, Madame Tussaud's Wax Museum, Fisherman's Wharf, San Francisco
Citizen of the Year Lunch: 11:30 a.m., Tiburon Lodge, $37.50, no host bar and buffet lunch. Reservations required.
Felix Kellaway, Classical Guitarist: Sunday, November 19, Old St. Hilary's Landmark

___________________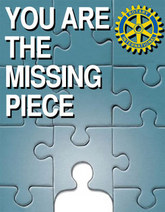 Lunch Meetings
We welcome guests. If you'd like to hear a guest speaker or find out more about Rotary, please pay us a visit. We meet at the Tiburon Peninsula Club, 1600 Mar West Street, Tiburon, at 12:15 p.m., most Wednesdays, for a guest speaker's interesting presentation and lunch (optional). Lunch & Attendance: $23, attendance only: $10

First Wednesday Evening Meeting
On the first Wednesday of the month, we meet at the Tiburon Peninsula Club, 1600 Mar West Street, Tiburon, at 5:30 p.m. We welcome guests, visiting Rotarians and friends for fellowship, camaraderie, a little Rotary business, hors d'oeuvres and a no-host bar. $15

Happy Hour
We enjoy a social gathering on the third Thursday of every month at 5:30 p.m. at Servino Ristorante, 9 Main Street, Tiburon. This is a no-host event—place and pay for your own order.
Board of Directors Meetings
Meetings of the Board of Directors are open to all members and take place on the second Wednesday of the month at 10:30 a.m. at the TPC.
Contact us at rotary@telli.com.
See our website at www.tiburonrotary.org
Send mail to Rotary Club of Tiburon-Belvedere, P.O. Box 220, Tiburon, CA 94920


Follow us on Facebook: https://www.facebook.com/tbrotary. Hope you "like" us!
_________________________
Scroll down to see our photo gallery of Rotarians at work and play!
____________________

 ROTARY AT WORK

The Rotary Club of Tiburon-Belvedere supports a wide range of programs, with a focus on youth, literacy and community. We believe that reaching out to others makes a better world and encourage others to join us. Here's what we're supporting in 2016-2017.

Youth—Investing in the Future
• 10,000 Degrees: Funding for support and mentoring to help low-income students gain access college and succeed.

• Ambassadors of Hope and Opportunity: Support to provide a safety net of stable housing, guidance and community connections for young people 16 to 25, who are homeless or in danger of becoming homeless in Marin County.

• Audubon Canyon Ranch: Support for children from low-income urban neighborhoods to go on field trips and experience nature.
• Bel Aire School's Liberia Project: Advice and support for the fifth-grade students' ongoing projects to help their sister school in Liberia, thus encouraging altruism at home and helping children in a disadvantaged country across the world.
• Dave Hutton Rotary Award for Service Above Self: An annual award to a graduating eighth-grader with a record of outstanding community service at Del Mar Middle School.

• Dictionaries: Full-color, illustrated children's dictionaries for every third grader in local schools every year.
• Eagle Scouts: Financial support for Eagle Scout projects, thus allowing Boy Scouts to develop leadership skills and prepare to become tomorrow's leaders.
• Global Book Exchange: Support for the Global Book Exchange in San Rafael, which collects lightly-used books and redistributes them to teachers at schools with limited budgets, disadvantaged families and nonprofits that serve children, as well as schools throughout the world.
• Rotaplast International: Support for volunteer medical teams to provide life-changing surgery for children with cleft-lip and palate in needy communities around the world.
• Rotary Youth Leadership Awards: Scholarships so high school sophomores and juniors can attend a special camp that guides them to develop their leadership skills.

• Educator of the Year Awards: Annual awards to outstanding educators in local schools, whose unique projects give children a worldview that encourages them to become good citizens.
Meaningful Projects—Service Above Self
• Canal Alliance: Support for a program that teaches immigrants to speak English.

• Marin Villages: Support for programs that help seniors age in their own homes. Members pay a small fee and can enjoy social get-togethers and access to volunteers for help with tasks such as getting to appointments, changing light bulbs or assisting with pets.

• Pathway Home: Support for a program in Napa County that provides residential treatment for veterans suffering from Post Traumatic Stress Disorder.
• Service to the Community Awards: Recognition for people who serve the community in meaningful ways, but don't often get acknowledgement.

• St. Vincent de Paul: Support for helping Marin's neediest residents obtain nutritious food, affordable housing, meaningful employment and a voice in the community.

• Tiburon's Green Team: Support for the volunteers who plant, weed, prune and trim landscaping in public places to keep our community beautiful.
District Designated Funds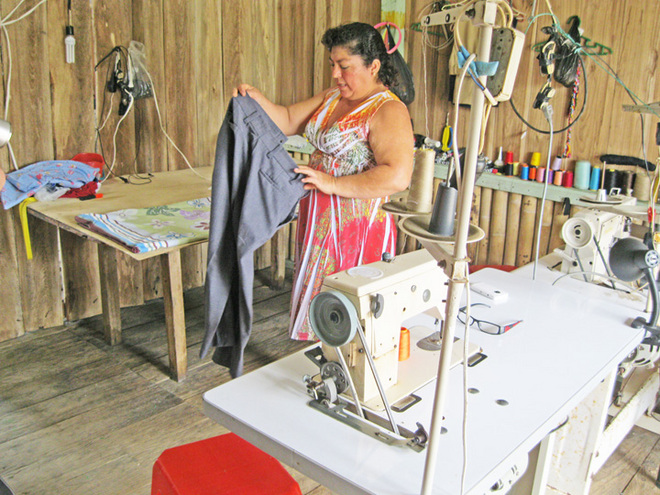 Rotary's District Designated Funds helped establish this sewing shop in Esmeraldas, Ecuador. Photo: Courtesy of Keith and Holly Axtell

Funds from the Rotary International Foundation's annual campaign earn District Designated Funds for our club. For the past three years, we have contributed our funds to multi-club microcredit projects in Ecuador, Guatemala and Peru to train people in job and entrepreneurial skills and extend microloans to help them start small businesses and become self-sufficient
____________________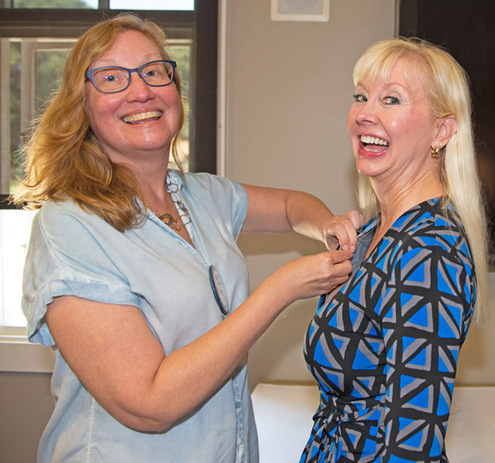 Karen Glader welcomes new member Valerie Marsh to the club and gives her a Rotary pin.
_______________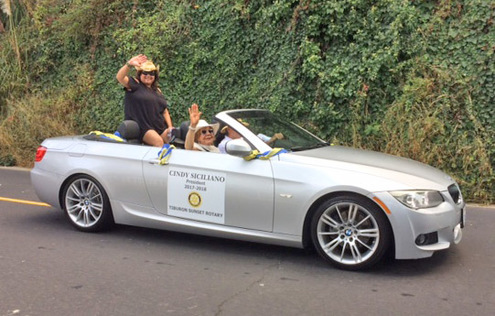 Rotarians have fun in the Day Before-Labor Day parade.
_______________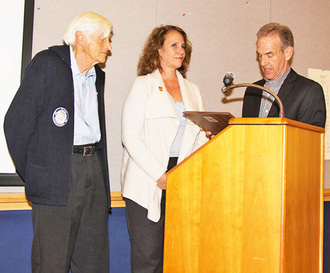 Proclamation
The Town of Tiburon issued a proclamation in honor of the Rotary Club of Tiburon-Belvedere's 40th anniversary, which we will celebrate in June, and the 100th anniversary of the Rotary International Foundation. Pictured, left to right, are George Landau, President Linda Emberson and Tiburon Mayor Jim Fraser. Photo: Marsall Gross.
______________
Visitor from Afar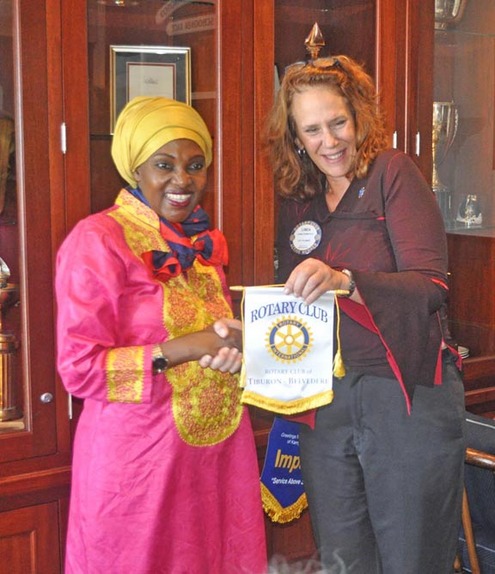 Rehmah Kasule (above left), with President Linda Emberson) is the Immediate Past President of the Rotary Club of Kampala/Impala in Uganda. She took the opportunity to visit us when she was at a conference in San Francisco in October. In 2010, she received recognition at the White House for her work in empowering women and met President Obama. She then wrote a book, From Gomba to the White House. She shared an African proverb: "When you walk fast, you walk alone. When you walk with others, you go far."
_______________

MAKING KIDS SMILE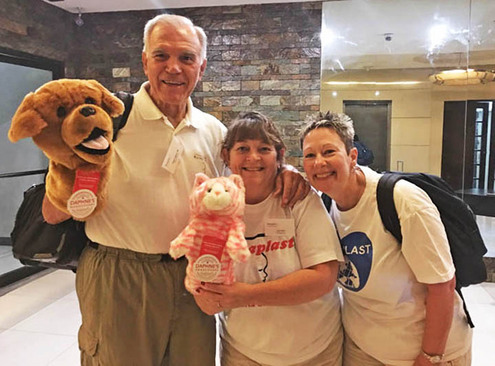 Marshall Gross donated two beautiful puppets that he won in a gift basket to Rotaplast's mission in Cebu City, Philippines. Dr. Angelo Capozzi (with the big dog) reports that the puppets are making kids smile every day before undergoing surgery, and the mission is going well.
______________

Tiburon Challenger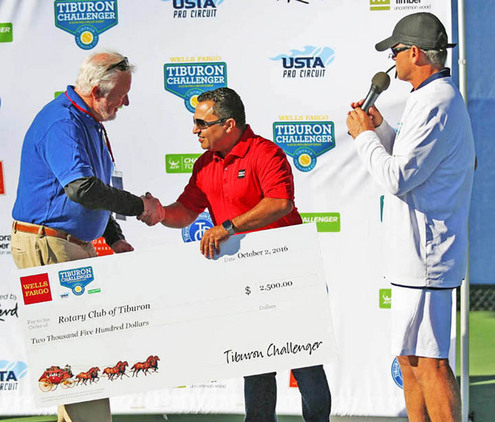 Charlie Oewel, representing the Rotary Club of Tiburon-Belvedere, accepted a generous check from Ashoo Vaid (middle) of Wells Fargo and tournament director Brendan Curry (right) at the conclusion of the Tiburon Challenger. The funds will go to the club's education projects. (Photo: Getty Images for Revd)
_______________

Rotary welcomes Kimberly Brooks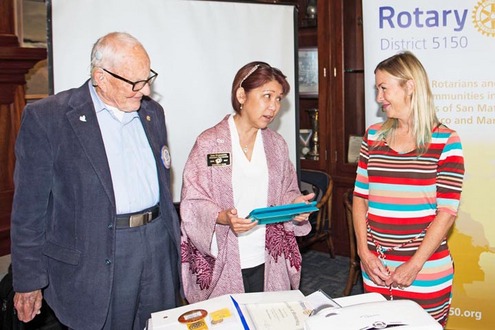 District Governor Jeri Fujimoto (center) inducted new member Kimberley Brooks (right) as Kimi's sponsor, Joe Lavigne, looked on. Photo: Marshall Gross
_____________________
DAY BEFORE LABOR DAY PARADE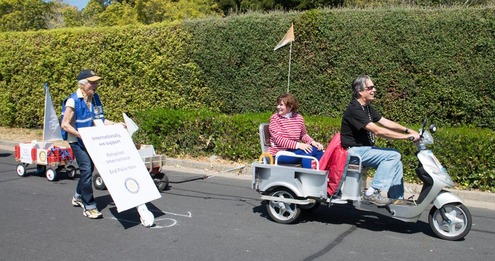 Tari Nix and friend pull wagons with books for kids from the Global Book Exchange, as Marianne Strotz walks alongside, wheeling a Rotary sign. (Photo: Marshall Gross)
To see more photos of the parade, go to www.tiburonrotary.org and click on "Photo Gallery."
____________________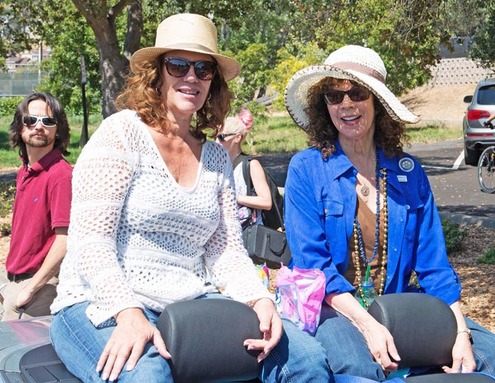 President Linda Emberson (left) of Tiburon-Belvedere and President Marilyn Nemzer of Tiburon Sunset hitch a ride with Michael Heckmann in the Day Before Labor Day Parade. (Photo: Marshall Gross)
Dana and Chester (left), making friends.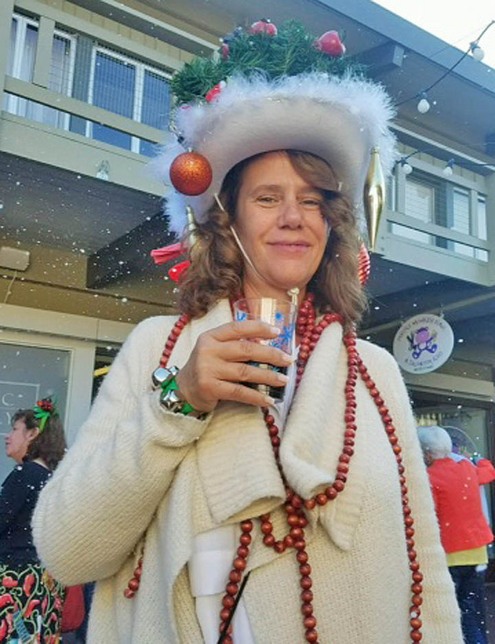 Winter in August was the theme of the Tiburon Peninsula Chamber of Commerce's mixer at the Boardwalk. President Linda Emberson took the prize for the most creative hat.

_______________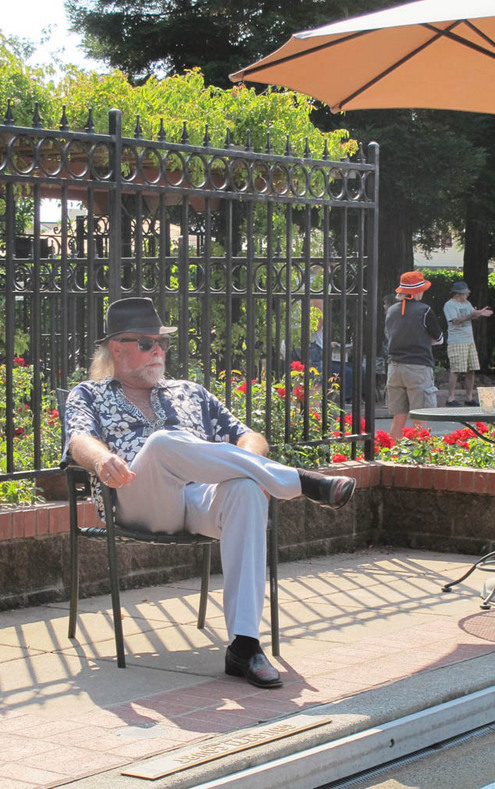 Jon Rankin views the on-court action at the annual Bocce Ball Tournament, a fundraiser for Rotaplast International. (Photo: J. Wilson)

_______________

Changing of the Guard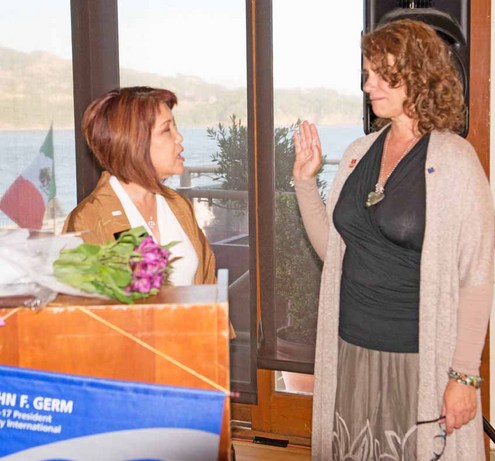 Thanks to President Marianne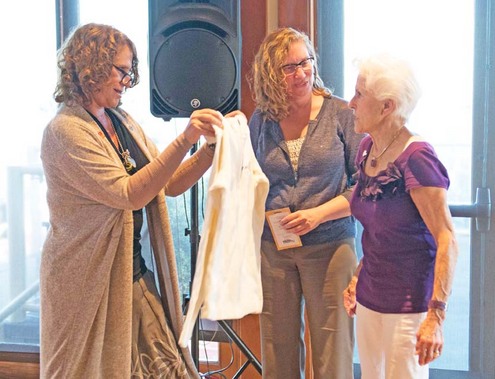 President Linda Emberson (left) thanks outgoing President Marianne Strotz (right) for her two outstanding years of leadership with a special Rotary jacket, as Karen Glader, the club's new secretary, looks on. (Photo: Marshall Gross)
____________________

Honors for Angelo
Dr. Angelo Capozzi (left) and Dr. John Kaufmann with a child who underwent surgery during a Rotaplast mission to Peru in May 2016. (Photo: Courtesy of Rotaplast International)
____________________
Service Above Self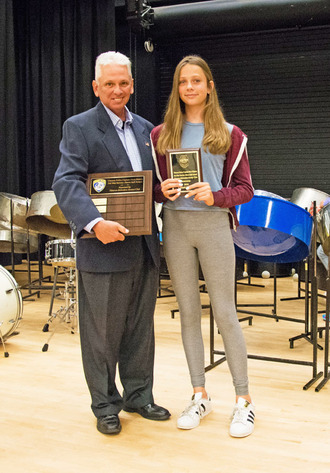 Dave Hutton presents the Capt. Dave Hutton Rotary Service Above Self Award to Kendall Hermann, graduating senior at Del Mar Middle School, for her outstanding performance in community service. The presentation took place at a special awards assembly in June. Photo: Marshall Gross
____________________
Teachers of the Year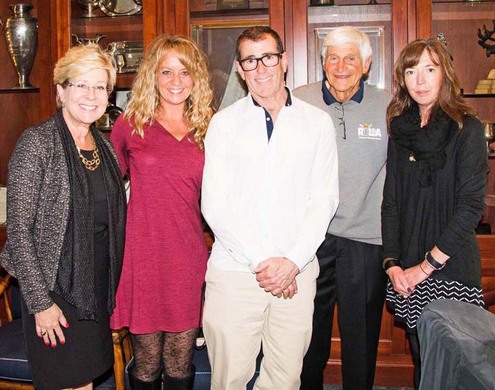 (Left to right) RUSD Superintendent Nancy Lynch, Bel Aire School's Kelly Morphy, Reed School's Ross Modlin, Rotarian George Landau and Erin Turner of St. Hilary School (photo: Marshall Gross)
____________________
Carnaval!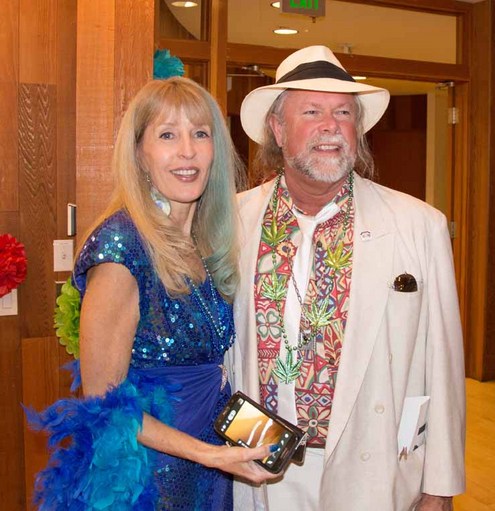 Mary Kaufmann and Jon Rankin got into the spirit of Carnaval, a fundraiser for the Rotary Club of Tiburon-Belvedere. For more, see the photo gallery at www.tiburonrotary.org. (Photo: Marshall Gross)
_______________