Welcome to Telli Marin! Sign in | Create a login

Beauty Center Wellness SALON & SPA
Full Service Beauty & Wellness for Men, Women, and Children
Address:
1559 S Novato Blvd, Suite B2
Novato, CA 94947
Phone:
415-892-8829
Mobile:
415-203-2780
Beauty  Center
 WELLNESS SALON & SPA
   ~ Full Service Hair / Facials/ Waxing/ Massage ~
~ For Men, Women, & Children ~
FACELIFT SOLUTION!!!
We are open 7 days a week for haircut and color, face or body waxing, & skin peel for men, women and teen.
Our Facelift Solution requires no downtime. Call ahead to make sure we can accommodate you.

(415) 892-8829 open 7 days a week
 FACIAL
Adults and teens who have problem skin,
questions, and need help 
will enjoy Advanced Skin Care: Ultrasonic Deep Pore Cleansing, AHA Peel and enjoy PEPTIDES along with OTHER REJUVINATING masks, Microcurrent Firming for deep lines, saggy neck, puffy eyes, or just for overall younger, firmer face and Microdermabrasion for brown spots and more...
SKIN CARE SPECIALISTS
are available to
 provide evaluation and recommendation
Noon to 4pm  on Sundays & Mondays 
Call for appointment
(other times may be available)
(new clients welcome: women, men, and teens)
A wonderful way to experience the skills of our Master Skin Care Specialists
at The Beauty Center Wellness Salon & Spa
QRS PULSED MAGNETIC THERAPY MAT available 7days/wk. CALL TO RESERVE YOUR SPOT
Featuring:
Blow Bar Friday
"Come get ready for your night on the town"

Just $45 if you book now! 
415-892-8829

~Announcing our Men's grooming department~
OPEN @ 8 am M-Sat
 Treatments   offered are guaranteed to make you look younger!          
Open on Sun @ 12 noon - 4
                                                                                           WALK-INS WELCOME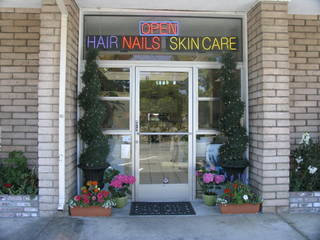 Sundays/Evenings by Appointment
1559 S. Novato Blvd. Novato, CA
The Beauty Center uses enzyme products for hair color:
- Covers gray better

- Improves texture up to 80% on your first visit
- It only takes 20 minutes to process
NEW 10 minutes lunch time color is now avail. for men and women
---
A personal testimonial
      Stefanie always has a new look, this is one of her latest. She has a fresh A-lign bob with peekaboo streaks to compliment her skin tone.  It doesn't stop there but you will have to come and check it out yourself!
    Testimonial: by the client herself:
   "Stefanie is an amazing hairstylist and she can do anything to hair...I love how she gives me a fresh new look every time I see her. Everyone must come and get all their beauty needs at Beauty Center."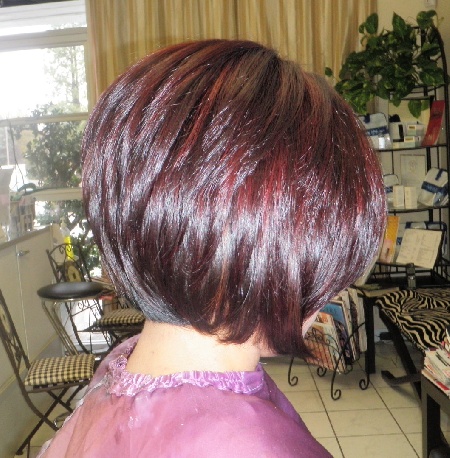 Before and After
  TESTIMONIALS
"Neck and shoulder massage after haircut is very relaxing!"
"My hair has never looked this healthy since I started coloring it. I love the shine after I get my hair colored."
 Judy  57
"I love the conditioning of the ends while covering my roots.
Loretta knows what's best for anybody's hair!!!"
Shirley
Come and Receive a Relaxing Service From Amber!
Come and see Loretta for Color Correction and all your wig services!
---
  Wellness  Daily walk-ins welcome for QRS Magnet Therapy Call to reserve spot; 892-8829   Benefits include PAIN RELIEF and TISSUE HEALING for sports injuries or old injuries.

These include:
Cardiovascular System

Respiratory Tract 

Skeletal System

Metabolism and Hormone System

Nervous System (Positive effect in Sleeping disorders)
Many of our clients have experienced new levels of pain relief and healing after only 1-2 treatments!
Our wonderful relaxing
FACIALS
for men
and women will leave you feeling rejuvenated.


Try our Advanced Personalized Facials
oxygenating, firming and plumping
Microdermabrasion
Medical facials (instant glow!)
Ultra Sonic / Micro Peel / Deep Pore Cleansing /Calming ROSACEA / LED for Wrinkles & Brown Spots, or ACNE Tx. / Acupressure FACELIFT
Experience INSTANT RESULTS

........
with our

latest

Advanced skin care

treatments
---
Advanced Skin Care Can Benefit you!
Painless and non-invasive
Stimulates Collagen and Elastin
Firms aged, tired skin
Reduces lines and wrinkles
Anti-inflammatory
Reduces redness
Treats teen and hormonal breakouts
ACUPRESSURE FACELIFTS
Look 5 to 10 years younger without the painful surgery with our Acupressure facelifts. This powerful technique is all natural, and will improve overall appearance and long term benefit with complete relaxation.This treatment will include FREE LESSON that anyone can do!
 LASH EXTENSIONS!!! 
CALL FOR PRICES
---
WE SEE CLIENTS 7 days a week by appointment
   AS SEEN ON TV "LASH TREATMENTS"
a real TIME SAVER, are now here!
"Eyelash Extensions"
  Our experienced Eyelash Extension specialist provides you a beautiful look with              Premium Mink Lashes      
Wake up to longer, thicker, and more beautiful lashes every day! You can swim, shower, exercise and sleep, worry free. Weightless, with a natural look and feel. A painless, relaxing procedure in only 60 to 180 minutes. Perfect for special occasions or simply for day to day wear You will love your new vibrant, long and luscious lashes!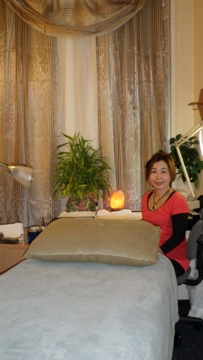 Come and relax with Tokiko while she makes your skin and lashes Beautiful!  
We Can Create Your Dream Wedding Style
Our Team is very talented when it comes to creating your perfect style for your perfect day!

Please Come in for a Free Consultation

---
Our Professional Hairstylists are up to date with the most current styles and colors.
  As a full service salon, we offer services that make you look good and feel good from head to toe!
Our nail professionals use a spa system that has an automatic cleaning and disinfecting technology, that exceeds all 500 state regulations. This means that after each use of the foot bath it will always be safe and sanitized to use. We also use hospital grade disinfectant to kill bacteria, fungi, and viruses.
OUR SPA CHAIRS ARE ALWAYS SAFE AND OUR EQUIPMENT CLINICALLY STERILIZED!
We Also take Children for Manicures and Pedicures!
---
We are open 7 days a week  for services including Therapeutic Massage(non-sexual), Haircuts and Color, and all your Facial needs!     
SCHEDULE YOUR APT. NOW & MENTION THIS AD TO GET 20% OFF YOUR INITIAL VISIT...
Attention Salon Clients
Cancellation/Reschedule Policy

We kindly ask for 24-hour cancellation notice for all salon and spa services. All spa packages and group events require 48-hour cancellation notice. If you fail to cancel within the appropriate time frame or do not show up for your appointment, you may be charged up to 100% of the service cost.
Late Arriving Guest Policy
We kindly ask our guests to arrive at their scheduled appointment time to ensure adequate time for a quality experience with their service provider. We will do our best to accommodate late arriving guests within their reserved service time slot.
Your service charge will remain the same although your time may be shortened due to time constraints. Guests arriving too late for appointments may be asked to reschedule as accommodating late arriving guests may inconvenience the service provider's next guest. You may be charged up to the full price of the missed appointment.
There will be a minimal charge of $25
If you have any questions please don't hesitate to ask