Welcome to Telli Marin! Sign in | Create a login

Holiday Gift Faire
Celebrating local art
Address:
3 Bayview Avenue
Belvedere, CA 94920
Phone:
415-435-4501

Holiday Gift Faire


 A celebration of local artists & unique gifts galore!
Nibbles, sips & crafts for kids, live music

St. Stephen's Episcopal Church
 3 Bayview Ave., Belvedere


Saturday, November 10, 10 a.m. to 3 p.m.

Sunday, November 11, 11 a.m. to 1 p.m.
Everyone's welcome
Two-Dimensional Artists

Diane Bradley
Virginia Knepper Doyle
Bethany Eden, watercolors

Jaleh Etemad: As an artist, my objective is to make art that is both revealing and accessible but also acts as a muse for the viewer, one that inspires, creates anticipation, and provides intellectual and visual stimulation. I gather my inspiration from people, books, dreams, and unexpected emotions. I paint and layer many symbols such as fragments of maps, letters, ancient inscriptions, photos both found and self-taken, found objects and mementos, and contemporary poetry onto my canvases. (right)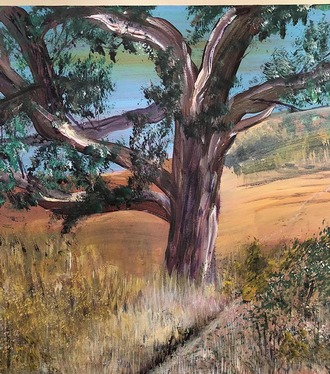 Joyce Griffin is a Belvedere artist who works in acrylics (right) and has a special love for nature.
Jocelyn Knight, photographs. https://www.jocelynknight.com/
Dyonne Philipott, watercolors on found wood

Graciela Placak, watercolors
Bill Post, oils
Tom Sennett, graphic designs
Shari Young, pencil drawings
Paintings by the late Jim Levorsen, courtesy of Anne Hammer
Three-Dimensional Artists and Artisans

Annelies Atchley, varied crafts
Keith Bartel is a local goldsmith, creating one-of-a-kind jewelry (above) with gold, platinum and gemstones in his atelier on Tiburon's Ark Row. His work is inspired by geometric forms and nature and interpreted in precious metals with a high level of craftmanship. https://keithbartel.com/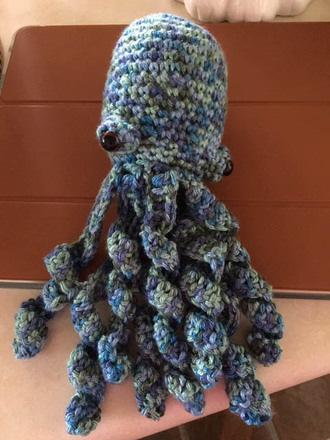 Diane Bradley
Anne Browne, marmalade
Eva Claiborne, lavender skincare products. https://tiburonskincare.com/

Olive DePonte, crocheted toys (right) in a variety of colors
Virginia Knepper Doyle, story baskets and painted socks, shoelaces and aprons

Bethany Eden, prints and cards featuring her watercolor paintings


Carole Engler, CD
Peter Engler, novel, The Unselling of the President, a Ben Coleman thriller

Dana Garrick, wreaths made from cork and straw
Jan Klyce, children's book with CD
Ruchika M. Khanna/Mantra 9, handcrafted jewelry from natural products. www.mantra9.com
Libby Mills, hand-painted ties, scarves, wallhangings and table runners (right)

Anita Ostrom, ceramics
Daria Painter, jewelry (right) www.dariapainterdesigns.com

Leela Pratt: I loved the holidays at my grandparent's house on Cape Cod, so my offerings reflect that gentler time: hand-made, old-fashioned games like "Carnival-style baseball tin-can throw" and roll-up checkerboards, and a sharing game for around the family table or fireplace. I'll also offer Fall/Winter centerpieces and embellished candlesticks that reflect our beautiful natural environment here in Marin County (below).
Ingrid Wheeler, jewelry with semi-precious stones
Judy Wilson, preserves, baked goods & chocolate
Artists will donate a percentage of their sales to a scholarship fund for Marin children from low-income families to attend Camp Create, an arts summer camp at St. Stephen's.